I received this book for free in exchange for an honest review. This does not affect my opinion of the book or the content of my review.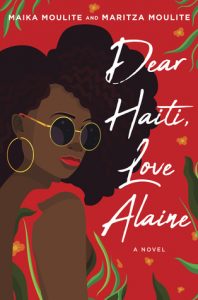 Dear Haiti, Love Alaine
by
Maika Moulite
,
Maritza Moulite
Published by
Inkyard Press
on September 3, 2019
Genres:
Contemporary
,
Magical Realism
,
Young Adult
Pages:
432 •
Format:
ARC
•
Source:
ALA
Goodreads
When a school presentation goes very wrong, Alaine Beauparlant finds herself suspended, shipped off to Haiti and writing the report of a lifetime…

You might ask the obvious question: What do I, a seventeen-year-old Haitian American from Miami with way too little life experience, have to say about anything?

Actually, a lot.

Thanks to "the incident" (don't ask), I'm spending the next two months doing what my school is calling a "spring volunteer immersion project." It's definitely no vacation. I'm toiling away under the ever-watchful eyes of Tati Estelle at her new nonprofit. And my lean-in queen of a mother is even here to make sure I do things right. Or she might just be lying low to dodge the media sharks after a much more public incident of her own…and to hide a rather devastating secret.

All things considered, there are some pretty nice perks…like flirting with Tati's distractingly cute intern, getting actual face time with my mom and experiencing Haiti for the first time. I'm even exploring my family's history—which happens to be loaded with betrayals, superstitions and possibly even a family curse.

You know, typical drama. But it's nothing I can't handle.
Dear Haiti, Love Alaine immediately caught my eye at ALA midwinter this year because of its striking cover. I had never heard of it before, but it was GORGEOUS and I knew I had to add it to my TBR immediately. With a release date 8 months in the future, I saved it as one of my special reads for the end of the summer season. When I finally picked it up over the Labor Day holiday weekend it did NOT disappoint, and is easily one of my favorite contemporary reads of the year.
I was thrilled by the format of the story, which alternated between Alaine's journal entries, emails, postcards, and other mixed media formats. It reminded me a lot of The Princess Diaries which is my all time favorite YA series. Yet while it felt like the story was paying homage to Meg Cabot's writing, it never felt like it was copying it and Alaine had a very distinct voice. I also loved the subtle pop culture references that were pretty much "if you know, you know" in their placement (I particularly cackled when it came to one of the Harry Potter and the Chamber of Secrets references).
Alaine's story follows her trip (or pretty much her own personal exile) to Haiti after pulling a stunt that nearly gets her expelled from school. Never having been to her parents birthplace, the story is a wonderful exploration of both the beauty and struggles of Haiti, which as many of the characters point out, gets overshadowed by the reputation of being the poorest country in the Western hemisphere. Through Alaine's eyes, readers discover Haiti's rich history and acknowledgement of the country's current struggles, as well as learning a lot about the Haitian Revolution through Alaine's school project and own family ties to some of the major historical figures (I honestly loved that I learned so much about Haiti's history through Alaine's thoughtful yet hilarious inner monologue). Additionally, readers learn about the intersection of technology and humanitarian work as Alaine's aunt runs an app called "PATRON PALS" where someone can become a patron and provide funds to assist a child in Haiti and cover the cost of their food, education, etc. There's a lot covered over the course of Alaine's story but it's all interwoven seamlessly and never reads like a textbook or news article. I really appreciated this educational, in depth look at Haiti's history and currently political and socio-economic situation through Alaine's eyes.
I was taken by surprise to find that there was actually a dose of magical realism to this story too! Alaine's family is supposedly cursed and some relatives believe in the power of the curse and others don't. Alaine is torn between scoffing at the curse and wanting to help break it as she becomes more enmeshed with her family's history while on the island. This potentially paranormal element was pretty intriguing and one I wasn't expecting, and it also led to a few discussions about religious practices and Haiti (and the misconception of Haitian religion as well). I found this plot line interesting but it did get a little confusing and unclear toward the end.
So what's keeping Dear Haiti, Love Alaine, from being a 5-star read for me? It was pretty darn close, but in the end it felt like the book tried to tackle one too many topics and things got rushed and confusing toward the end. It also tacked on a romance that while minor, felt unnecessary. However, these are minor quibbles compared to how much I adored the format, how fun it was to read from Alaine's POV, and how seamless the authors' voices came to together in this debut novel.
Overall: Dear Haiti, Love Alaine was a fun, diverse read that explored the culture and history of Haiti in a way that will keep readers from ever wanting to put down the story. I wish this wasn't a standalone because there's so much more I would have loved to learn and explore about Alaine, her family, and her family's history in Haiti. It was a truly enjoyable reading experience and I can't wait to see what the Moulite sisters write next!
Related Posts