Hello, 2017! We're officially more than one month in now, and it's been quite the ride so far. Though there's a lot of ~things~ happening in the world right now, January proved itself to be a really exciting and wonderful month for me, full of incredible experiences and new resolutions (I am ALL ABOUT making New Year's resolutions. I use my Erin Condren planner to break my resolutions into multiple categories and track them throughout the year!)
I kicked off 2017 by heading to Aulani, Disney's resort in Hawaii, for my birthday! I visited two years ago for my college graduation and had an AMAZING time, and this time was even better, if you can believe (a full vacation recap is coming soon, I promise!) I came back and was immediately immersed in bookish events (literally the day after I returned I went to the Waywitch Tour!) and had pretty much one a week all through January! I've also gotten my hands on some amazing books this month, and my fantastic friend Lauren @ Bookmark Lit let me borrow her copy of The Names They Gave Us (SO GOOD you guys. SO GOOD.) I'm also super ahead on my reading challenge since I read four books while I was on vacation so I have a really strong start going into the rest of the year. I've been incredibly blessed in 2017 so far!!!
Books I Read This Month
Along for the Ride (4 Stars)
Nowhere But Home (5 Stars)
Lock and Key (3.5 Stars)
Truthwitch (4 Stars)
The Secret of a Heart Note (3 Stars)
Talking As Fast As I Can (3 Stars)
Pretty Fierce (3.5 Stars)
Roseblood (4.5 Stars)
Books I Reviewed This Month
Carry On (3 Stars)
This is Where the World Ends (2.5 Stars)
The Secret of a Heart Note (3 Stars)
Truthwitch (4 Stars)
Stats:
Total Books Read: 8

Total Novellas Read: 0

Rereads: 0
Favorite Book Read This Month: Nowhere But Home, but Roseblood was a very close second!

Least Favorite Book Read This Month: Talking As Fast As I Can was much shorter than I hoped.

Book that Most Surprised Me This Month: I'm really glad I loved Truthwitch as much as I did, I was afraid it would fall victim to the hype monster!

Reading Challenge Updates
Goodreads 2016 Reading Challenge Progress: 8/10 (not counting the 3 books I've already read in February…)
Bookish Events This Month
Caraval and The Secret of a Heart Note Launch!
Other Notable Posts This Month
I rounded up the top 2017 debuts on my radar.
I looked back on the 2016 bookish events I attended.
Monthly Book Haul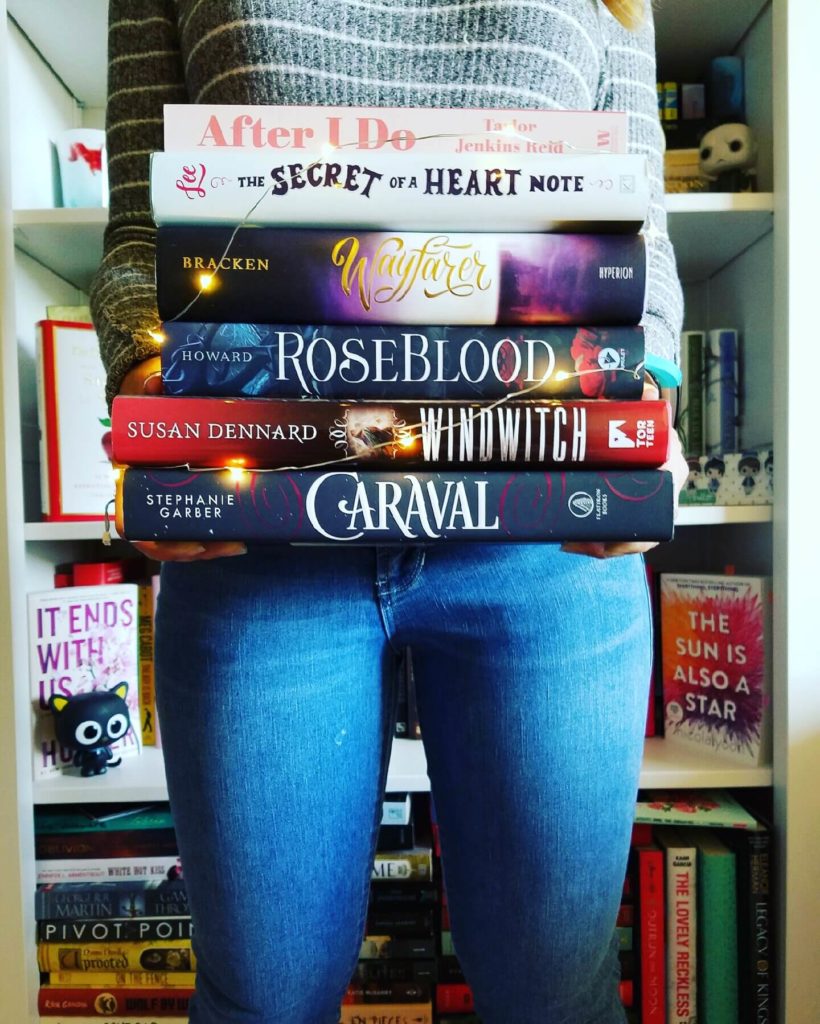 Books Purchased: After I Do, Wayfarer, Windwitch, Caraval
Books Gifted: Roseblood
Books Won: The Secret of a Heart Note (Thanks, Lauren!)
Sooo I might be SLIGHTLY over the original book buying plan I set for 2017, but really only by one book! My original plan was to buy 2 new releases and 1 backlist per month, so I only exceeded that by 1 book (and all of the new releases I purchased were for author events and signings!) Also I haven't bought ANY books so far in February yet so I'm patting myself on the back for that. I've only read 2 out of the 6 books I added to my shelves in January, so the plan is to read them ASAP!
February TBR
You can basically refer to all of the books in the above photo that I've yet to read (Caraval, Windwitch, After I Do, and Wayfarer). I've also pre-ordered The Young Wive's Club and should be starting it soon, as well as reading as many books by Victoria Schwab that I can get to before I attend her signing at the end of the month!
Looking Ahead
February is already CRAZY busy for me, especially at work, but I am loving it! I am stoked to be attending Victoria Schwab's tour stop local to me, as well as participate in the 2017 Love-a-Thon this weekend! Also, if you haven't already, check out my 3rd Blogiversary Giveaway– February is my blogiversary month!
How has 2017 treated you so far? Have you made good progress on your 2017 reading goals? Do you think this is going to be a great year for you? What are you most looking forward to in February? Let me know in the comments!
Save
Related Posts