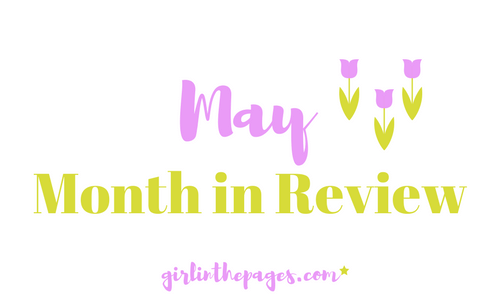 Hello! I am back with a monthly recap for the first time since February and I'm so excited to share with you that I read TEN books in the month of May. I think this must be a personal record for me for most books read in a month, or close to it at least! Personally, this month was super busy and exciting, starting with YALLWEST the first weekend, followed by out of town visitors, my little brother's college graduation, and ending with the Memorial Day holiday weekend. Perhaps the BEST part of the month was finally trying Salt & Straw, the ice cream shop of my dreams, and finding it lived up to ALL of my expectations (I mean how many places can you order a FLIGHT OF ICE CREAM?!) I'm also in pretty much a perpetually good mood all the time now because SUMMER WEATHER has finally arrived! We're also almost a year out from our wedding date so expect to see a few wedding related things pop up with more frequency 🙂

Books I Read This Month
This month was exciting and full of new releases. However, after reading ACOFAS I feel like most of the reads were sort of middle of the road for me. I'm also really craving some fantasy and/or paranormal reads since my TBR has been very contemporary heavy lately! Also, can we just talk about how 2018 covers are ON POINT?? They're all so beautiful (especially The Way You Make Me Feel!)
Books I Reviewed This Month
Love & Luck (4 Stars)
The Astonishing Color of After (3 Stars)
A Court of Frost and Starlight (5 Stars)
The Apocalypse of Elena Mendoza (2 Stars)
The Immortalists (2 Stars)
The Party (3 Stars)
Forever, Interrupted (3 Stars)
The Art of French Kissing (3 Stars)
From Twinkle, with Love (3.5 Stars)
Ugh, clearly I am in a 3 star slump *sigh*
Stats:
Total Books Read: 9

Total Novellas Read: 1

Rereads: 0
Favorite Book Read This Month: A Court of Frost and Starlight for obvious reasons (#Feysandforever).

Least Favorite Book Read This Month: Leah on the Offbeat was a letdown for me…though I loved her narration and the story was fun, I didn't feel it was very consistent with the happenings in Simon.

Book that Most Surprised Me This Month: Puddin' was a lot of fun! It had a different vibe than Dumpin' but the same charm and heart!

Reading Challenge Updates
Goodreads 2018 Reading Challenge Progress: 42/80
Other Posts This Month
Real Talk: A Case for Kindness
How was your May? If you're in the US, did you do anything for the holiday weekend?  What was the best book you read? Let me know in the comments!
Related Posts