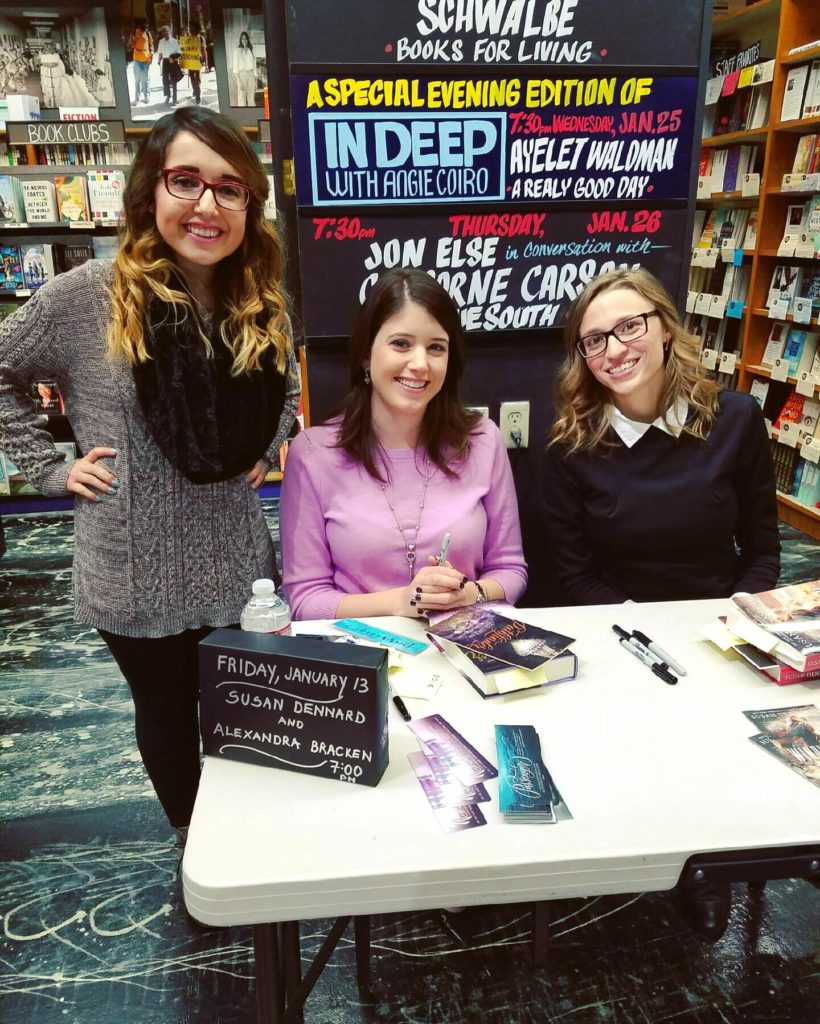 For the second year in a row I've been lucky enough to kick off January by seeing Alex Bracken and Susan Dennard on tour promoting their newest books! This year's WayWitch Tour came on the heels of the release of Wayfarer and Windwitch, the final installment in Alex's Passenger duology and the second installment in Susan's Witchlands fantasy series. Seeing these two again was such a pleasure, especially since their energy and friendship is palpable to everyone in the audience.
Max and I arrived at Kepler's around 6:25pm and there was already quite the turnout…we ended up with 4th row seats, which is unusual for us. However it was great to see that so many more people heard about Alex and Susan coming and wanted to attend the event (and there were already a LOT of people there last year as well!) Susan and Alex started right on time, easing into their friendly banter naturally. Though some of what they discussed was similar to last year, due to similar questions being asked, I felt like this year the audience received a much more in depth look at the emotional and mental process of writing for both of these authors. Being on a book-a-year schedule is definitely an intense and ambitious task, and it was sweet to see how they encouraged each other throughout the writing process as in many ways they were in similar spaces, with their books being released mere days apart. They both discussed the struggle of writing sophomore novels in a series, and how for both of them it was a challenge writing a series that centered on an element or genre that they hadn't dabbled in before (such as time travel and medieval-based fantasy).
Some Fun Facts About Alex and Susan's Writing Processes:
My question for Susan involved how she developed her color system for the threads that Threadwitches can see. Being a scientist and very methodical writer, she started a huge spreadsheet starting with white and ending with black, and listed out 30-40 colors in between, and then assigned each color a corresponding emotion.
Susan wrote all of the POVs in Windwitch separately instead of chronologically.
Alex thought writing a duology would be easier than writing a trilogy, but found it actually more difficult because her brain felt programmed to think in three arcs. Therefore when writing a duology, the last book has to serve as both the second and third book. It's not a case of writing one mega story and then cutting it in half.
Alex used the Oxford English Dictionary often in order to pick up on language differences due to time period period between Etta and Nicholas. There are many instances where a word that is used today was indeed used several hundred years ago, but had a completely different context or meaning (and some super common words just didn't exist…Susan and Alex both found it difficult to omit the use of the work "OK.")
Being able to see Susan and Alex on their second tour together for the same series was a really special experience, as their growth with their series and their friendship is apparent and tangible. Their events are always a great way to kick off 2017, and I cannot wait to crack open both of these novels and hopefully see them out tour again!
Related Posts