I was so incredibly lucky to have the opportunity to attend the dual launch last week of both Caraval and The Secret of  a Heart Note. While Kepler's has an amazing line up of visiting authors ahead in 2017, attending a launch is always extra special, getting to see the author jittery with nerves, excitement, and euphoria as their book, often with years of work behind it, finally finds its way into the hands of readers.
The dual launch for Caraval and The Secret of a Heart Note was such a genuine celebration, with readers coming to the Bay Area from ALL OVER to attend (some attendees were were from as far as San Diego and Phoenix!) Max and I arrived at the bookstore 2 hours in advance to secure seats near the front as we knew the event was going to be wildly popular, and we were not disappointed. Employees kept having to bring more and more chairs out, and there was a sea of people behind us, all anxiously waiting for the event to begin.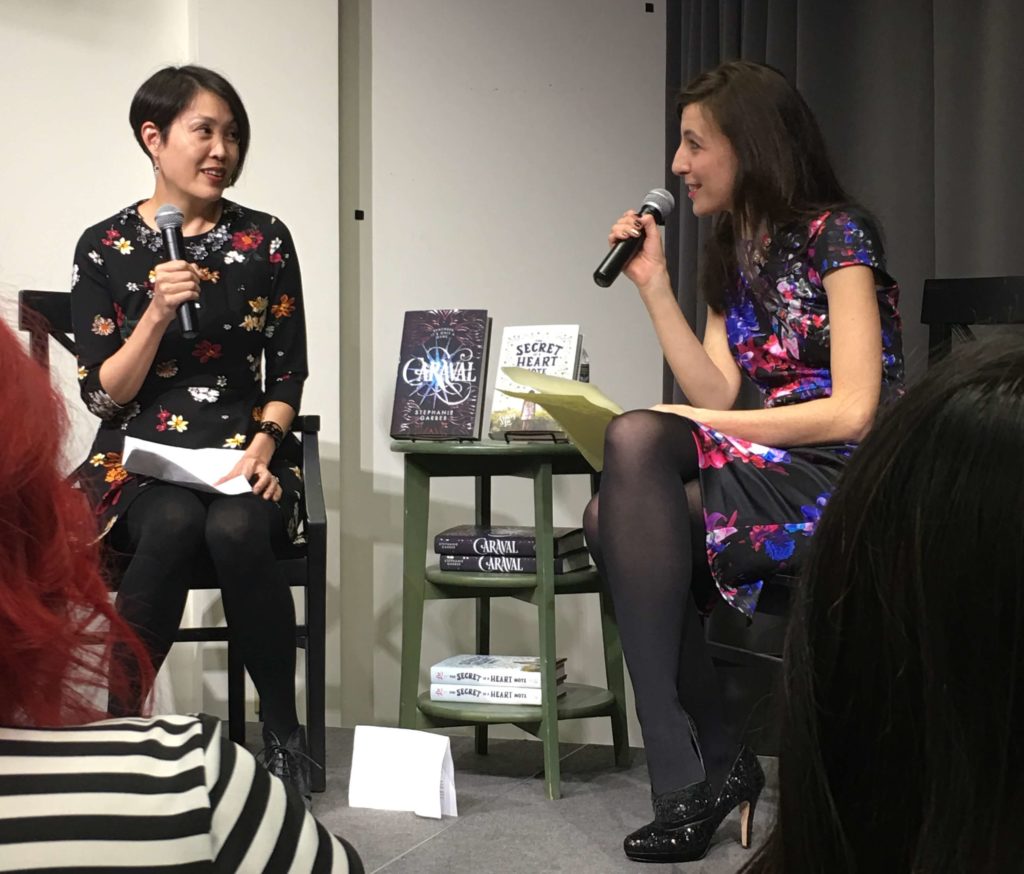 The launch was such a seamless blending of both of the novels. Pink, purple, and red decorations abounded to celebrate the cover art of both books, and the treats were an incredible testament to both stories (seriously, the desserts were CRAZY good and creative, from Caraval cookies to rose cupcakes…if Stacey and Stephanie weren't authors, they could definitely go into the party planning business). It was evident that both authors had put a lot of thought and creativity into celebrating and lifting up both books, and the attention to detail was not lost on the attendees.
Both Stephanie and Stacey are authors that I've heard speak before, so it was an incredibly rewarding experience being able to share in their celebrations with them. I've heard many, many authors who are friends speak and interview each other, but there is a special bond between Stacey and Stephanie that's apparent to anyone who has the opportunity to see them together.
Some Fun Facts About Stephanie & Caraval:
Stephanie grew up in Northern California and got her master's in Education.
There's been so much buzz and excitement for Caraval that 20th century Fox has already purchased the movie rights, even before the book's publication date!
Stephanie and Stacey became close friends when they were both working with a program that provided mentors for aspiring writers. Stacey became true friend and confidant for Stephanie, and help Stephanie with questions and assisted her in focusing her narrative in many ways. Stephanie credits Stacey for helping her decide to write Caraval as a sister story, as she encouraged her to center the story around the relationship of the two sister protagonists. Stephanie, being very close with her own sister, liked the idea and decided to purse the idea of the lengths a character will go for a family member.
Baz Luhrmann's Great Gatsby movie was the main influence for the setting of Caraval. Stephanie loves Lurhmann's movies and wants her books to have a similar feel, including the vivid colors, settings that seem to bleed of the screen/pages, etc.
Stephanie wrote Caraval by the seat of her pants rather than extensively plotting it out. She wanted to surprise herself with where the story ended up, so that way she knew she could subsequently surprise her readers as well.
Some Fun Facts About Stacey & The Secret of a Heart Note:
Stacey has a bit of a personal collection to her new novel and her protagonist Mimosa…when Stacey smells things she can hear a musical pitch! She discovered this phenomenon about then years ago in Hawaii.
Stacey chose to set her book in Northern California because she loves all of the natural beauty and flora and fauna. She used local parks as inspirations for settings in her novel, such as the Golden Gate botanical garden (which she also visited to perform research for her novel).
Known widely for her historical fiction novels, Stacey spends a minimum of 6-12 months researching her historical before she starts writing. Since The Secret of a Heart Note is not historical fiction, she admits that it took a bit less research to write, but it was also a more freeing writing experience.
The Secret of a Heart Note went through many, many title ideas and changes. The original title was Touch Me Not and Stacey, with the help of friends and family, came up with over a hundred others until the title was finalized.
Have you attended a book launch party before? Are there any upcoming on your radar that you're going to? Have you had the chance to read Caraval yet? If so, what did you think? Have you read The Secret of a Heart Note yet? Let me know in the comments!
Save
Save
Save
Related Posts