Last December I compiled a post at the end of the month with mini reviews for all of the books I had read but never got around to penning my review for. Most of the time I try not to let the stress of missed reviews get to me, however I always seem to be hit with last minute guilt at the end of the year for those missed reviews. So I decided to turn this into an end of year tradition, and have compiled mini reviews for most* of the books I read but did not review upon finishing in 2016:
*There are a few books that are still outstanding, such as Passenger because I read it in January and don't feel like I remember enough of it to write a coherent review (plus I'm hoping to reread it prior to the sequel being released) and Zero Day because it was just truly unremarkable).
Last Will and Testament (Radleigh University, #1)
by
Dahlia Adler
Published by
Smashwords Edition
on December 9th 2014
Genres:
New Adult
,
Romance
Pages:
414 •
Format:
E-Book
•
Source:
Purchased
Goodreads
Lizzie Brandt was valedictorian of her high school class, but at Radleigh University, all she's acing are partying and hooking up with the wrong guys. But all that changes when her parents are killed in a tragic accident, making her guardian to her two younger brothers. To keep them out of foster care, she'll have to fix up her image, her life, and her GPA—fast. Too bad the only person on campus she can go to for help is her humorless, pedantic Byzantine History TA, Connor Lawson, who isn't exactly Lizzie's biggest fan.
But Connor surprises her. Not only is he a great tutor, but he's also a pretty great babysitter. And chauffeur. And listener. And he understands exactly what it's like to be on your own before you're ready. Before long, Lizzie realizes having a responsible-adult type around has its perks... and that she'd like to do some rather irresponsible (but considerably adult) things with him as well. Good thing he's not the kind of guy who'd ever reciprocate.
Until he does.
Until they turn into far more than teacher and student.
Until the relationship that helped put their lives back together threatens everything they both have left.
It seems sometimes like I'm on a never ending quest to find quality New Adult novels. I purchased Last Will and Testament on a whim, and was pretty pleased with it overall. Though it did have some seemingly cliché plot elements (why oh why are there so many student/teacher romance stories in NA? Aren't there other illicit romantic pairings that authors can come up with?) I appreciated that the overarching story had a lot of depth, with Lizzie suddenly becoming the guardian of her two little brothers after her parent's deaths. At 18 you're pretty much still a kid yourself, and though Lizzie definitely made her share of mistakes I appreciated her resilience in such a situation. Yes, this is a romance novel in many ways but it felt well balanced with the family aspect of the plot too. I also enjoyed that Lizzie was influenced by her mother's heritage and the Filipino culture, as I'm always thrilled to see diversity in protagonists. Max, my boyfriend, is also half Filipino so I noticed some parallels in the cultural things that were mentioned. The one thing that was hard for me to get past at times was how abrasive Lizzie was, constantly swearing (swearing almost never bothers me but I found its use to be excessive and a bit repetitive here) and having a bad attitude 90% of the time. Her situation was definitely a tough one to be in but she could be hard to empathize with at times.
Overall: Though the teacher/student romance seems overdone, the romance in this novel was OK, but more importantly the topics of family, grief, and responsibility were handled well and integrated into the plot in a unique way. I wouldn't call this book a favorite but I'm glad I read it and it was one of the better New Adult reads I've come across.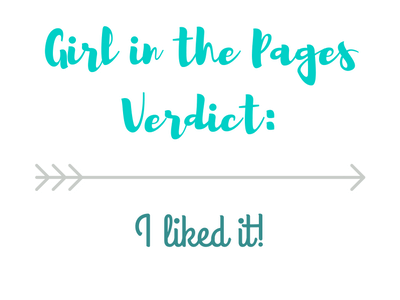 Outrun the Moon
by
Stacey Lee
Also by this author:
The Secret of a Heart Note
Published by
G.P. Putnam's Sons Books for Young Readers
on May 24th 2016
Genres:
Young Adult
,
Historical Fiction
Pages:
391 •
Format:
Hardcover
•
Source:
Purchased
Goodreads
San Francisco, 1906: Fifteen-year-old Mercy Wong is determined to break from the poverty in Chinatown, and an education at St. Clare's School for Girls is her best hope. Although St. Clare's is off-limits to all but the wealthiest white girls, Mercy gains admittance through a mix of cunning and a little bribery, only to discover that getting in was the easiest part. Not to be undone by a bunch of spoiled heiresses, Mercy stands strong—until disaster strikes.
On April 18, a historic earthquake rocks San Francisco, destroying Mercy's home and school. With martial law in effect, she is forced to wait with her classmates for their families in a temporary park encampment. Though fires might rage, and the city may be in shambles, Mercy can't sit by while they wait for the army to bring help—she still has the "bossy" cheeks that mark her as someone who gets things done. But what can one teenage girl do to heal so many suffering in her broken city?
You guys this was my first Stacey Lee book and it was SO GOOD. I was lucky enough to attend the launch party for Outrun the Moon, and I loved the mini-presentation Stacey gave on the historical background of San Francisco. It was the perfect context to have when I started this book and Stacey's writing did not disappoint. I was truly transported back to turn of the century San Francisco, and it was a thrill to read about neighborhoods that I've walked through and learn of their culture and residences over a hundred years ago. Mercy was such a great main character, and I loved the juxtaposition of her family's Chinese heritage and beliefs and her time spent at St. Clare's School and its decidedly Western perspective. When the earthquake hits and thousands of people are displaced from their homes, it was interesting to see so many different cultures and people from different backgrounds have to come together, as the earthquake was a great equalizer for many, at least in the immediate aftermath. Also, this book is truly a testament to girl power, with Mercy and her unlikely circle of friends all having very different strengths but the common traits of resilience and kindness in common.
Overall: Outrun the Moon is a fantastic book, with a ton of diversity and a very well researched historical setting. Even if you're not traditionally a fan of historical fiction, I think Lee's writing is engaging enough to captivate you and make you relate and empathize with the humanity of the characters. I encourage everyone to read this book!
Shiny Broken Pieces (Tiny Pretty Things, #2) by Sona Charaipotra, Dhonielle Clayton
Also by this author: Tiny Pretty Things, The Belles (The Belles #1), The Everlasting Rose (The Belles, #2)
Series: Tiny Pretty Things #2
Also in this series: Tiny Pretty Things
Published by HarperTeen on July 12th 2016
Genres: Young Adult
Pages: 384 •Format: Hardcover •Source: Purchased
Goodreads

May the best dancer win.
June, Bette, and Gigi have given their all to dance at Manhattan's most elite ballet school. Now they are competing one final time for a spot at the prestigious American Ballet Company. With the stakes higher than ever, these girls have everything to lose…and no one is playing nice.
Ever since June landed the starring role in last year's performance, she can finally see herself as a prima ballerina. Being the best means making sacrifices, though, and getting what she wants might cost June everything—including the only boy she's ever loved.
Legacy dancer Bette is determined to clear her name after she was suspended and accused of hurting her rival, Gigi. But even if she returns, will she ever regain the spotlight she craves? Or has she tarnished the treasured family name forever?
Gigi endured a year of torment from Bette and other dancers who envied her success. It nearly ended her ballet career—and her life—and Gigi is not going to let them go unpunished. But as revenge consumes her, Gigi may be the one who pays the price.
After years of grueling auditions, torn ribbons, and broken hearts, it all comes down to this last dance. Who will make the cut? And who will lose her dream forever?
These books are so unsettling and crazy and nefarious BUT I LOVE THEM. They're also extremely diverse, have a great mystery aspect, and leverage the format of multiple POVs wonderfully. It's sort of surprising that the nastiness of cruel games of Tiny Pretty Things could be topped in its sequel, but topped it was. Shiny, Broken Pieces is even more interesting than it's predecessor because it explores the psychological impact that the events of the first book has had on all of the characters, and their reactions and changes are super believable. It was sad yet powerful to see Gigi's fall from grace as she becomes consumed with the idea of revenge, Betty's flawed attempts at redemption, and June's continued internal battle with her body image. I'm always impressed when authors can make unlikable characters so compelling and make you want to root for them anyways, and that's exactly what this series does.
Overall: So crazy and compelling, this is definitely a series you need to start and finish if you like high drama, cutthroat competition, and/or dance. It's probably my favorite YA duology to date!
Save
Save
Save
Related Posts