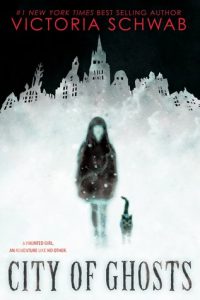 City of Ghosts (Cassidy Blake, #1)
by
Victoria Schwab
Also by this author:
This Savage Song (Monsters of Verity, #1)
Published by
Scholastic
on August 28, 2018
Genres:
Ghosts
,
Middle Grade
,
Paranormal
Format:
Audio Book
•
Source:
Scribd
Goodreads
Cassidy Blake's parents are The Inspectres, a (somewhat inept) ghost-hunting team. But Cass herself can REALLY see ghosts. In fact, her best friend, Jacob, just happens to be one.

When The Inspectres head to ultra-haunted Edinburgh, Scotland, for their new TV show, Cass—and Jacob—come along. In Scotland, Cass is surrounded by ghosts, not all of them friendly. Then she meets Lara, a girl who can also see the dead. But Lara tells Cassidy that as an In-betweener, their job is to send ghosts permanently beyond the Veil. Cass isn't sure about her new mission, but she does know the sinister Red Raven haunting the city doesn't belong in her world. Cassidy's powers will draw her into an epic fight that stretches through the worlds of the living and the dead, in order to save herself.
There's something about City of Ghosts that drew me to it, despite my black sheep status as being one of the only bloggers and readers I know that didn't enjoy perhaps Schwab's most well known book, A Darker Shade of Magic. Perhaps it was the eerie quality of the cover artwork, the decidedly dark premise for a middle grade novel, or simply the fact that it features a pale girl with long dark hair who's a little different than kids her age and has a cantankerous cat (basically how my 11 year old self would like to have glamorously and self-indulgently pictured me if I were the star of a middle grade novel). Though I missed the opportunity to grab the title at YALLWEST this year, when I saw it available on Scribd I figured it was the perfect, short (only about 5 hours) audio book to keep me in the spooky fall mood in October/November.
I will be the first to admit that I rarely read middle grade novels, so many of the critiques I may have are likely based on the fact that it's a genre I'm not too used to reading. City of Ghosts no doubt has a middle grade feel, with semi-easy resolutions to dark plot elements, characters who are a tad one dimensional, and a protagonist who tells rather than shows more often than not. However, these elements aren't criticisms of the actual writing, rather I recognize that it's the middle grade structure that allows younger readers to start learning the nuances of reading a more complex story. When I overlooked these issues, I did find City of Ghosts to be rather charming. I loved Cassidy's "Yeah-I-Can-See-Ghosts-After-A-Near-Death-Experience-And-No-One-Believes-Me-But-Oh-Well" nonchalant attitude (it seemed very 90's TV show to me), her loveable but sometimes oblivious ghost-hunting parents (oh, the irony) and her eternal middle grade optimism despite all of the obstacles that are thrown her way, from having to give up her summer beach vacation to hunt ghosts in cold and rainy Scotland to finding out her life may have a larger paranormal purpose. It's all very charming and realistic while still balancing a very unrealistic paranormal premise.
Now I've never been to Scotland, but I think Schwab was able to capture the atmosphere and setting extremely well, from the pretty much chronically haunted town to the locals who just go with the flow when presented with paranormal activity. I could clearly picture the castles, cobblestone streets and the (admittedly terrifying) Mary's King Close (which I Googled to learn more about and let me tell you it's not for the faint of heart, 10/10 would believe it's haunted). I have no idea what the plans are for the next book but I love the idea that Cassidy and her parents may travel around to a different "City of Ghosts" in each book to explore hauntings- 5th grade Cristina would have been ALL ABOUT THAT (and still is TBH).
The story was actually pretty bleak when you get right down to it, with a really creepy, child stealing ghost who manages to get into a situation of sorts (vagueness is on purpose so I don't spoil anyone) with protagonist Cassidy and she has to of course go toe to toe with the ghost to fight for good/save herself + others. She does so with the help of her trusty ghost BFF side kick (who's motives you may begin to question which is a whole other issue) and another paranormally gifted character who also teaches Cassidy she has great responsibility and purpose due to her paranormal gifts that she needs to come to terms with.
I'm glad I experienced this story via audio because I feel it did keep the story moving at a good pace (I listened at 1.2x speed) and kept me from getting board and perhaps putting it down had it been a psychical book (the plot itself wasn't boring, there were just some parts where it felt very MG-ish that might have made me loose some steam). It was also easy for my to ignore some of the pop culture references that probably would have had me rolling my eyes a bit otherwise (there's a LOT of Harry Potter references and yes, I love HP as much as the next person but it felt a bit heavy handed). I also really liked the narrator- she made Cassidy sound very earnest but also naive and sometimes hesitant which I think is the perfect tone for an 11 year old who can see dead people.
Overall: A solid middle grade novel that's not afraid to take on darker themes or spookier premises. I sincerely hope we get to travel to another international (and haunted!) location with the Blake family in the next book!
Related Posts