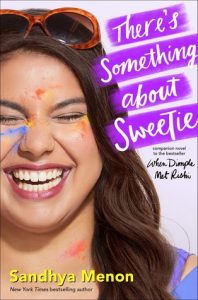 There's Something About Sweetie
by
Sandhya Menon
Also by this author:
When Dimple Met Rishi
,
From Twinkle, with Love
Published by
Simon Pulse
on May 14, 2019
Genres:
Contemporary
,
Young Adult
Pages:
384 •
Format:
E-ARC
•
Source:
NetGalley
Goodreads
Ashish Patel didn't know love could be so…sucky. After being dumped by his ex-girlfriend, his mojo goes AWOL. Even worse, his parents are annoyingly, smugly confident they could find him a better match. So, in a moment of weakness, Ash challenges them to set him up.

The Patels insist that Ashish date an Indian-American girl—under contract. Per subclause 1(a), he'll be taking his date on "fun" excursions like visiting the Hindu temple and his eccentric Gita Auntie. Kill him now. How is this ever going to work?

Sweetie Nair is many things: a formidable track athlete who can outrun most people in California, a loyal friend, a shower-singing champion. Oh, and she's also fat. To Sweetie's traditional parents, this last detail is the kiss of death.

Sweetie loves her parents, but she's so tired of being told she's lacking because she's fat. She decides it's time to kick off the Sassy Sweetie Project, where she'll show the world (and herself) what she's really made of.

Ashish and Sweetie both have something to prove. But with each date they realize there's an unexpected magic growing between them. Can they find their true selves without losing each other?
*A huge thank you to Simon & Schuster and NetGalley for providing a review copy in exchange for an honest review!*
I always know that when I pick up a story by Sandhya Menon it's going to be sweet, fluffy, and full of heart. There's Something About Sweetie is no exception, however it has the added bonus of being my favorite Sandhya Menon book to date! I was utterly charmed by Sweetie's resilience and confidence and she's the perfect type of protagonist I know I would want my future children to encounter when they're reading YA one day.
There's Something About Sweetie follows the story of Sweetie, an Indian girl who is a great friend, a respectful daughter, an amazing singer, and a star athlete – who just so happens to be fat. Yet Sweetie doensn't let her weight define her or dictate her aspirations in life, and her story is full of so much body positivity and confidence that I felt myself feeling empowered after reading Sweetie's chapters! Yet despite Sweetie's confidence, the story does tackle the issue of others (such as Sweetie's mom, family friends, etc) who are fixated on Sweetie's weight and the pressures and stress that fixation puts on Sweetie, even if she does rise above it. I appreciated the realistic portrayal of being secure in your identity but still being hurt and worn down by others' negativity- confident and happy people are not immune to sadness or emotional exhaustion!
Most readers are probably thrilled to pick up a story that's set in the When Dimple Met Rishi universe, as Sweetie ends up secretly dating Rishi's little brother Ashish. It was fun getting to dive back into the Patel family dynamics (every time Mr. Patel mentioned "hanky-panky" I cackled) and the cameos from Rishi and Dimple were fun little additions. However, Sweetie and Ashish's romance really stood on its own as well, and I really loved their pre-planned "dates" by Ashish's parents and how they allowed Ashish and Sweetie to learn more about their culture and have open discussions about how they chose to engage (or not engage) with their Indian heritage.
While I really enjoyed the overall story and plot of There's Something About Sweetie (no one writes a good romance-arranged-by-parents-turning-out-successfully like Menon does!) it did run into some cliches toward the end that were extremely predictable and a little disappointing (specifically the "it's not what it looks like" couple misunderstanding) and I do wish the ending had some more original conflict. However, this was mostly made up for by other elements in the story, including supportive and fleshed out friend groups and a brutally honest portrayal of the conflict between parents and children who have different ideals for their appearance (some of those scenes between Sweetie and her mom were hard to read, but I'm glad Menon included them). Whether you've argued with your parents over your weight, hair color, outfit choice, body piercings, etc. I think most readers will either relate to or remember the struggle of taking agency of your own body during your teenage years amidst some sort of parental disapproval, and Menon doesn't shy away from Sweetie's struggles in the story.
Overall: Despite some predictable elements surrounding the romantic conflict, I really, truly enjoyed reading about Sweetie and her relationships. The story tackles issues surrounding body image but still manages to be fun and lighthearted, and there's an inherent light and goodness in Sweetie that will make every reader want their own Sassy Sweetie as a best friend.
Related Posts