I received this book for free in exchange for an honest review. This does not affect my opinion of the book or the content of my review.
Love, Hate & Other Filters
by
Samira Ahmed
Published by
Soho Teen
on January 16th 2018
Genres:
Contemporary
,
Young Adult
Pages:
288 •
Format:
E-ARC
•
Source:
NetGalley
Goodreads
In this unforgettable debut, a Muslim teen copes with Islamophobia, cultural divides among peers and parents, and a reality she can neither explain nor escape. American-born seventeen-year-old Maya Aziz is torn between worlds. There's the proper one her parents expect for their good Indian daughter: attending a college close to their suburban Chicago home, and being paired off with an older Muslim boy who's "suitable" to her mother. And then there is the world of her dreams: going to film school and living in New York City—and maybe, just maybe, pursuing a boy she's known from afar her entire life who's suddenly falling into her orbit at school.

But unbeknownst to Maya, there is a danger looming beyond her control. When a terrorist attack occurs in another Midwestern city, the prime suspect happens to share her last name. In an instant, Maya's community, consumed by fear and hatred, becomes unrecognizable, and her life changes forever.
*Thanks so much to NetGalley and Soho Teen for providing an ARC copy for review!
What a better way to start 2018 off than to receive one of those coveted emails from NetGalley that one of my "wishes" had been granted? I was jumping up and down with glee when I saw the email come through only a few days into the new year, as Love, Hate & Other Filters is no doubt one of the most coveted YA releases of 2018. I eagerly downloaded the title to my Kindle and read Maya's story about love, family, fear and hope in just two sittings, and I can safely say that it was a strong debut novel that created a vivid family setting while integrating diversity in a seamless way.
Maya is the American born daughter of parents who immigrated from India to America, and are also Muslim, making them a minority group event within the Indian community in the United States. These protagonists who are straddling two culture narratives seem to be increasingly popular in YA lit (which I love, such as American Panda or I'm Not Your Perfect Mexican Daughter), and I think these are narratives that a lot of readers will find relateable (I'm personally first generation born in America on my mom's side so these narratives are familiar in some ways, yet I also learn so much about each individual protagonist's struggles and culture with each new book). However, this book differed a bit from other narratives with similar topics that I've read in YA recently as it was split half the time between being a book about diversity and social issues, and the other half of the time as being a fluffy teen romance. Based on the novel's synopsis, I wasn't expecting this juxtaposition, but I actually found myself enjoying this split because it felt realistic- yes, there is a heavier focus on terrorism and racism and it's repercussions in Maya's life, but she's also an American teenager doing what American teenagers do and that was refreshing and realistic. There were also a lot of elements about this book that I found were really positive portrayals of Maya's family system, peer relationships, and sense of self confidence, such as:
Though Maya struggles on and off throughout the story with her parent's strict rules and expectations of her, I did find them to be more understanding and supportive (most of the time) than portrayals I've seen in other narratives.
Maya has an awesome aunt who has shirked a lot of the stereotypes and expectations of women in her culture- she's unmarried, has a successful career as a graphic designer, lives on her own, etc. and yet despite these differences still has a close relationship with her more traditional sister and brother-in-law. I thought this was really empowering to show females who have taken a less traditional route still be able to be involved in their traditional culture.
There is a LOT of romance in this book (which at times worked for me and at other times didn't), yet all of the relationships portrayed were pretty healthy and mutually supportive. Maya has an almost relationship with a family friend from her Indian Muslim community, and when things don't work out there's not bitterness, rather they form a strong friendship and continue to talk throughout the book, which is SO important, as the stereotype is usually the "toxic" ex. There's also Maya's relationship with Phil, which though at times felt a little bit unbelievable to me (I didn't really see the chemistry personally), he was always very supportive and polite and YES we need to break the "hot guys are jerks and that's ok" YA narrative and this book totally does that.
Though Maya, like most teens, struggles with what she wants vs. her parent's expectations, I found she had a real sense of self and was super dedicated to her passion (filmmaking) and it was empowering to see her pursue her dreams and be so self assured at such a young age (especially because it's rare to know what you want to do with the rest of your life at 17!) I liked that her hobby wasn't something that she kept a secret from people too- she was constantly filming and talking about her love for movies with others, and I loved her openness in discussing her strengths and passions that energized her.
About halfway through the novel there's a terrorist attack that happens in Maya's state that really impacts her life and the way people treat her family. The way the attack is initially framed by the media, and who they initially point the finger of suspicion to, is a very telling and realistic portrayal of Islamophobia and how speculation can often do more harm than the truth. Maya and her family face dangerous repercussions in a community that's been their home for years, and while frightening it's an important reminder that fear can breed hatred and intolerance where there previously wasn't any. However, I did find the inclusion of the terrorist's POV a bit jarring and unnecessary (it's integrated after Maya's chapters and to be honest at first I thought my Kindle was glitching and taking me to another book). I understand the intent to show that terrorists are humans too and the desire to show what leads one to choose such a catastrophic path, however I think Maya's narrative was strong enough to stand alone.
Overall: I really enjoyed Love, Hate & Other Filters! Despite the jarring shift in POVs at times and the unexpected "fluffiness" of the novel, it was an interesting story that handled the topic of a protagonist straddling two cultures exceptionally well. I could read narratives with these premises all day long, and I love seeing an #ownvoices novel such as this starting off the new release buzz in the YA community!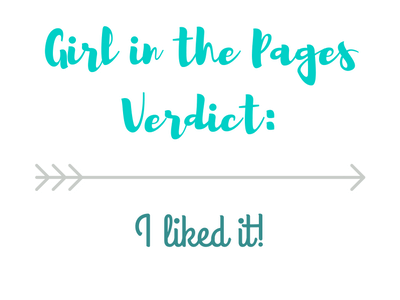 Related Posts