I'm sorry. It's not you, it's me. Life just got in the way and I forgot to flesh out my thoughts about you, with fingers to keyboard. With 2015 coming to a close, I realized I absolutely could not allow the new year to dawn without writing at least a mini review for you. Some of you were great, and some of you left much to be desired, but your lack of a previous review was due to my own frenzied schedule. I am now doing you your due diligence and letting the world know what I thought.
---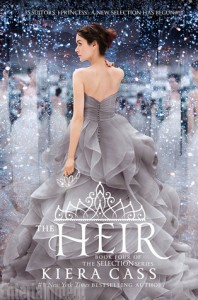 The Heir (The Selection, #4) by Kiera Cass
Also by this author: The Selection, The One, The Crown (The Selection, #5)
Series: The Selection #4
Also in this series: The Selection, The One, The Crown (The Selection, #5)
Published by HarperTeen on May 5th 2015
Pages: 346 •Goodreads

Twenty years ago, America Singer entered the Selection and won Prince Maxon's heart. Now the time has come for Princess Eadlyn to hold a Selection of her own. Eadlyn doesn't expect her Selection to be anything like her parents' fairy-tale love story. But as the competition begins, she may discover that finding her own happily ever after isn't as impossible as she always thought.
I'm actually quite surprised that I really, really enjoyed reading The Heir. I found Eadlyn to be a much more interesting protagonist than America. I'd read a lot of reviews citing that she's spoiled and entitled, but honestly, she's a princess and a teenager…not a surprise. I liked that she had a chip on her shoulder and struggled between making selfish choices and choices that were for the "greater good" of the monarchy and country. I liked that she's extremely reluctant to partake in a selection, and doesn't understand why having a king consort by her side should make her any more successful as a leader (which is what her whole family tells her..and while she rebels against this mentality, the issue of her mother and father forcing her into it is a whole different rant I'll save for another day…)
It was also interesting to see the male suitors partake in a selection. While there was a rather heavy handed attempt at almost-assault in one instance that I think could've been handled better, I enjoy seeing the way the boys befriend and betray each other, as it shows that it's not just the stereotypical reality-tv show female stereotype that can be catty or manipulative; the males can be just as cunning and cruel. I especially love the love-hate relationship she has going on with Kyle, and I'm quite intrigued by Ean (I think that's his name? It's been a few months since I read this…) as well.
Overall: My favorite book in the Selection series so far, Eadlyn is a independent and intelligent, if at times bratty, protagonist who's a lot less annoying than America. It showcases the country after her parents implement the abolishment of the caste system, and the repercussions of their idealistic plan. Also, there's no aggravating love triangle so far, which was my main complaint about the previous three books in the series. It's quite enjoyable for a light dystopian read, and I'm excited for the next installment.
---
I received this book for free in exchange for an honest review. This does not affect my opinion of the book or the content of my review.
What We Saw
by
Aaron Hartzler
Published by
HarperTeen
on September 22nd 2015
Genres:
Young Adult
,
Contemporary
Pages:
336 •
Format:
ARC
•
Source:
ALA
Goodreads
The party last Saturday night is a bit of a blur.
Kate Weston can piece together most of the bash at John Doone's house: shots with Stacey Stallard, Ben Cody taking her keys and getting her home early—the feeling that maybe he's becoming more than just the guy she's known since they were kids.
But when a picture of Stacey passed out over Deacon Mills's shoulder appears online the next morning, Kate suspects she doesn't have all the details, and begins to ask questions.
What really happened at the party after she left?
Who was still there?
What did they see?
When Stacey levels charges against four of Kate's classmates, the whole town erupts into controversy. Facts that can't be ignored begin to surface, and every answer Kate finds leads back to the same question:
Where was Ben when a terrible crime was committed?
This story—inspired by real events—from debut novelist Aaron Hartzler takes an unflinching look at silence as a form of complicity. It's a book about the high stakes of speaking up, and the razor thin line between guilt and innocence that so often gets blurred, one hundred and forty characters at a time.
I received this book at ALA after indicating that I was interested in heavier contemporaries at the publisher's booth. It didn't initially catch my attention and didn't make it to my "most coveted" ARC pile, as I had heard very little about it. Once I took the time to dive into it, I realized what an important addition to the YA book section it is. Clearly influenced by recent stories in the media involving sexual assault instances that are documented via social media where classmates and peers neglected to help the victim, this book is a look at the aftermath of the assault, and the conflicting emotions that the protagonists faces as someone who finds out about classmates she's known for years perpetrating unthinkable acts against an old friend of hers.
Overall: I thought this book took an interesting POV by focusing on the aftermath of the assault through the eyes of someone who finds out about it third hand, and really focuses on the cyber behavior of teenagers and young adults and how rape culture is so prevalent within communities. While the writing style didn't overly impress me, the themes and story is an important addition to the YA genre, and very relevant right now.
---
First & Then
by
Emma Mills
Published by
Henry Holt and Co. (BYR)
on October 13th 2015
Genres:
Young Adult
,
Contemporary
Pages:
272 •
Format:
ARC
•
Source:
ALA
Goodreads
Devon Tennyson wouldn't change a thing. She's happy watching Friday night games from the bleachers, silently crushing on best friend Cas, and blissfully ignoring the future after high school. But the universe has other plans. It delivers Devon's cousin Foster, an unrepentant social outlier with a surprising talent for football, and the obnoxiously superior and maddeningly attractive star running back, Ezra, right where she doesn't want them first into her P.E. class and then into every other aspect of her life.
Pride and Prejudice meets Friday Night Lights in this contemporary novel about falling in love with the unexpected boy, with a new brother, and with yourself.
I'll be the first to admit I haven't read Pride & Prejudice (For shame! I know, I know, I am an English major anomaly) and have only seen a handful of Friday Night Lights episodes (the rest of my family was obsessed and binge watched it on Netflix last year). However, I was still very intrigued by this book because 1. The cover is gorgeous and 2) It is pitched as a combination of two very different things. Sadly, this book really didn't live up to the rave reviews I had seen from many other bloggers, and I found many of the characters to be rather boring to read about (especially the main character). BUT I will say that one thing this novel captured very, very well is the portrayal of teenage rejection and heartbreak when that one person you've been crushing on forever admits that they know, and even worse, that they don't return your feelings. Devon and Cass' relationship was such a classic, realistic depiction of this high school phenomenon and I felt myself cringing and feeling for Devon's unrequited feelings for him. This book also featured a great platonic friendship between Devon and Jordan, without any underlying romantic tension.
Overall: If you're not a huge fan of Pride & Prejudice to pick up the references, the novel doesn't really offer a lot to set it apart from other contemporaries. There were some interesting family dynamics (such as Foster and Devon) and a wide range of male/female high school relationships, but I honestly wasn't really charmed by Ezra or Devon as main characters, so I wasn't really that invested in their love story.
Related Posts