A Psalm for Lost Girls
by
Katie Bayerl
Published by
G.P. Putnam's Sons Books for Young Readers
on March 14, 2017
Genres:
Mystery
,
Religion
,
Young Adult
Pages:
363 •
Format:
Hardcover
•
Source:
Gifted
Goodreads
Tess da Costa is a saint — a hand-to-god, miracle-producing saint. At least that's what the people in her hometown of New Avon, Massachusetts, seem to believe. And when Tess suddenly and tragically passes away, her small city begins feverishly petitioning the Pope to make Tess's sainthood official. Tess's mother is ecstatic over the fervor, while her sister Callie, the one who knew Tess best, is disgusted - overcome with the feeling that her sister is being stolen from her all over again.

The fervor for Tess's sainthood only grows when Ana Langone, a local girl who's been missing for six months, is found alive at the foot of one of Tess's shrines. It's the final straw for Callie.

With the help of Tess's secret boyfriend Danny, Callie's determined to prove that Tess was something far more important than a saint; she was her sister, her best friend and a girl in love with a boy. But Callie's investigation uncovers much more than she bargained for: a hidden diary, old family secrets, and even the disturbing truth behind Ana's kidnapping.
If you follow my reviews at all, you know I'm fascinated by YA books that incorporate the theme of religion into them. As a Religious Studies major in college (think of it as "comparative world religion" rather than theology) I was fascinated by studying different customs, rituals, rites of passage, etc. So when I read the synopsis for A Psalm for Lost Girls I was hooked. Focusing on the events AFTER the death of the protagonists sister (Tess) who was thought to be a miracle worker, it follows a town's trek to have the sister canonized as a Catholic saint (which can only be done after death) and her sister's quest to prove she isn't one.
At first, protagonist Callie was abrasive and not very likeable- and why would she be, when she's trying to prevent one of the greatest honors of the Catholic church upon her sister? Yet what's eventually revealed is all the ways in which the attention of being a modern day miracle worker was harmful to Tess, the stress of which may have led to her untimely death. I really enjoyed the deeper questions that the narrative poses in this story, such as who really "owns" someone? Do they belong to their family, to their community, to themselves, to all of the above? Does becoming a saint take away a person's humanity in a way and strips their loved ones of their claim on their memory? There's no clear cut answer revealed to any of these questions, but I appreciated that protagonist Callie had to grapple with them in their own way.
A Psalm for Lost Girls is told in a two part narrative, primarily narrated by Callie but broken up with chapters here and there from Tess' journal from the months leading up to her death. While the journal largely proves help solve the "mystery" that Callie is dealing with (who kidnapped their neighbor), I was much more interested in Tess' struggle with being a modern day miracle worker. How she struggled with the voice she heard and wavered between thinking she was truly gifted vs. thinking she may be suffering from a mental illness, and being denied access to medical care due to her family's own stigmas. How being such a venerated member of the church community meant she by default had to abide by "Virgin Mary" standards of not dating, dressing modestly, not being confrontational, etc. and how these expectations slowly crept up and were wordlessly imposed on her. How members of the community were so sure she was gifted until there was one situation she could not help solve and so many were quick to turn on her or even blame her. Tess' journal entries ultimately outline a life that ended with stress, self doubt and even rejection, paralleling the often unfortunate lives and deaths of actual canonized Catholic saints (but in a modern setting).
While I really enjoyed all of the deeper themes in the novel and the alternating timeline of Tess and Callie's journey coming together, I wasn't expecting the present day parts to focus so much on the mystery of finding a kidnapper, and that's where the book lost steam for me. I found myself bored by the "investigating" that Callie and her sort-of love interest Danny partake in, and Callie's actions are often impulsive and unbelievable. I also really could have done without the romance View Spoiler »It just seemed creepy to me that Danny would have a thing with Tess and then have a sort-of thing with her little sister after she died, but maybe that's just me. « Hide Spoiler
Overall: In terms of plot and pacing, A Psalm for Lost Girls didn't bring anything new to the table for a YA novel. However, if you're interested in books that ask thought provoking questions and present intriguing themes around cultural and social issues in modern day society, it's worth the read. It's also worth noting that it might be the first YA book I've read that features a Portuguese-American family and I enjoyed see glimpses into Callie and Tess' cultural background, even if just peripherally.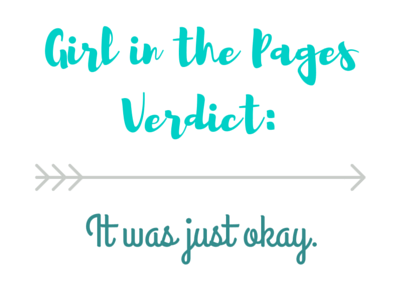 Related Posts