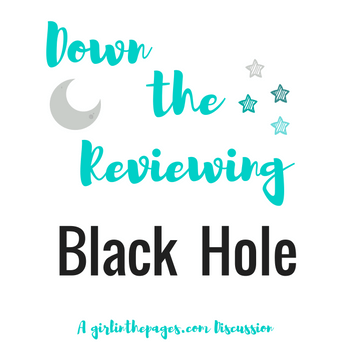 Hello! Yes, I am indeed alive! After a seriously crazy summer season at work, I am returning to talk about one of the most integral parts of being a blogger…reviewing.
I've talked before about how important and enjoyable I find writing and reading reviews, and I usually feel duty bound to review every single book I read here. Considering I read anywhere from 50-75 books a year, this is a ~somewhat~ manageable goal. However, I know there are bloggers who read hundreds of books per year, and it got me thinking….how many bloggers review ALL of the books they read? What's the average ratio of reading to reviewing? How many people are writing full length reviews and how many settle for mini review round ups? Perhaps most importantly, how many other bloggers out there feel cripplingly duty-bound to make an effort to review every book they read?
The Reading and Non-Reviewing Anxiety
Since I started blogging, I've always felt a constant responsibility to review the books I read, for both ARCs, newly published, and back list books. While I love reviewing and being able to look back later at the thoughts I had about a book, my goal to review 100% of all the books I read brings about its own kind of stress. Obviously there's the concern over having too much of a review backlog built up, and ideally I'd like to have a 2 or 3 backlog limit (such as if I have 3 books I've read and yet to review, I have to write a review for at least one before continuing on). While in an ideal world this would keep me on track, it often doesn't work so perfectly, because I generally have more time to squeeze in reading than I do blogging. Then there's the question of relevancy- if I'm reading a book that was published 2 or 3 or 4 years ago, should it be as much of a priority as reviewing a new book that my audience will engage with more? I know authors are often so appreciative of back list reviews, but they also generate noticeably less engagement than reviews of current books.
Occasionally I have to have a mental pep talk with myself and say "It's OK if you skip reviewing a book." Sometimes I'm just not motivated to write down my thoughts, or I feel as though nothing I have to say is adding to the dialogue surrounding a book, especially if it's already recently generated a lot of attention. But then this "pass" I give myself can lead to problems down the road. What if I decide I want to read and review the sequel, but I never reviewed the first book in the series (I am now facing this dilemma with Illuminae and Gemina)? What if I want to talk about the book in a discussion or recommendation post, but have no review to link back to and reference? Admittedly, sometimes there's even the feeling of having wasted a bit of time reading it if I don't use it to produce content for my blog…a guilt of sorts. But then sometimes it's so NICE to have the freedom to not think about what to make note of for a review later or finding quotes to mention in a post. As you can see, I'm clearly overthinking the issue…but since reviewing is (in my opinion) the backbone of book blogging, it seems to merit at least some serious consideration if I decide to pass on reviewing a book!
A Look at the Stats So Far:
I've reviewed 30 out of 37 books I've read this year so far…which is 81%. This was actually much better than I anticipated!
Of the books I've reviewed in 2016:
3 have been in a mini review format
3 have been book buddies reviews
24 have been normal, full length reviews
Taking a look at the 7 books I've yet to review, I know that I'll be writing full length reviews for at least 2 of the them, and mini reviews for another 2, which leaves just 3 that I will probably not get around to reviewing, which is only about 8%.
How Big a Role Does Timing Play?
I've noticed that there's a HUGE difference in the quality of my reviews if I write my review right after reading than if I wait several days. I don't usually take notes while I read, so writing my review while everything is fresh in my mind is usually best. My reviews also benefit if I am still feeling the emotions from having recently read the book, because time definitely distances me from certain feelings and opinions when I go to write a review. And sometimes, if I haven't written a review and too much time passes, I'm just not going to be able to right it (such as what happened with Passenger).
What's Your Reading to Reviewing Ratio?
Like most bloggers, when I am curious about a blogging related question I usually turn to Twitter for answers. I ran a poll asking about the percentage of books that most bloggers find themselves reviewing on their blogs, and found that many of them subscribe to the same mentality of must0review-all-of-the-books-read as I do: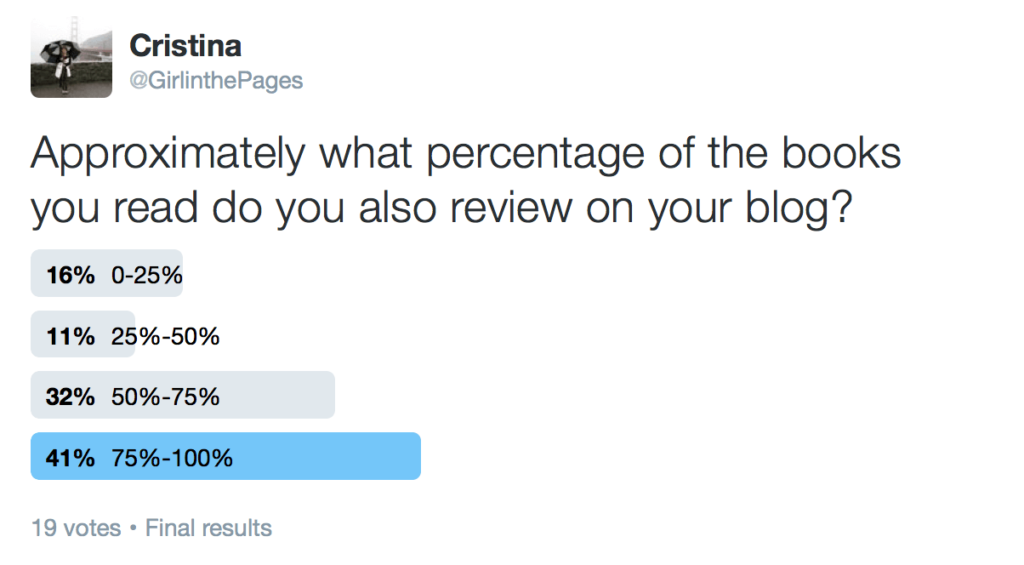 Do you suffer from reading-reviewing anxiety? How many books do you actually review on your blog that you read? Do you have to write your reviews right after you finish the book? Do you use a mini review format to help alleviate the pressure of reviewing so many books? What are some of the most popular books that you've read and have yet to review? Let me know in the comments!
Related Posts