I received this book for free in exchange for an honest review. This does not affect my opinion of the book or the content of my review.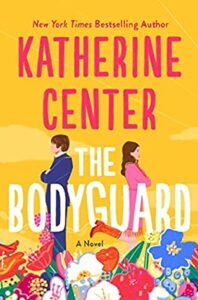 The Bodyguard
by
Katherine Center
Published by
St. Martin's Press
on July 19, 2022
Genres:
Romance
Pages:
320 •
Format:
E-ARC
•
Source:
NetGalley
Goodreads
She's got his back.
Hannah Brooks looks more like a kindgerten teacher than somebody who could kill you with a wine bottle opener. Or a ballpoint pen. Or a dinner napkin. But the truth is, she's an Executive Protection Agent (aka "bodyguard"), and she just got hired to protect superstar actor Jack Stapleton from his middle-aged, corgi-breeding stalker.

He's got her heart.
Jack Stapleton's a household name—captured by paparazzi on beaches the world over, famous for, among other things, rising out of the waves in all manner of clingy board shorts and glistening like a Roman deity. But a few years back, in the wake of a family tragedy, he dropped from the public eye and went off the grid.

They've got a secret.
When Jack's mom gets sick, he comes home to the family's Texas ranch to help out. Only one catch: He doesn't want his family to know about his stalker. Or the bodyguard thing. And so Hannah—against her will and her better judgment—finds herself pretending to be Jack's girlfriend as a cover. Even though her ex, like a jerk, says no one will believe it.

What could possibly go wrong???
Hannah hardly believes it, herself. But the more time she spends with Jack, the more real it all starts to seem. And there lies the heartbreak. Because it's easy for Hannah to protect Jack. But protecting her own, long-neglected heart? That's the hardest thing she's ever done.
The Bodyguard is a rom-com that subverts a common trope- body guard and client fall in love, except the bodyguard is a woman and the client is a very attractive and somewhat stubborn man. I'll admit, I was surprised at this change of pace (I clearly didn't remember the synopsis by the time I sat down to read it!) but it made for a very unique, funny, and quirky read in what feels like a sea of rom-coms these days.
Protagonist Hannah Brooks is an Executive Protection Agent who's personal life is crumbling around her and she dives herself into her job for solace. However, instead of taking pity on her and assigning her to an exciting, long, overseas assignment, her (somewhat petty) boss assigns her to protect a movie star right in her home city of Houston, despite her desire to flee her family and romance troubles. Coupled with the facts that the actor, Jack, is ridiculously good looking (he and his family low key gave me Hemsworth vibes), she must give up her non-nonsense personality to pretend to be his girlfriend, and they must stay at his family's picturesque ranch outside of the city, the premise of the story sets up nicely for a desirable rom-com read.
While I knew that *obviously* the story was setting up for a romance between Hannah and Jack (I read this genre of books for a happy ending, after all) I actually found there to be some real moments of pain and empathy in the beginnings of their relationship. Since Hannah and Jack start out using the "fake dating" trope, there are times when comments are made about Hannah needing a makeover, no one buying that someone who looks like her could be with someone that looks like him, when her relatively normal physical "flaws are mentioned by Jack or others (slightly crooked teeth, no spray tan, sleeps in a frumpy, comfortable nightgown, etc). Being in my 30s, I recognize that there is absolutely nothing wrong with any of those things, and prioritizing comfort and well being over physical appearance is now my norm. But dang if it the way it made Hannah feel didn't resonate with me a little bit in a world where we're constantly bombarded with influencer appearances and body types that are so often a product of procedures, filters, etc but we've become desensitized due to their frequency. Even as Hannah and Jack's relationship progresses and a reader can tell they're genuinely compatible, there are constant reminders for Hannah that she is just so ordinary compared to Jack, and it was equal parts painful, frustrating, and yet realistic to read about. In some ways, this wish-fulfillment premise felt more realistic than many overly idealized ones I've read before.
While I really enjoyed the overall romance and development of the relationship between Hannah and Jack, the plot was a bit far-fetched and many of the supporting characters a bit one-dimensional for my liking. I felt like Hannah was set up to be a badass at the beginning of the novel yet she makes quite a few novice type mistakes that seem incompatible with her experience as a bodyguard of such esteem. I know these are likely to drive the plot forward, but it was a little disappointing at times. Her work crew also felt lackluster despite the fact that they were also supposed to be highly trained agents but often served as cardboard caricatures to further Hannah's character development along (slimy Robby, betraying Taylor, etc). In contrast, however, I really enjoyed Jack's family and wish Hannah's supporting cast had been a bit more fleshed out like them. There's also just some really hilarious moments/quirks to this story (a corgi-breeding stalker was really a unique touch, I must say).
Overall: The Bodyguard is a fun, quick read that definitely feels like a rom-com, with all of the wonderful and cringey moments that the genre entails. It does put a unique spin on its premise, but could do with a bit more character development of its supporting cast and a few more believable touches. However, I laughed a lot when reading it!
Related Posts