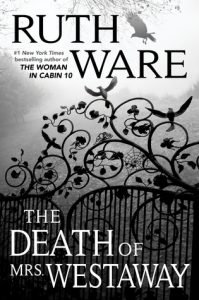 The Death of Mrs. Westaway
by
Ruth Ware
Published by
Gallery/Scout Press
on May 29, 2018
Genres:
Adult Fiction
,
Mystery
,
Thriller
Pages:
368 •
Format:
Audio Book
•
Source:
Scribd
Goodreads
On a day that begins like any other, Hal receives a mysterious letter bequeathing her a substantial inheritance. She realizes very quickly that the letter was sent to the wrong person—but also that the cold-reading skills she's honed as a tarot card reader might help her claim the money.

Soon, Hal finds herself at the funeral of the deceased…where it dawns on her that there is something very, very wrong about this strange situation and the inheritance at the centre of it.
"Après moi, le déluge." -Attributed to Louis XV, later quoted by Mrs. Westaway.
Well alright alright alright. This was a fun one, rabid readers. As a big fan of Agatha Christie, my eyebrows pricked up when in the preview blurb for this book Ruth Ware was honored as "The Agatha Christie of our time." 'Oh yeah? … We shall see…' I thought, and downloaded one of her other books, The Woman in Cabin 10. I thought that one was great… 'till the very end where there was a pretty substantial shark jump. But hey not even Agatha Christie churned out a catalogue of perfect novels. That said I enjoyed the ride and decided to download The Death of Mrs. Westaway, Ware's newest and more highly rated book. This is the one that made me feel like Christie was back in the game. It was like riding a roller coaster in slow motion. Stops, starts, and redirections abound. A truly unique and compelling story with great characters and conflicts. If you're into watching rich peoples' messed up family drama, this one's for you dear reader. Let's get into it.
To give the briefest, spoiler free summary of the plot as possible, a broke girl is in deep with the loan sharks of Brighton. She receives an odd letter saying that a long-lost relative is passed and she is invited to the funeral and to receive her inheritance. At first, she thinks it's too good to be true and that the whole thing is obviously a mistake. But out of desperation and a misguided sense of sticking it to those dirty rich people, she decides to pack her bags and head to Cornwall. When she gets there it all comes apart quickly. Ugly family skeletons are unearthed, mysteries are unraveled, and no one walks away the same. I laughed. I cringed. I had a great time.
So this one was by far my favorite of the two Ruth Ware novels I've listened to so far. If you're into Christie like I am, you'll definitely enjoy this one. There's some masterfully placed red herrings and misdirects. You think that the plot will go one way and in the end it goes one that I would have seen coming, but it was done in such a unique way that I had to do a double take. You're lead down one path by Ware, her eyebrows wiggling. You almost sigh at knowing where you're about to arrive. But then she pushes you into a ravine and you're plunged into an ice-cold river. When you come out gasping and shivering, you find you're at the same place you thought it would be, but the journey has really become the destination, Ruth Ware standing there with a cheeky grin on her face. I can't help but love that. The big reveal at the end isn't some ground breaking revelation in and of itself. It's what it took to get there that makes it feel fresh and new and earned.
There's honestly not much more I can say about it. I loved the characters, and the main character especially. She's a kid who's been poor her whole life, but it's made her into a survivor. She still comes off as vulnerable and afraid, but with a toughness that even she herself underestimates. She often surprises herself by her ability to stand her ground when she should be completely outclassed by someone older, richer, or generally more experienced than she is. You just can't help but route for her, even though what she's doing is pretty shady. The characters in the family were also great and though they initially come off as total stereotypes, you find some real depth there that makes it hard to put the book down. You want to know what happened to this family. You want to know what they're hiding. My personal favorite character was the bitter wizened old maid of the house. Again, she seems a total stereotype but what Ware does with her is just delightful.
If I had to quibble over flaws, I could of course exhume some. The legality of the situation is a little questionable. I don't know that a real lawyer would have OK'ed the stuff that go down in the book, but honestly that's scratching the bottom of the barrel pretty hard. Read. this. Boooook.
TL;DR version: If you love mysteries like me, you can do a lot worse than The Death of Mrs. Westaway. If you're not a fan of things like Downton Abbey, this one might not be for you.
---
About the Reviewer
Max is a twenty-something psychology grad, avid gamer, and self-proclaimed Hufflepuff. He and Cristina met in high school, where they bonded over a mutual love of food, Harry Potter, and Disney. When he's not dutifully attending book events with his book blogger fiancé, he can be found gaming, reading fantasy & sci-fi, and becoming overly invested in Food Network shows with Cristina.
Related Posts