I received this book for free in exchange for an honest review. This does not affect my opinion of the book or the content of my review.
Ciao For Now: A Romantic Comedy
by
Kate Bromley
Published by
Graydon House
on June 6, 2023
Genres:
Romance
Pages:
310 •
Format:
E-ARC
•
Source:
NetGalley
Goodreads
With her thirties rapidly approaching and a mountain of student debt looming over her, Violet Luciano's dream of finishing design school and working in fashion has cost her everything. So when she lands an internship at an up-and-coming fashion brand in Rome, she brings her A game to Italy. With nothing left to lose, Violet plans to win the competition among the interns for the ultimate prize—a job at a New York label.

But when a coffee run goes wrong and Violet accidentally destroys a stranger's laptop, all of the apology Americanos in the world won't help her. Because it turns out that the man from the café is Matteo, her professor's eternally grumpy son, who thinks she's a clumsy American…and maybe a stalker. Their animosity (and undeniable chemistry) grows as together they're forced to face a summer of chic parties, adventures through Rome and sharing a home…with the person they can't stand the most.

The more time she spends with him, the more distracted she finds herself. With her chance to win the competition slipping out of her grasp, Violet has to decide whether to say ciao to Matteo—or ciao to her dreams.
When a book is pitched to me with The Lizzie McGuire movie as a comp title, it would be illegal for me not to read it. Therefore, it's was practically a foregone conclusion that I was going to enjoy Ciao for Now, a romance set in Italy featuring an aspiring fashion designer and a broody screenwriter. However, I didn't anticipate just how much I was going to enjoy a new novel from a new to me novel- so much so that I'm immediately adding all of Kate Bromley's backlist titles to my TBR list!
First off, this book came out at the perfect time, in my humble opinion. I love reading books set abroad during the summer (especially when it seems like everyone has a fancy European vacation planned this summer but you!) Getting to start my summer TBR off with Violet's magical trip to Italy was a treat, and experiencing it through her eyes as a design student was incredible (it honestly brought back all of the dreams I had of being a retail buyer back when I worked at Nordstrom during my summer breaks in college!) Despite at one point in my life being super interested in the fashion world, I'd never read a book about an aspiring fashion designer and it was incredibly interesting learning about the design process via Violet and her two friends (and competitors, since they're traveling and interning as part of the competition). I loved hearing about both the exciting tasks they got to rotate through as interns at a major label (it gave me The Bold Type vibes in the best way) but also learning about their creation process as they physically made their pieces. Just the way Violet describes fabric is so fascinating I could read about it all day.
Fashion aside, the characters in this novel were excellent. They all have incredible banter, especially Violet's friend and competitor Marco- I laughed out loud several times during his dialogue, and Violet has some great verbal barbs herself (and I just came off reading an Ali Hazelwood novel, who's truly often hilarious with her characters' dialogue). Everyone in the book wanted to be Marco's BFF and I was definitely right there along with them! Violet herself was a fun character to read (if a bit self-sabotaging). I liked the element of her character being older and having gone back to college to pursue her dreams in her late 20s, as it led a uniqueness to the book that I haven't read about often, and as a thirty something it was relatable to see someone close to my age try to keep up with the Gen Z kiddos (if you can't tell, I'm an old soul starting to approach the "get off my lawn" phase of my life, lol).
As for the romance, I did overall enjoy it, though I wish it had been more of a slow burn. To me it felt like it moved too quickly, but given that Violet was only in Rome for 4 weeks, it makes sense that the timeline would have to be a bit more compressed. Matt (or Matteo) was a good mix of both playful and broody, though I wouldn't call this quite a full-fledged grump-sunshine trope…he was more mildly disgruntled, lol. I actually found their romance to be very sweet and I loved that they were both creative people pursuing their passions (Matt being the creator/lead writer for a very popular sci-fi/romance show that totally reminded me of how folks would act had he been behind a phenomenon like GOT or Stranger Things- his show supposedly has that level of hype). Mild spoiler, but there was a third-act breakup that felt a little silly (though I applaud the author for making it last a whole year, even it was a fast-forward situation in the end) but I adored the grand gesture at the end.
Overall: Ciao for Now was super cute and a really fun read, with the bonus of having an incredible setting in Italy. While I wish the romantic tension had been built up a little more, I thoroughly enjoyed this novel and will definitely be adding any future romances this author adds to my TBR!
*Now off to binge What Dreams are Made Of" on Spotify*
*I received an ARC in exchange for an honest review. Major thanks to both the publisher and NetGalley for this review opportunity!*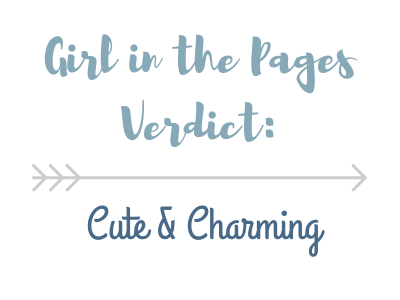 Related Posts