Grave Mercy (His Fair Assassin, #1)
by
Robin LaFevers
Published by
Houghton Mifflin Harcourt
on April 3rd 2012
Pages:
550 •
Goodreads

Why be the sheep, when you can be the wolf?
Seventeen-year-old Ismae escapes from the brutality of an arranged marriage into the sanctuary of the convent of St. Mortain, where the sisters still serve the gods of old. Here she learns that the god of Death Himself has blessed her with dangerous gifts—and a violent destiny. If she chooses to stay at the convent, she will be trained as an assassin and serve as a handmaiden to Death. To claim her new life, she must destroy the lives of others.
Ismae's most important assignment takes her straight into the high court of Brittany—where she finds herself woefully under prepared—not only for the deadly games of intrigue and treason, but for the impossible choices she must make. For how can she deliver Death's vengeance upon a target who, against her will, has stolen her heart?
I've had Grave Mercy sitting on my shelf for a few years. As the winter season always makes me crave fantasy reads, I figured it was time to give it a shot (Warrior nuns? Why not?) It was an almost exciting premise to read a book that was so backlist compared to the new releases that I always get hyper focused on as a blogger, and I was glad I could go into this book with little to no influence.
The beginning was super intriguing and action-packed. Ismae is in a horribly abusive situation and even before her convent training she's able to fight her way out of the worst of it. When she's brought to the convent, my interest really peaked. I wanted to read about their lessons, learn what each nun specialized in and how they taught their craft. I wanted to learn much more about the wild Sybella and the cunning Annith. Instead, there was a disappointing time jump that led to Ismae spending 95% of the book being outside of the convent. Which was necessary for plot and all, but I almost feel like this book needs a prequel novel about Ismae (and the other girls') upbringing and training in the convent.
The story introduces a lot of complex world building and story elements, but not enough context is given to them. I want to know WHY Ismae is impervious to poison. I want to know MORE about their religious system, about the conversion of the old gods to saints and why each new born baby is "dedicated" to a certain saint. I certainly want to know more about Mortain and how he sires all of these offspring ninja-nuns. For a while I thought it was all metaphorical but it sounds like Ismae's mother really and truly had ~relations~ with him. Also, the rare glimpses of the world's mythology seem borrowed from the Greeks (such as Persephone and Hades). Was this intentional or am I reading too much into it? I NEED ANSWERS.
While I really enjoyed the book overall, I found Ismae to be a character who fell rather flat for me. I didn't dislike her, but I never found myself super invested in her emotionally. At times she was just sort of stoic and unrelatable (maybe it was the writing style) and at others she seemed a bit woefully inept at being an assassin. I mostly came around to liking her in the end, but if it weren't for the fact that she was a protagonist in a story about assassin nuns I probably wouldn't remember her a year from now.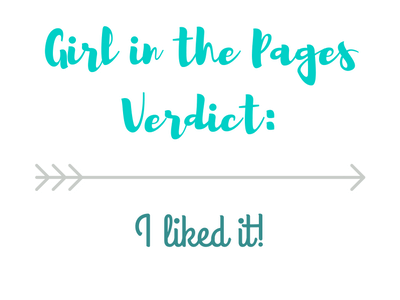 ---
Dark Triumph (His Fair Assassin, #2)
by
Robin LaFevers
Published by
Houghton Mifflin Harcourt
on April 1st 2013
Genres:
Young Adult
,
Historical Fiction
,
Historical Fantasy
Pages:
385 •
Format:
Paperback
•
Source:
Purchased
Goodreads
I lean forward, pushing my body out past the battlements. The wind plucks at my cloak, buffets against me, as if it would carry me off in flight, just like the birds or the knight's soul. Let go, it cries, I will take you far, far away. I want to laugh at the exhilarating feeling, I will catch you, it whistles seductively.

The convent has returned Sybella to a life that nearly drove her mad. Her father's rage and brutality are terrifying, and her brother's love is equally monstrous. When she discovers an unexpected ally imprisoned in the dungeons, will a a daughter of Death find something other than vengeance to live for?
Fast forward almost a year late and I've finally read the sequel/companion novel! Sybella was the best and so much more fascinating than Ismae and I just wanted to laugh and cry and scheme with her.
This book was seriously so much more exciting than its predecessor. Instead of subtle political scheming the whole time, there was pretty much action all the time and a really, truly heinous villain (seriously, top ten villains of all time status) and basically Sybella having to be on point at all times.
Speaking of Sybella, she is a fierce and fiesty protagonist who lives in the morally grey and I love her for it. (I also liked Ismae much more as a secondary character than as a the protagonist). It was also fascinating to see her journey, as it's hinted at that she was on the brink of insanity when she arrived at the convent (just read a few pages about her family and you'll know why) and she's kept herself together by sheer will and a thirst for vengeance alone. Sybella is the definition of a strong female character, if an unconventional one, and I appreciated the vulnerable bits of her personality and backstory that were revealed too.
Dark Triumph is the perfect companion novel- it picked right up where Grave Mercy left off, making the story feel natural in being handed off to Sybella's POV.
This story doesn't pull any punches when it comes to the horrors of living as a female in medieval Europe. Though Sybella is born a lady of high standing, she still suffers many types of abuse at the hands of those who are supposed to be closest to her. Even when she becomes an assassin, she's still bound and manipulated by the convent and lacks any true freedom, which really gets under her skin. There's a lot of feminist vibes going on in this novel as Sybella tries to overcome and escape the multiple systems of oppression she finds herself in.
Not to spoil anything because if you've read Grave Mercy you probably know where the romance in this book is headed, but I LOVED Sybella and Beast's chemistry. Their banter is 100% on point and they're just the right amount of tough and scarred and twisted for each other. Their pairing isn't so much about romance as it is about rightness, you know?
I'm getting the sense that the assassins catching a glimpse of their true father, Mortain, at the end of the novel when they are going through some sort of existential crisis is going to be a theme in this series and I'm actually pretty OK with it. I'm really hoping with LaFevers publishing more books in the series (!!!) that we'll get more backstory on Mortain and how his magic/powers/godliness works.
---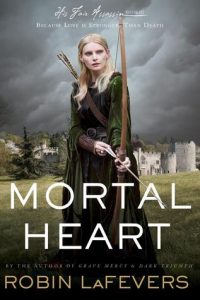 Mortal Heart (His Fair Assassin, #3)
by
Robin LaFevers
Published by
HMH Books for Young Readers
on February 2nd 2016
Genres:
Young Adult
,
Historical Fiction
,
Historical Fantasy
Pages:
464 •
Format:
Paperback
•
Source:
Purchased
Goodreads
In the powerful conclusion to Robin LaFever's New York Times bestselling His Fair Assassins trilogy, Annith has watched her gifted sisters at the convent come and go, carrying out their dark dealings in the name of St. Mortain, patiently awaiting her own turn to serve Death. But her worst fears are realized when she discovers she is being groomed by the abbess as a Seeress, to be forever sequestered in the rock and stone womb of the convent. Feeling sorely betrayed, Annith decides to strike out on her own. She has spent her whole life training to be an assassin. Just because the convent has changed its mind, doesn't mean she has.
It's so rare to find a companion series where the books get BETTER over time, but here we are with Mortal Heart and me flailing everywhere because I didn't think things could get better after Dark Triumph but, well, we're all proven wrong sometimes.
I was excited at the prospect of returning to the convent, because we really only saw it for a short period of time in Grave Mercy and it's such a foundational and formative place for each of the Daughters of Mortain. Through Annith's eyes, readers have the chance to explore a bit more of the layout of the convent, how it's structured and what the power dynamic is.
Speaking of learning more about the background of the Daughter of Mortain, this book sheds SO MUCH LIGHT onto the country of Brittany as a whole and the *fictionalized* religious system of the Nine, which I loved. Inner Religious Studies major me was freaking out the whole time.
So it's hard to talk about a LOT of this book without spoilers, but there were SO. MANY. major plot twists and revelations! I would literally be reading before bed and scream out "I KNEW IT" greatly alarming both Max and my cat.
Even though I guessed all of the plot twists I still greatly enjoyed them because they were often so shocking/scandalous/gratifying.
If you though the romance between Beast and Sybella was good JUST WAIT UNTIL YOU READ THIS ONE MY FRIEND. View Spoiler »Mortain + Me is one of my new OTPs (but Mortain + Annith is OK too). I desperately want a book where they go back to run the convent and while they continue to train assassins they also have to teach Mortain to do normal mortal things like fry an egg or something lololol. « Hide Spoiler
It was a real treat getting to see how the three girls' stories built up and around each others and how each were intertwined to come together in this installment. There's quite a few scenes featuring all three (Ismae, Sybella, and Annith) and I loved seeing how their personalities balanced each other and the Easter Eggs mentioned from previous books (like pretty sure the reference that Julian gets picked up by the hellequin's hunt?! Am I the only one who caught that!?!?)
I'll admit the book slowed for me in the middle (lots of wandering around in the forest) but I was thrilled to see Annith encounter life outside of the courts that Sybella and Ismae were constantly immersed in. From the hellequin hunt to the kick ass Arduianna followers (excuse the possibly typo, it's highly likely that I spelled that wrong). It was also really interesting to see how the ancient stories of the Nine gods and goddesses paralleled what was going on in the books, both with the personal and political plot lines!
Have you read the His Fair Assassin Trilogy? Are you ready for the next books coming out in 2018 and 2019? Who is your favorite protagonist between Ismae, Sybella, and Annith? Let me know in the comments!
Reading this book contributed to these challenges:
Related Posts