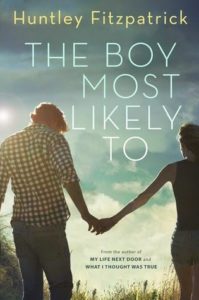 The Boy Most Likely To
by
Huntley Fitzpatrick
Also by this author:
My Life Next Door (My Life Next Door, #1)
Published by
Dial Books
on August 18th 2015
Pages:
425 •
Goodreads
The romantic companion to My Life Next Door—great for fans of Sarah Dessen and Jenny Han.
Tim Mason was The Boy Most Likely To find the liquor cabinet blindfolded, need a liver transplant, and drive his car into a house
Alice Garrett was The Girl Most Likely To . . . well, not date her little brother's baggage-burdened best friend, for starters.
For Tim, it wouldn't be smart to fall for Alice. For Alice, nothing could be scarier than falling for Tim. But Tim has never been known for making the smart choice, and Alice is starting to wonder if the "smart" choice is always the right one. When these two crash into each other, they crash hard.
Told in Tim's and Alice's distinctive, disarming, entirely compelling voices, this novel is for readers of The Spectacular Now, Nick and Norah's Infinite Playlist, and Paper Towns.
I think everyone goes into reading The Boy Most Likely To with two thoughts in mind: they can't wait to see more of the Garretts, and they can't wait to hear more of Tim's cutting sarcasm. The novel definitely hits the mark on both counts- the Garretts are an ever present entity in Tim's life as he tries to refocus and reevaluate his life. Huntley Fitzpatrick is so gifted at bringing such a large and vibrant family to life in her stories, and it juxtaposes so well with lost and lonely souls such as Tim, or Samantha from My Life Next Door.
However, unlike My Life Next Door, this book isn't truly a romance at its core, which is a bit misleading from the synopsis. Yes, Tim and Alice have a relationship that develops somewhat over the course of the novel, and it is told in alternating points of view, but it's much more a coming of age story about Tim facing a lot of hard choices- his alcoholism, his multiple expulsions, and his lack of healthy relationships. I found myself wishing that this book hadn't been a romance at all because it really felt too forced- I wanted to really become immersed in Tim's story and not in Tim's romance with Alice. It didn't feel necessary and it didn't feel authentic, and I think Alice's narrative was a superfluous addition to the book.
(Note: The next paragraph will contain spoilers, as this book is extremely difficult to fully evaluate without them).
Tim's coming of age is truly put to the test in this novel before the hundred page mark hits, when a random girl who he went to school with in the past arrives and drops a bomb on him: he's a dad. After an alleged drunken one night stand, she became pregnant and gave birth to his son and has now chosen to seek him out with this information. A precarious and problematic position for any 17 year old, but even more so for a recovering alcoholic and drug addict. Did the plot twist seem far-fetched and cliché? Absolutely. However, in some ways it was the thing that I found most interesting about the plot progression in the book. Tim's struggles as a single dad with one child (Calvin) are interestingly juxtaposed with the Garretts, with their 8+ children and their endless knowledge of cribs and cradles and all things baby-related. I also think it was refreshing to look at a single teen dad situation, rather than a singe teen mom story. Hester, Calvin's mother, is very detached and disinterested in her son and while it was abhorrent and shocking at times (hello, it is SO dangerous to leave your children alone in the car, especially in the heat!!!) it could also be realistic considering he was an unwanted pregnancy, and not everything is happily-ever-after once a baby is born. Tim stepped up to the plate when the baby's mother didn't, and it's a really unique way of handling the teen pregnancy topic.
Overall: The Boy Most Likely To is perhaps a book that was mismarketed as a romance, when really it's a coming of age story, and I enjoyed it all the more for it. While it has a very different vibe than My Life Next Door, I enjoyed Huntley's writing and liked how it kept the events and characters of MLND very present. While this book was super long for a contemporary, I'm glad to have a copy of it on my shelves and I hope that Hutley Fitzpatrick chooses to write in this universe with this cast of characters again.
Reading this book contributed to these challenges:
Goodreads Challenge 2016
Must Read in 2016 Challenge
Rock My TBR 2016
Related Posts