I received this book for free in exchange for an honest review. This does not affect my opinion of the book or the content of my review.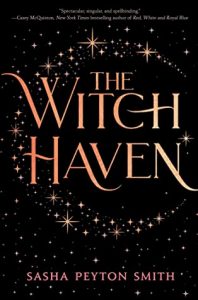 The Witch Haven
by
Sasha Peyton Smith
Published by
Simon & Schuster Books for Young Readers
on August 31, 2021
Genres:
Historical Fantasy
,
Historical Fiction
,
Young Adult
Pages:
448 •
Format:
E-ARC
•
Source:
NetGalley, Publisher
Goodreads
In 1911 New York City, seventeen-year-old Frances Hallowell spends her days as a seamstress, mourning the mysterious death of her brother months prior. Everything changes when she's attacked and a man ends up dead at her feet—her scissors in his neck, and she can't explain how they got there.

Before she can be condemned as a murderess, two cape-wearing nurses arrive to inform her she is deathly ill and ordered to report to Haxahaven Sanitarium. But Frances finds Haxahaven isn't a sanitarium at all: it's a school for witches. Within Haxahaven's glittering walls, Frances finds the sisterhood she craves, but the headmistress warns Frances that magic is dangerous. Frances has no interest in the small, safe magic of her school, and is instead enchanted by Finn, a boy with magic himself who appears in her dreams and tells her he can teach her all she's been craving to learn, lessons that may bring her closer to discovering what truly happened to her brother.

Frances's newfound power attracts the attention of the leader of an ancient order who yearns for magical control of Manhattan. And who will stop at nothing to have Frances by his side. Frances must ultimately choose what matters more, justice for her murdered brother and her growing feelings for Finn, or the safety of her city and fellow witches. What price would she pay for power, and what if the truth is more terrible than she ever imagined?
This year, I started celebrating ~spooky season~ on August 31st, and was already building out my autumnal TBR weeks before then. When I was pitched the opportunity to read The Witch Haven as an ARC, I knew it would be an amazing story to officially kick off my autumn themed TBR. I'm a huge fan of historical fiction, so a paranormal, witchy boarding school story set in the early 1900s sounded right up my alley!
The story follows Frances, a girl living in New York in 1911, who is reeling after the death of her brother and working as a dressmaker in a small shop. When confronted with a dangerous and extreme situation, her magic is awakened and before she knows it she is swept away to a boarding school for magical young women disguised as a sanitarium, learning how to control and repress her powers, and getting into all manner of trouble on the side as she explores the magical world running parallel to the "normal" New York.
Historical fantasy is such an interesting genre because often the fantasy element is the main plot driver with the historical setting as more of a backdrop, but I felt The Witch Haven really did a great job of having the era actually influence the fantasy elements of the plot. Most notably, the role of women in the magical community and within the walls of Haxahaven (the boarding school Frances attends) mirroring the frustrations and challenges that Frances faced before when her life was "normal." She craved freedom, yet she's stuck in courses that focus on using her magic to complete domestic task and make her future husband's life easier. She yearns for power, yet the headmistress of the school is all about control, control, control, teaching the students to be scared of their magic and the volatile outcomes that come from diving deep into it. Yet the women on either side of the spectrum believe that the way they view magic is empowering women, and they can all be exclusionary and harmful in their own way. I really appreciated this nuanced approach to mixing the fantasy and historical genres and felt that Frances' story did a good job exploring these mixed messages and complexities.
I also enjoyed that this story centered around a core mystery, and that the mystery was relevant to Frances' life both pre and post magical knowledge, and it tied the before and after together. While some of the twists were predictable, it was still a fast paced and enjoyable ride, and the various deaths and betrayals carried emotional weight to them. The last 30% or so of the book was packed with action, so much so that I actually wish I had gotten a bit more filler in the middle of the story of Frances' life and relationships developing. As far as I know there hasn't been a sequel announced, but I do think the story left the mystery open ended enough to warrant the continuation of Frances' journey without feeling incomplete, and it could definitely still work as a standalone (although I would love to read this as a series!)
Overall: I'm really enjoying this recent trend of historical fantasy books focused around witches lately, especially as they so often tackle feminist themes so well (this one actually reminded me a bit of The Once and Future Witches, which I read last fall). I am also always here for more historical fiction in general, so I'm crossing my fingers that this turns into a series!
Related Posts