The Unexpected Everything
by
Morgan Matson
Also by this author:
Amy & Roger's Epic Detour
,
Second Chance Summer
,
Save the Date
Published by
Simon & Schuster Books for Young Readers
on May 3, 2016
Genres:
Contemporary
,
Young Adult
Pages:
519 •
Format:
Paperback
•
Source:
Purchased
Goodreads
Andie must learn to embrace the beauty in chaos in this New York Times bestselling novel about friendship, finding yourself, and all the joys in life that happen while you're busy making other plans.

Andie has a plan. And she always sticks to her plan.

Future? A top-tier medical school. Dad? Avoid him as much as possible (which isn't that hard considering he's a Congressman and he's never around). Friends? Palmer, Bri, and Toby—pretty much the most awesome people on the planet, who needs anyone else? Relationships? No one's worth more than three weeks.

So it's no surprise that Andie has her summer all planned out too.

Until a political scandal costs Andie her summer pre-med internship, and lands both she and Dad back in the same house together for the first time in years. Suddenly she's doing things that aren't Andie at all—working as a dog walker, doing an epic scavenger hunt with her dad, and maybe, just maybe, letting the super cute Clark get closer than she expected. Palmer, Bri, and Toby tell her to embrace all the chaos, but can she really let go of her control?
Let's be upfront here: This book was really good, but it was WAY too long. The length of Since You've Been Gone scared me off and I ended up DNF'ing at about 100 pages in, so I was wary about The Unexpected Everything, but I was super intrigued by the political slant of Andie's dad being a politician, so I picked up a paperback during an Amazon sale and decided to give Morgan Matson another try. I'm so glad I did, because despite another slow initial 100 pages, I really became invested in Andie (and her friend group, and her dad, and even Bertie) and it ended up being a super well rounded contemporary with great and diverse friendship portrayals.
Friendships
The book features a really fleshed out friend group (probably due to it's length) and I really appreciated the focus on friendship! I honestly was way more invested in this group of friends than I was the romances in this novel, and I loved the hilarious texting scenes and the function that each friend in the group played, as well as how they all brought out different sides of Andie. Also, potentially a mild spoiler, but I really appreciated how there was a falling out between some members of the group toward the end and they weren't able to fully bounce back from it. While it SOUNDS terrible, it's also incredibly realistic- friendships change and grow over time and some hurts can't be reconciled, and Morgan captured that devastation and shift in friendships really intimately View Spoiler »I was shocked by how REAL Toby and Bri's fallout was and could definitely see both of their sides, but OUCH do I remember the sting of a high school friendship portrayal. Matson got that hurt exactly right. « Hide Spoiler
Family
I really enjoyed the progression of Andie's relationship with her dad and how they really became reacquainted with each over the course of the summer. I even loved when they fought because it cleared the air and I loved how he even tried to teach her how to negotiate her punishments (he can't help his politician side coming out!). I loved the scenes where they were just watching movies or he was doing his best to wrap his mind around the teenage dramas or when he totally saved the day during the scavenger hunt (I totally want to be a cool parent like that). Honestly between the friendships and the strong family relationships in this book, I would have been fine without a romance, but I see how it was sort of what propped a lot of the plot up.
Scavenger Hunts!
I was a little wary by the scavenger hunt list that's printed in the beginning of the paperback because it reminded me of that list in Since You've Been Gone and that book nearly bored me to tears, so I was afraid it was going to be a repeat situation. But the scavenger hunt part was actually SO AWESOME. Like it TOTALLY captured that feeling of running around like a lunatic on a warm summer night in high school getting up to shenannigans with your friends (#nostalgia) and though I've never done a formal scavenger hunt like that I really want to do one now? Like maybe somehow working it into a Bachelorette party one day lol?
Dog Walking
I wasn't sure how I was going to feel about the whole Andie being a dog walker for the summer premise, because I am NOT a dog person. Like I don't think I've ever met a dog I wasn't nervous around, and we've always just had cats in my family (Miss Cupcakes is a totally unfair representation of cat behavior). However, I loved that it served as a summer job to almost humble Andie and take her off of the constantly-needing-to-overachieve path that so many high schoolers are pressured to take (It's seriously insane now what teenagers have to do to get into college! Kids need time to be kids too!) Also Bertie was 100% hilarious and his monogram game is more on point that any human's I know.
Overall: I am so glad that I stuck with this book despite my reservations about its length. It was such a nuanced and carefully crafted contemporary that fleshed out its characters despite being a stand alone, and I think Morgan Matson can become the new generation's Sarah Dessen. I can't wait for Save the Date!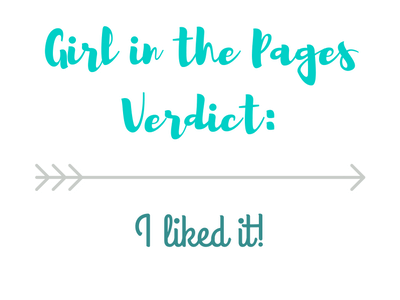 Related Posts