Simon vs. the Homo Sapiens Agenda
by
Becky Albertalli
Also by this author:
Leah on the Offbeat (Creekwood, #2)
,
What If It's Us
Published by
Balzer + Bray
on April 7th 2015
Pages:
325 •
Goodreads
Sixteen-year-old and not-so-openly gay Simon Spier prefers to save his drama for the school musical. But when an email falls into the wrong hands, his secret is at risk of being thrust into the spotlight. Now Simon is actually being blackmailed: if he doesn't play wingman for class clown Martin, his sexual identity will become everyone's business. Worse, the privacy of Blue, the pen name of the boy he's been emailing, will be compromised.

With some messy dynamics emerging in his once tight-knit group of friends, and his email correspondence with Blue growing more flirtatious every day, Simon's junior year has suddenly gotten all kinds of complicated. Now, change-averse Simon has to find a way to step out of his comfort zone before he's pushed out—without alienating his friends, compromising himself, or fumbling a shot at happiness with the most confusing, adorable guy he's never met.
Ugh I can't believe I waited so long to read this book because it was SO ADORABLE. I mean I actually know WHY I waited so long (I was extremely worried about the astronomical levels of hype this book received) but it was definitely worth the wait. Simon was everything you want in a high school YA: hilariously funny (sometimes at the protagonist's expense), heartfelt yet cringey family dynamics, social structures that felt realistic, and just the lightest touch of teenage angst. Pair that with Simon's completely and totally unique narration (I love the way he talks, I don't even know how to coherently describe it but it's so him- I just love how he uses freaking to describe everything, it's so cute) and this book is just a plain fun read. I also adored the inclusion of Simon and Blue's emails and how they felt so intimate. It's rare I find a high school setting in a book nowadays where I find I can love and relate to the characters so much but Simon nails it.
Overall: I'm almost scared to read another book by Becky Albertalli because I'm worried I won't ever love and want to hug a character as much as I just want to reach into the pages and squeeze Simon. Major props to an author who created a character who is certain to be topping "my bookish bff" lists for years to come.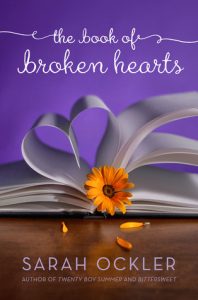 The Book of Broken Hearts by Sarah Ockler
Also by this author: The Summer of Chasing Mermaids, Bittersweet
Published by Simon Pulse on May 21st 2013
Pages: 384 •Format: Paperback •Source: Purchased
Goodreads

Jude has learned a lot from her older sisters, but the most important thing is this: The Vargas brothers are notorious heartbreakers. She's seen the tears and disasters that dating a Vargas boy can cause, and she swore an oath—with candles and a contract and everything—to never have anything to do with one.

Now Jude is the only sister still living at home, and she's spending the summer helping her ailing father restore his vintage motorcycle—which means hiring a mechanic to help out. Is it Jude's fault he happens to be cute? And surprisingly sweet? And a Vargas?

Jude tells herself it's strictly bike business with Emilio. Her sisters will never find out, and Jude can spot those flirty little Vargas tricks a mile away—no way would she fall for them. But Jude's defenses are crumbling, and if history is destined to repeat itself, she's speeding toward some serious heartbreak…unless her sisters were wrong?

Jude may have taken an oath, but she's beginning to think that when it comes to love, some promises might be worth breaking.
Well it looks like fourth time is the charm for me and Sarah Ockler, because I finally found a book by her that I truly adored. The Book of Broken Hearts took me back to the days of YA contemporary by the likes of Sarah Dessen and I got all of the same great vibes here- strong, developed family relationships, takes place over the summer, a forbidden romance…it's the perfect YA read for a teenager. I loved the dynamic of the Hernandez sisters and their "book of broken hearts" and associated pact, and how that is juxtaposed against the Vargas brothers (although I'm annoyed I didn't get to find out exactly what happened between Celi and Johnny!). I loved the family legacies and traditions that were passed down through the sisters (for better or for worse) and each sister's specific personality and role they played in the family. The romance was also pretty swoon-worthy and Emilio was the perfect mix of fun, funny, and just slightly infuriating.
Like any great YA contemporary, this book has an undercurrent of seriousness beneath the romance and family drama. Jude's father is sick with a rapidly deteriorating condition, and it's truly heartbreaking to see his condition worsen over the summer, and how rapidly the Hernandez's family dynamic changes. I think Ockler struck the right balance between levity and grief, light and darkness, in this story, and the theme of broken hearts spans across multiple meanings, from romantic heartbreaks to the heartbreak of losing the most formative male figure in your life- your father. Yet there were moments of true humor within the family that felt authentic and not forced and showed how much of an emotional roller coaster a terminal illness truly inflicts (like Jude's narration of her dog Pancake's thoughts. Truly and deeply hilarious).
I also loved this book because I didn't realize it was diverse, and I loved getting to see two different Latin cultures highlighted (Jude's family is from Argentina and Emilio's is from Puerto Rico). There were a lot of cool glimpses into Jude's father's life in Argentina when he was part of the Aranas Blancas, a biker group. If anything my one complaint about this book is that I wanted to learn MORE about the rich histories and cultures of these families, from why Jude's parents moved to America to why Emilio's dad had returned to Puerto Rico. I wanted more on both of these large families full of fleshed out characters!
Overall: One of my favorite diverse YA contemporaries to date and my FAVORITE Sarah Ockler book, The Book of Broken Hearts is a truly bittersweet tale that layers the complexity of family tragedy beneath a young adult story of coming of age and falling in love.
Related Posts