Everless (Untitled #1)
by
Sara Holland
Published by
HarperTeen
on January 2nd 2018
Genres:
Fantasy
,
Young Adult
Pages:
368 •
Format:
E-Book
•
Source:
Overdrive
Goodreads
In the land of Sempera, time is extracted from blood and used as payment. Jules Ember and her father were once servants at Everless, the wealthy Gerling family's estate, but were cast out after of a fateful accident a decade ago. Now, Jules's father is reaching his last hour, and she will do anything to save him. Desperate to earn time, she arrives at the palace as it prepares for a royal wedding, ready to begin her search into childhood secrets that she once believed to be no more than myths. As she uncovers lost truths, Jules spirals deeper into a past she hardly recognizes, and faces an ancient and dangerous foe who threatens her future and the future of time itself.
I am thrilled to say that I think I'm *finally* getting back into reading fantasy (not that I completely stopped but my fantasy reading has definitely tapered off in the past few years) and Everless was another novel I really enjoyed that's helping me slowly rebuild my love for the genre. The book came on my radar a few months ago when I keep seeing it featured on Instagram stories (the UK cover, which is super stunning and I'm using it in my post because I like it better lol) and the whole concept of blood as currency was really intriguing to me. So I went into Everless with some moderate hopes that were tempered by a lot of mediocre reviews I had seen.
I was actually very pleasantly surprised with Everless! Sure, it had some of the typical YA fantasy tropes (semi-orphaned protagonist who's ~not like other girls~ and is always divulging information that she shouldn't) but it also had a strong, unique foundation with the way it played with the concepts of blood, currency and time. In the world of Everless, money is literally made from blood via alchemy, so you can imagine this creates a gross unbalance of power and age with rich nobility living centuries and poor people literally pouring out years of their lives to be made into currency so they can eat and survive (ironic, isn't it). It was a really interesting social commentary, especially some of the more disturbing elements (like how bleeding a child for money was illegal but was often done out of desperation, or how know matter how honest of work you came by, the currency in which you were paid was still made from stealing time away from another human being's life).
The protagonist, Jules, ends up taking a job at the Everless estate where they are paying servants huge sums to tackle the extra work caused by the upcoming royal wedding. The novel follows Jules as she goes from a kitchen maid to a personal attendant of a princess, and becomes involved with all different kinds of royal politics, unearthing schemes and trying to call into focus her own blurry history. I loved that there were some plot twists at the end of the novel that I didn't see coming, especially in regards to who manifested as the antagonist. The author also wasn't afraid to sacrifice characters for the story which made the stakes feel higher and gave the story, and the character's choices and motivations, an edge. The story left off on somewhat of a cliffhanger and I'm definitely invested enough to continue on.
What I did find myself occasionally befuddled by, however, was the interwoven mythology in the book. The characters' world is defined by an origin story of two mythological characters, the sorceress and the alchemist. While I always love a good origin story (hello, former Religious Studies major), I often got confused as it was told in disjointed pieces. I was also somewhat confused by Jules' heritage, as there are some reveals later on in the novel that were somewhat confusing and I'm still not 100% to be sure what happened to be honest. I think a lot of these things will be expanded upon in the next book, but the last quarter of the book started throwing around themes of magic and revenge and reincarnation and fake identities and while undeniably exciting, it was all a little much to keep straight.
I also enjoyed that the novel teased at romance being a theme but it ended up not being a huge part of the story thankfully, and almost used more as a plot device than anything. I liked that the story didn't fall into the cliched love interest in the way that you'd expect it to, and that it was actually used as a weapon (but I won't go too much into it to avoid spoilers!)
Overall: While Jules wasn't the most inspiring main character, the premise of this novel is really unique and a lot of the initial tropes that are introduced are subverted and don't play out the way one might think of a typical YA fantasy novel. Everless is a pleasant surprise and I'll definitely be reading the sequel.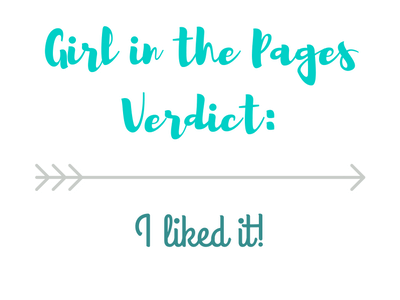 Related Posts