I received this book for free in exchange for an honest review. This does not affect my opinion of the book or the content of my review.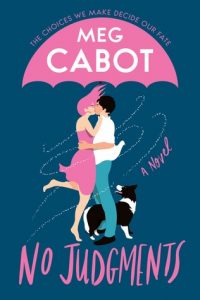 No Judgments (Little Bridge Island, #1)
by
Meg Cabot
Also by this author:
,
The Princess Diaries, Volume VIII: Princess on the Brink
,
Royal Wedding
,
Remembrance (The Mediator, #7)
,
Proposal: A Mediator Novella
,
The Boy Is Back (Boy, #4)
,
From the Notebooks of a Middle School Princess (From the Notebooks of a Middle School Princess, #1)
,
Royal Wedding Disaster: From the Notebooks of a Middle School Princess
Published by
William Morrow Paperbacks
on September 24, 2019
Genres:
Adult Fiction
,
Romance
Pages:
384 •
Format:
E-ARC
•
Source:
NetGalley
Goodreads
The storm of the century is about to hit Little Bridge Island, Florida—and it's sending waves crashing through Sabrina "Bree" Beckham's love life…
When a massive hurricane severs all power and cell service to Little Bridge Island—as well as its connection to the mainland—twenty-five-year-old Bree Beckham isn't worried . . . at first. She's already escaped one storm—her emotionally abusive ex—so a hurricane seems like it will be a piece of cake.
But animal-loving Bree does become alarmed when she realizes how many islanders have been cut off from their beloved pets. Now it's up to her to save as many of Little Bridge's cats and dogs as she can . . . but to do so, she's going to need help—help she has no choice but to accept from her boss's sexy nephew, Drew Hartwell, the Mermaid Café's most notorious heartbreaker.
But when Bree starts falling for Drew, just as Little Bridge's power is restored and her penitent ex shows up, she has to ask herself if her island fling was only a result of the stormy weather, or if it could last during clear skies too.
It's no secret that I am a longstanding fan of Meg Cabot, and have faithfully been reading her books for the better part of two decades. While her YA series The Princess Diaries and The Mediator will always have my heart, I always enjoy when she rolls out a new adult series too. I was thrilled to learn that her newest adult romance series, Little Bridge Island, was set in the Florida Keys, as I know Meg lives there and I was excited to get her perspective on her tropical hometown after seeing her mention it frequently on social media and her website.
I have to admit I've recently read a few books set in the Florida Keys back to back, and Meg really captured the feel of the close knit, tropical community. The island of Little Bridge was teeming with interesting characters and fun local establishments, from the cafe protagonist Bree works at to her lovable yet demanding feline companion (Would it even really be a Meg Cabot novel without a sassy cat? No, no it would not). It was easy to become immersed in Little Bridge and feel it as an established community that the protagonist has carved her own little niche in while running away from her problems back in the big city.
The fun and quirky elements of the story were balanced with hurricane that drives most of the plot of the novel. As someone who has never lived anywhere near a hurricane zone, Bree's initial anxieties yet deep under appreciation for the seriousness of the storm were believable, and I liked how each chapter kept with the theme of the storm by offering preparation and survival tips from "local" authorities. Also, I don't know if hurricane parties are actually a thing but it was an interesting premise to kick off the romance that developed over the course of the storm.
In terms of the romance, it was OK- it felt pretty typical for a Meg Cabot novel and while it wasn't the selling point of the story for me I didn't mind it (Drew was an OK guy if a little overz ealously masculine for my taste). I was much more intrigued by his family who Bree ends up sheltering in place with during the storm, her eccentric neighbors and her well-meaning (if annoying) family. It was a fun, flirty and slightly silly story with a romance to match.
The real star of this story is the animals, and it set the novel apart from a lot of other rom-coms for me. As previously mentioned, Bree has a hilarious (and toothless) cat named Gary who is basically her #1 priority, and once her passion for the well-being of animals becomes widely known she becomes a defacto hurricane animal rescue service. From dogs to birds to guinea pigs, Bree becomes an animal rights vigilante of sorts and her escapades in saving the animals were fun and heartwarming to read.
Overall: A fun start to a new small-town series. I'm excited to return to Little Bridge and check up on its residents in its next installment!
*Thank you to NetGalley and HarperCollins for providing an ARC in exchange for an honest review!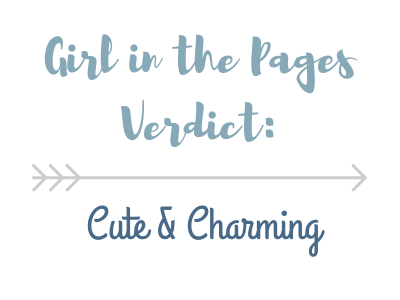 Related Posts