I received this book for free in exchange for an honest review. This does not affect my opinion of the book or the content of my review.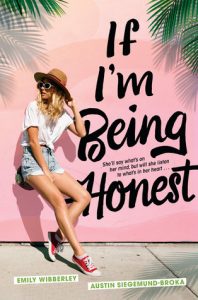 If I'm Being Honest
by
Emily Wibberley
,
Austin Siegemund-Broka
Published by
Viking Books for Young Readers
on April 23rd, 2019
Genres:
Contemporary
,
Retellings
,
Young Adult
Pages:
362 •
Format:
ARC
•
Source:
ALA
Goodreads
High school senior Cameron Bright's reputation can be summed up in one word: bitch. It's no surprise she's queen bee at her private L.A. high school—she's beautiful, talented, and notorious for her cutting and brutal honesty. So when she puts her foot in her mouth in front of her crush, Andrew, she fears she may have lost him for good.

In an attempt to win him over, Cameron resolves to "tame" herself, much like Katherine in Shakespeare's The Taming of the Shrew. First, she'll have to make amends with those she's wronged, which leads her to Brendan, the guy she labelled with an unfortunate nickname back in the sixth grade. At first, Brendan isn't all that receptive to Cameron's ploy. But slowly, he warms up to her when they connect over the computer game he's developing. Now if only Andrew would notice…

But the closer Cameron gets to Brendan, the more she sees he appreciates her personality—honesty and all—and wonders if she's compromising who she is for the guy she doesn't even want.
There's no denying what a stunning cover If I'm Being Honest has, and it's what initially drew me to the novel despite my hesitation toward all things Shakespeare (I am personally not a fan of The Bard, and this is supposed to be a retelling of The Taming of the Shrew). I was surprised to find that despite it's premise, I really enjoyed this story and found it a fast and fun contemporary that I read in just a few sittings.
Right from the synopsis, readers are made aware that they are getting an unlikable- or at least difficult- protagonist. I was a little wary at first, but found that I really enjoyed Cameron as a protagonist. She's blunt and honest to a fault, but the authors did a good job developing a backstory for her that helps explain why she's developed those personality traits, and don't aim to erase them by the end of the story (or "tame" them) but rather Cameron learns how to leverage the stronger elements of her personality more effectively and balance them with kindness from time to time. Cameron was a wonderfully insightful protagonist who grows throughout the course of the novel, and her redemption doesn't fall into the problematic trope of "taming" a strong woman, which I was also worried about. I enjoyed that Cameron's parents were also important to the story even in their absence of support in her life- I'm always here for more family influences in YA and not just positively, but negatively too (because that's life! Sometimes people just have awful parents). I really felt like I got to know Cameron thoroughly which is rare for me to feel about a protagonist in a stand alone novel.
Cameron attends a ritzy Southern California private school, and her high school setting is ripe with well written secondary characters. There's Morgan and Elle (her only friends at the start of the novel) who are, respectively, an aspiring actress and a huge beauty Youtuber. At first I found this hilarious but when I thought about it, it really reflects the modern setting because yes, these famous teenagers/influencers are still people who have to go to school (if they're not home schooled) and it was funny seeing them attend classes right alongside students with more "normal" extracurricular activities, such as soccer or drama club. There's a bit of a love triangle with Cameron and a family friend she's known for years and not really acknowledged at school, and a "nerd" who was forced into social obscurity through bullying by Cameron's part back in middle school. It was a fairly well done (if predictable) love triangle, although right from the get go I found one of the love interests to be a jerk. The love triangle was also nicely juxtaposed against the romantic happenings in The Taming of the Shrew, which Cameron is appropriately studying in English class.
Thought Cameron is a "popular" girl, there's several characters who are very into fandoms, gaming, etc (with one character even developing his own computer game) and it was fun to see Cameron start to explore those worlds and break down the stigmas and stereotypes that can be associated with those hobbies. By the end of the novel, Cameron tries to navigate both friend groups and sets of hobbies that she's orbiting with varying degrees of success (which I think is way more realistic than everyone just ending up getting along/tolerating each other by the end of the story). Some relationships aren't repaired by the end of the novel and that's OK.
Overall: This book was a really enjoyable contemporary YA novel that added in a lot of relevant to the times references and Cameron was a well balanced protagonist. While I enjoyed the novel and definitely want to explore more from the authors, it didn't blow me away or overly impress me so it's a solid 3 star read for me. It was exactly what I was anticipating and I enjoyed the reading experience!
Related Posts