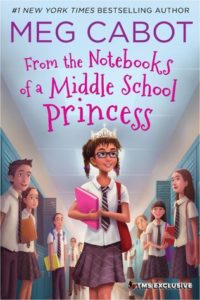 From the Notebooks of a Middle School Princess (From the Notebooks of a Middle School Princess, #1)

by Meg Cabot
Also by this author: , The Princess Diaries, Volume VIII: Princess on the Brink, Royal Wedding, Remembrance (The Mediator, #7), Proposal: A Mediator Novella, The Boy Is Back (Boy, #4)
Published by Square Fish on May 19th 2015
Genres: Contemporary, Royalty
Pages: 208 •Source: Purchased
Goodreads

Olivia Grace Clarisse Harrison has always known she was different. Brought up by her aunt's family in New Jersey, book-and-music-loving Olivia feels out of place in their life of high fashion and fancy cars. But she never could have imagined how out of place she really was until Mia Thermopolis, Princess of Genovia, pops into her school and announces that Olivia is her long-lost sister. Olivia is a princess. A dream come true, right? But princesses have problems too.
If you're a follower of my blogs and reviews, you probably know that The Princess Diaries series is my favorite contemporary YA series EVER. It was my first and my most formative, and I fangirled so hard when I finally met Meg Cabot in person this year. So at her signing I picked up the first two books in her new Princess Diaries spinoff series, From the Notebooks of a Middle School Princess, because I will do anything and read anything to be back in Mia's world. Luckily, my first foray into Middle Grade in several years did not disappoint, and I basically binge read both of the first books in the series back to back, and loved every minute of it.
The first book in the series, From the Notebooks of a Middle School Princess, almost feels more like a novella than a novel. If you've read Royal Wedding, all of the events of the books take place in that novel, this time they're just old from the POV of Mia's younger half sister, Olivia Grace. I loved seeing how Olivia went through what Mia did (although two years/three grades younger) and the similarities and differences in their reactions (they both feel a bit like outsiders, however Olivia pretty much embraces her fate whereas Mia completely freaked out). I also loved seeing how Olivia's dynamic with Gradmeré is so different than Mia's (they get along much better) and the drawings sprinkled throughout Olivia's notebooks remind me of the lists that Mia was so often including in her own.
Overall: I have SO MUCH love and for this book, and it brought on SO MUCH nostalgia for me. I'm so excited, because I hope that this series can introduce a whole new generation of readers to Mia's series and will possibly keep the hope for more Princess Diaries books alive and well.
---
Royal Wedding Disaster: From the Notebooks of a Middle School Princess

by Meg Cabot
Also by this author: , The Princess Diaries, Volume VIII: Princess on the Brink, Royal Wedding, Remembrance (The Mediator, #7), Proposal: A Mediator Novella, The Boy Is Back (Boy, #4)
Published by Square Fish on August 1st 2017
Genres: Contemporary, Royalty
Pages: 304 •Format: Paperback •Source: Purchased
Goodreads

You are invited to a Genovian Royal Wedding in this second book pulled FROM THE NOTEBOOKS OF A MIDDLE SCHOOL PRINCESS, a Princess Diaries spin-off series, written and illustrated by New York Times-bestselling author Meg Cabot.

Olivia Grace Clarisse Mignonette Harrison still finds it hard to believe that she's a real live PRINCESS OF GENOVIA. Not only does she get to live in an actual palace with her newly discovered family and two fabulous poodles (who all love her and think that she's anything but ordinary!) but she also gets her very own PONY!

Of course, things aren't going exactly like she imagined. Her half-sister Mia is very busy learning how to take over the country while trying to plan a wedding and her father is actually getting remarried himself-to Mia's mother!-and spends most of his time "renovating" the summer palace, although Grandmere says he is just hiding from the wedding preparations. Olivia hardly gets to see either of them.

Fortunately, Grandmere has her own plans for Mia's wedding, and needs Olivia's help to pull them off. Just when Olivia starts to think that things are going to work out after all, the palace is invaded by a host of new cousins and other royals who all seem to be angry at Olivia (although Grandmere says they are just jealous).

As the day of the wedding gets closer and closer, Olivia becomes more and more worried. For such a carefully planned event, it seems like a LOT of things are going wrong... Can Olivia keep this royal wedding from becoming a royal disaster?
Pretty much immediately after finishing its predecessor, I picked up Royal Wedding Disaster because I am hooked on returning to the Princess Diaries world. The second book in the middle grade series following Mia's younger half sister was even more intriguing because it takes place completely in Genovia (if I remember correctly, Mia spend some time in Genovia in some of The Princess Diaries books, but not as a full time resident). I was excited to see how life for Olivia as a Genovian was going to go, from being a local and living in the palace to attending school at the Royal Genovian Academy.
As per its title, this novel focuses on the week leading up to Mia's wedding to Michael and the craziness that ensues. While I enjoyed these glimpses into Mia's life (her constant struggle with Grandmeré over wedding decisions, Boris P's performing at the wedding and its impact on Tina, etc.) some of the middle grade drama at times did become rather tedious (especially the romance, where Olivia finds herself the object of affection of an unpopular prince at school- which sort of parallels the whole Kenny/Mia debacle from Princess in the Spotlight and Princess in Love- I also loved when Olivia laments that Grandmeré never taught her what to do when someone you don't like likes you, as Mia did when she got all of the questions on Grandmeré's princess lessons test right with the exception of "What to say when a man says 'I Love You' to which she answered "Thank you, you are very kind." which turned out to be the wrong answer….don't ask me how I remember these things). I was also a little bored by the mean girl drama in this book (it seems to be a running theme in all of The Princess Diaries books, actually). Also, the drama with her friend Nishi is annoying- like hello, a friend should not be so snotty/bratty toward you (although again I think this was supposed to parallel Lily's freakout when she found out Mia was a princess). All in all though, despite some of the middle school annoyances, Olivia really grew and matured as a character in this book and it's fun to see her bonding with and finding her place in her royal family.
Overall: Loved seeing more of Genovia and spending more time in the palace with Mia and Grandmeré. Could've done without some of the middle school drama, however seeing as this IS a middle grade book and I am well out of the age range of the target audience, I know that is a personal issue for me. I can't wait to continue this series and see more of the Renaldos!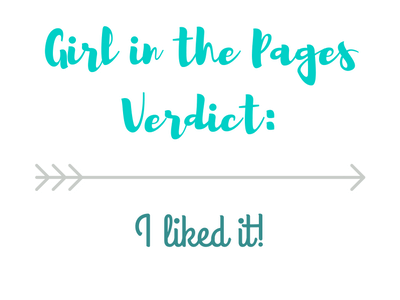 Related Posts