Alex, Approximately
by
Jenn Bennett
Also by this author:
Starry Eyes
,
Chasing Lucky
on January 1st 1970
Pages:
391 •
Goodreads
The one guy Bailey Rydell can't stand is actually the boy of her dreams—she just doesn't know it yet.

Classic movie fan Bailey "Mink" Rydell has spent months crushing on a witty film geek she only knows online as Alex. Two coasts separate the teens until Bailey moves in with her dad, who lives in the same California surfing town as her online crush.

Faced with doubts (what if he's a creep in real life—or worse?), Bailey doesn't tell Alex she's moved to his hometown. Or that she's landed a job at the local tourist-trap museum. Or that she's being heckled daily by the irritatingly hot museum security guard, Porter Roth—a.k.a. her new archnemesis. But life is whole lot messier than the movies, especially when Bailey discovers that tricky fine line between hate, love, and whatever it is she's starting to feel for Porter.

And as the summer months go by, Bailey must choose whether to cling to a dreamy online fantasy in Alex or take a risk on an imperfect reality with Porter. The choice is both simpler and more complicated than she realizes, because Porter Roth is hiding a secret of his own: Porter is Alex…Approximately.
It took me a while to get into this one, but when I finally did, I fell hard. I was actually feeling super into the romance, which let me tell you, is getting harder and harder for me with high school settings these days (#I'mgettingold). I will admit I pre-ordered this book mainly due to a combination of cover love and succumbing to the hype since EVERYONE seemed to have read it early, but I've never seen You've Got Mail (I know, I know) so I really didn't know what to expect, or why people were flailing so hard. However, once I got pushed through the typical YA romance set up in the beginning of the book I really feel under the story's charm.
So very long story short, Bailey has an online ~thing~ with a dude named Alex (of course they're both using screen names because #internetsafety) and then she moves out to California to live with her dad and meets Alex IRL except she doesn't realize it's him- she just knows him as Porter Roth, surfer/beach bum/museum security guard/general pain in her behind. Hilarity and angst ensues as Porter and Bailey go from frenemies to an item without realizing that they've been talking, and continue to talk, online.
Things I Loved:
The California setting was on point. Coronado Cove is based on Santa Cruz, and I think Jenn conveyed the vibe really, really well. It made me want to visit a coast I already live on, haha. I loved reading scenes in all of the settings from the cold and calm beaches to the boardwalk to the quirky museum (California is full of them, it seems- I was getting major Winchester Mystery House vibes from the museum they work in). The spot on California setting is why the novel made my list of notable reads set in the golden state post before I had even finished the book.
The family dynamics played a huge role in the novel in addition to the romance. While it did feel long at times, clocking in at almost 400 pages (which is long for a standalone contemporary for me), I appreciated that the author took the time to flesh out the families of the protagonists. Bailey's CPA dad warmed my heart with his corny dad ways and Porter's family supported each other unrelentingly.
I loved the movie references. Porter and Bailey are both huge classic film aficionados and so there is a quote from a movie at the beginning of each chapter. I'm not a huge film buff myself but I thought it was a fun touch and it was fun to anticipate how the quote was going to foreshadow what happened in the upcoming chapter.
The romance won me over. I did NOT like Bailey and Porter's interactions for the first half of the book. I'm not a huge fan of the hate-to-love trope because it honestly can really serve as an excuse for the characters to treat each other horribly and set really bad relationship examples. Treating someone like dirt isn't sexy. However I think given the circumstances the author really took the time to show the subtle progression from disdain to friendship and eventually to romance, and there really were some heartwarming moments between the two of them (such as when he helps Bailey recover an item that was stolen from her that's very near and dear to her heart). By the end of the book Bailey and Porter also had serious chemistry and I was really, really rooting for them.
Things I Could Have Lived Without:
The pacing. The book takes a while to set up Bailey's move out to California, starting to work at the museum, her quest to find Alex, etc. and for a while I was just super unengaged. I don't think I started really caring until the 200 page mark when Porter's character and family history starts becoming deeper and plot elements start clicking into place, and there's more than just extremely hostile interactions between them.
The heaviness of the plot. For some reason, this book has several really intense subplots. On the one hand, I'm generally not a fan of the ULTRA fluffy contemporaries so I appreciate a good dose of drama or intensity, especially if it can tie back into the romance. However, there was just way too much going on View Spoiler »shark attacks, drug use, stalking, attempted murder, armed robbery, etc. « Hide Spoiler and I think the ending felt too dramatic and over the top. I think the story could have focused on half the amount of intense plot devices and still worked.
Overall: Alex, Approximately took a while to win my heart, but when it did I was a sucker for Bailey and Porter's relationship. I loved the family dynamics, the coastal town setting, the quintessentially California vibe, the classic film references, and the feeling that I really got to know and care for the characters, which doesn't always happen when reading a stand alone novel. I'm secretly hoping for a sequel because I need more Porter in my life. Thank you to this novel for proving YA contemporary romances aren't completely lost on me.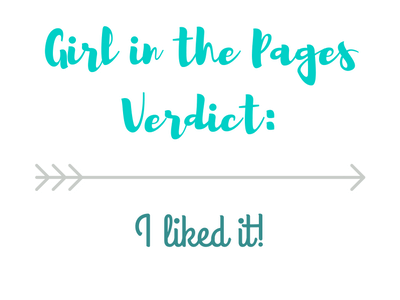 ---
If you liked Alex Approximately, you may also like:
When We Collided by Emery Lord
Related Posts