I received this book for free in exchange for an honest review. This does not affect my opinion of the book or the content of my review.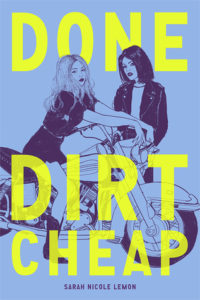 Done Dirt Cheap
by
Sarah Nicole Lemon
Also by this author:
Valley Girls
Published by
Amulet Books
on March 7th 2017
Pages:
336 •
Amazon
Goodreads
Tourmaline Harris's life hit pause at fifteen, when her mom went to prison because of Tourmaline's unintentionally damning testimony. But at eighteen, her home life is stable, and she has a strong relationship with her father, the president of a local biker club known as the Wardens. Virginia Campbell's life hit fast-forward at fifteen, when her mom "sold" her into the services of Hazard, a powerful attorney: a man for whom the law is merely a suggestion. When Hazard sets his sights on dismantling the Wardens, he sends in Virginia, who has every intention of selling out the club—and Tourmaline. But the two girls are stronger than the circumstances that brought them together, and their resilience defines the friendship at the heart of this powerful debut novel.
Sometimes when you request an e-galley you really don't know what you're going to get, especially if it's by a debut author or an author that you're not familiar with. Done Dirt Cheap was a book that fit that criteria for me, but I felt drawn to it with its sassy cover and gritty synopsis. I'm happy to report that Done Dirt Cheap has 100% renewed my faith in trying out new authors and diving into unfamiliar plots, because it was a truly engaging and utterly fantastic read that I wish I could completely purge from my brain so I could have the pleasure of reading for the first time again.
Done Dirt Cheap revolves around two very different but very strong female protagonists. Tourmaline Harris is the daughter of the president of a notorious motorcycle club, who's family has been ripped apart by her mother's imprisonment and the role she played in it. Virginia's mother essentially sold her into indentured servitude to a sleazy lawyer who leverages her for money making schemes from participating in pageants to drug dealing. Their two paths collide when Virginia is given the assignment to essentially infiltrate the Warden's inner circle to assist in dismantling them, and she targets Tourmaline, a classmate, as the best way in.
What truly makes Done Dirt Cheap stand out is its portrayal of female relationships. Tourmaline and Virginia never have a conventional friendship, and are often at odds with each other's desires and methods. Yet they keep gravitating toward each other for the solitude and safety that can only be found by standing with another woman in a life dominated by men. They draw their strengths and personalities from very different backgrounds (Virginia from the terror of an abusive family, Tourmaline from the comfort of being a loved daughter), but at the core of the novel is the overarching theme that it is still very difficult to be a woman and be taken seriously, and be given the autonomy to run your own life, even in 21st century, modern day society. Tourmaline often refers to herself as a "paper girl," an outline to be filled with the wishes and expectations of others, and though privileged in many ways where Virginia is not, it really resonated with me, as it reinforces the
The biker club element never feels cliché or like it's trying too hard. I really enjoyed how their motives were convincingly portrayed as morally gray, and how they were sort of a modern day vigilante group. This was my first time really engaging with any media featuring biker clubs, and I found reading about the complex code and rules really interesting, especially as Tourmaline, who's grown up on the periphery of the club her entire life, learns to navigate them and manipulate them to her benefit as an adult. Lemon has done an incredible job of fleshing out an entire social system in less than 400 pages.
This novel also showcases upper YA romance done right for a book that's not specifically being marketed as a romance. The romances were slow-burn and had a touch of real-world angst (AKA serious relationship boundaries such as age, ultimate goals in life, past emotional trauma, etc.). The relationships are built on the tenuous foundations of the teenage to adult transition, but are deliciously swoon-worthy when the wait does pay off.
Overall: If you like strong female characters who don't always seem like heroines, complex social dynamics that will split your head and heart, and stories about the struggles that are still faced by being a female, this is a story for you. Gritty, complicated, and achingly accurate in its portrayal of balancing on the age of eighteen, I cannot recommend Done Dirt Cheap enough.
Save
Save
Save
Save
Related Posts