Lies We Tell Ourselves
by
Robin Talley
Published by
Harlequin Teen
on September 30th 2014
Genres:
Historical Fiction
Pages:
384 •
Format:
E-Book
•
Source:
Library
Goodreads
In 1959 Virginia, the lives of two girls on opposite sides of the battle for civil rights will be changed forever.
Sarah Dunbar is one of the first black students to attend the previously all-white Jefferson High School. An honors student at her old school, she is put into remedial classes, spit on and tormented daily.
Linda Hairston is the daughter of one of the town's most vocal opponents of school integration. She has been taught all her life that the races should be kept separate but equal.
Forced to work together on a school project, Sarah and Linda must confront harsh truths about race, power and how they really feel about one another.
Boldly realistic and emotionally compelling, Lies We Tell Ourselves is a brave and stunning novel about finding truth amid the lies, and finding your voice even when others are determined to silence it.
Lies We Tell Ourselves is one of the hardest-to-read books I've encountered in a while, and rightfully so. It chronicles school segregation in the south in the 1950s, a time when racism was at its ugliest and most obvious, and cruelty was currency to be used in establishing one's place in the racial social hierarchy. Watching Sarah and her peers have to deal with such blatant and intense harassment, and for them to have to just take the bullying for the sake of the greater good of segregation, made my blood boil, especially to think that this wasn't THAT long ago in history. The entirety of the novel I spent reading with my heart in my throat, waiting for the other shoe to drop, as I knew it was inevitable that something truly brutal would happen. However, often times the books that are the most difficult to read are the most important, and the fact that this novel evoked such a strong reaction from me means it did its job in portraying the horrors that belong to this era in history.
Lies We Tell Ourselves also deals with other social issues, such as gender and LGBTQ relationships. I appreciated seeing Linda, the daughter of a staunch anti-segregationist, struggle with the conflicting beliefs she held (claiming she wasn't a racist but also believed in segregation, etc.) and seeing that while she was priveleged to be white, she faced many forms of oppression still for being female. This novel did a great job of showing the intersectionality of multiple systems of oppression. However, while this intersectionality is a strength of the novel I also think it is a bit of a weakness, as I felt the plot points surrounding sexual orientation at times overshadowed the story line regarding race and desegregation, and I wish that the book had chosen to give a majority of focus to one of these issues rather than try to juggle both, as it didn't have the capacity to do so.
Overall: A strong read about a very important time in American history told from multiple female points of view.
The Serpent King
by
Jeff Zentner
Published by
Crown Books for Young Readers/Random House
on March 8th 2016
Genres:
Coming of Age
,
Religion
,
Contemporary
Pages:
384 •
Format:
E-Book
•
Source:
Purchased
Goodreads
Dill has had to wrestle with vipers his whole life—at home, as the only son of a Pentecostal minister who urges him to handle poisonous rattlesnakes, and at school, where he faces down bullies who target him for his father's extreme faith and very public fall from grace.
He and his fellow outcast friends must try to make it through their senior year of high school without letting the small-town culture destroy their creative spirits and sense of self. Graduation will lead to new beginnings for Lydia, whose edgy fashion blog is her ticket out of their rural Tennessee town. And Travis is content where he is thanks to his obsession with an epic book series and the fangirl turning his reality into real-life fantasy.
Their diverging paths could mean the end of their friendship. But not before Dill confronts his dark legacy to attempt to find a way into the light of a future worth living.
Do you ever read books that you loved so, so much that it almost deters you from wanting to review them? That it feels as though you can't coherently put into words the atmosphere of the story and the emotions it evoked to due it justice, so it's almost easier to just savor the experience yourself? That's how The Serpent King was for me. I read this over about four months ago but I've been putting writing a review for it again and again, because I just had to digest it for so long. It's stunningly powerful for a debut, weaving a narrative that has hope and despair embraced as tightly as lovers, with three protagonists who's lives are so chaotically different yet the differences between them are really simply their addresses and the families they are born into.
The Serpent King takes the setting of a rural town and show its duplicity: a confining, endless place that can keep its residents from ever seeking a better life, while also being a quaint and quite place where the successful and wealthy choose to settle down to be away from the limelight. The Serpent King is a book about perspective, as its shifting narrative can show how powerful a man can be to one person and how absurd he can seem to the next (such as Dill's dad, a preacher and personal prophet in his son's eyes, and charlatan and criminal to someone's family such as Lydia). This book is about religion and social issues and bullying and grief and education, but it's also about life, plain and simple. I don't have much else that I can say except that it's a book that you need to read yourself and deduce how powerfully it resonates with you.
Overall: I really had no idea what I was getting into when I bough this novel on a complete whim one morning, yet I know it's a book that will stay with me for a long, long time.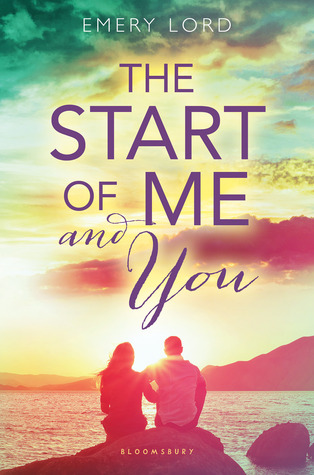 The Start of Me and You
by
Emery Lord
Also by this author:
When We Collided
,
The Names They Gave Us
,
The Map from Here to There
Published by
Bloomsbury
on March 31st 2015
Genres:
Contemporary
,
Romance
Pages:
384 •
Format:
Paperback
•
Source:
Purchased
Goodreads
It's been a year since it happened—when Paige Hancock's first boyfriend died in an accident. After shutting out the world for two years, Paige is finally ready for a second chance at high school . . . and she has a plan. First: Get her old crush, Ryan Chase, to date her—the perfect way to convince everyone she's back to normal. Next: Join a club—simple, it's high school after all. But when Ryan's sweet, nerdy cousin, Max, moves to town and recruits Paige for the Quiz Bowl team (of all things!) her perfect plan is thrown for a serious loop. Will Paige be able to face her fears and finally open herself up to the life she was meant to live?
My first Emery Lord read was When We Collided, so the bar for not only expectations, but for creativity and eccentricity as well, was set extremely high. You can imagine my shock when I then immediately after read The Start of Me and You, which while a cute contemporary, felt almost as though it was written by a completely different author. The…tameness…of it compared to When We Collided was shocking. While a romance, the novel focused heavily on female friendships (to varying degrees of success…some of them were great, and some of the girls felt a bit like stereotypes). While fluffy, the undercurrent of the story hinged on a rather morbid, traumatic experience, with Paige having experienced a loss in her past that has overshadowed her high school social and emotional growth. However, though it felt a little young to me, The Start of Me and You did have some sweet moments with depth and had a warm, feel good conclusion that provided the perfect amount of closure for Paige's story.
Overall: A sweet, quick read that has a some swoon-worthy moments over a refreshingly realistic love interest.
Save
Related Posts