Boyfriend Book Reviews is a feature where my book-loving boyfriend, Max, reads and reviews YA that I either haven't yet read or is outside of my current TBR. If you want a thorough and thoughtful perspective on a guy's take on YA, keep reading!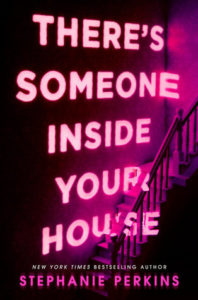 There's Someone Inside Your House
by
Stephanie Perkins
Also by this author:
Anna and the French Kiss
,
Lola and the Boy Next Door
,
Summer Days & Summer Nights: Twelve Love Stories
,
Isla and the Happily Ever After (Anna and the French Kiss, #3)
Published by
Dutton Books for Young Readers
on September 26th 2017
Pages:
287 •
Goodreads
One-by-one, the students of Osborne High are dying in a series of gruesome murders, each with increasing and grotesque flair. As the terror grows closer and the hunt intensifies for the killer, the dark secrets among them must finally be confronted.

International bestselling author Stephanie Perkins returns with a fresh take on the classic teen slasher story that's fun, quick-witted, and completely impossible to put down.
So as I'm sure if you've read one of my reviews before you know I'm a fan of the horror genre. When this one crossed my proverbial desk I will confess I was excited. "And so it begins," I thought. Using my advanced knowledge of the "Teen Slasher" genre, I was ready to dig into this one and get my dramatic irony on.
When you're exposed to a genre you come to expect certain tropes to manifest. In the teen slasher genre there are so many that are, at this point, almost obligatory. Some examples are the crowd-pleasing death of the jerk, the shirking of responsibility leading to inevitable death, the tragic death of someone who was this close to getting out of the small Jersey town. The list could go on and on. The first time that most of us can remember that these tropes that were subverted or at the very least made into tongue in cheek wink wink nudge nudge references was in the 1996 film Scream. In that film, the subversion of the tropes teeters on fourth wall breaking. This worked at the time because the decade before, the eighties had been that of decadence and the presentation of these tropes in films had been overplayed. It was time for a new era of horror films… Until they made 3 more Screams, each worse than the last. And the Hollywood cycle continues again.
When I saw that Stephanie Perkins was highlighting the original Scream as a major influence to There's Someone Inside Your House, I was excited to check it out. I like the film both as a standalone story and a genre examination. I will say for those of you too impatient to read a few more paragraphs that it did not disappoint.
Our story follows Makani Young, a girl who has been exiled from her home and her old life by something that she keeps a deep dark secret. She starts out in the usual bored "I hate this city and wish I could go home" character archetype that is common among characters that share this plot element with her. Here in her new life that she did not choose she attempts to navigate the usual challenges that face young people who are coming of age. She has a boy she likes, friends whom she is close with but can never get in with completely because they were friends a long time before she got there. She has a relationship with her parents that borders on unbelievable. She has a doting grandmother that I nominate for character of the book. She's also trying to navigate that pesky serial killer that keeps knocking off her classmates. You know, the usual American teenage experience.
But seriously, I liked Makani as a character. She was flawed but remained likable for most of the book. You understood where she was coming from. You felt for her when she struggled and her story came to what I thought was a pretty satisfactory conclusion. You wanted to see her be the proverbial "Final Girl" of the horror film she found herself unwillingly thrown into by our own resident Puppetmaster Perkins.
Speaking of Ms. Perkins I really enjoyed her writing style. She left clues throughout the book without being too obvious. She kept you guessing as to whodunit until the book's blisteringly fast 3rd act. She brought up a lot of believable issues that teens face even when there isn't someone in their hometown murdering their peers.
All in all I think that a lot of love was paid to the genre while at the same time some new things were done with it. I saw Stephanie Perkins discussing the book in person at Kepler's Books and she said that it was important to her that the murders took place from the point of view of the victims and not the killer. I thought that was a refreshing and great way to connect with the characters. It revealed a little bit about them and their inner worlds and made you really feel like someone's life was getting cut tragically short. The ultimate subversion of the genre of teen slasher in this book was that it took the interest away from the killer and placed it on the victims. It wasn't a "Oohhhh you sure like looking through Jason's eyes as he stalks into the backdoor that really should have been locked." It really made you hate the killer and hope that they were brought to justice for the terrible thing they had done. That, I think, was Stephanie Perkins' goal and I applaud her brilliant execution of it. Brava, you cruel, cruel maestro you.
Now on to my relatively minor gripes about the book. As I mentioned the third act really zips by and it really leaves the ending feeling rushed. You feel so much for the first few victims and then towards the end because everything is going so quick and you want to see the finish line I feel like the impact of some big character deaths are left feeling a little bit in the dust. I'll also tell you without spoilers that I found the big reveal of Makani's terrible secret to be a little underwhelming. I think it was a good issue to bring up and I could see events transpiring the way they did in the book in real life, but I also think that it left Makani's hands a little too clean and that she was too hard on herself in relation to it. But thinking back on it now perhaps that was the point of that as well. She blamed herself for what happened even though the truth was that she hadn't been as big a monster as she felt she was. Well played, Perkins. Other than that I have very few quibbles. It's a very well-crafted and enjoyable ride.
TL;DR version: TSIYH is a fun romp into the Teen Slasher Genre for people who like it when stories are about characters and not spectacles. It does enough trope subverting to feel fresh and new but doesn't get all up in your face about it. It's clearly made from a place of love and will leave you turning the pages from the front to back cover.
Really TL;DR version: It's like if Christine McConnel wrote Clueless. If that's the kind of thing you're into, you'll like it.
Some Fun Teen Slasher Recommendations:
Halloween: This is the one that started it all. If you like 80's teen slashers, this is the one they're all based on.
All the Boys Love Mandy Lane: Another one where tropes are subverted and the ending is left a little ambiguous. Can leave you scratching your head a bit at the end as to what the message is.
Cry Wolf: A guilty pleasure of mine that isn't really that great of a film. I watched it in middle school with my friends and we loved it because of the last 10 minutes. A great twist ending and genre subversion.
Friday the 13th Part VI: Jason Lives: Another classic, but widely considered to be one of the best in the series. The conclusion of the "Tommy Jarvis Trilogy," it was a return to form for the series and reinvigorated the fan base, signaling the transition from serious horror films to semi horror-comedies.
Coming Soon:
The Babysitter: A Netflix original movie that seems to be turning things on their head once again and going full horror comedy. Watch the trailer. I laughed out loud.
---
About the Reviewer
Max is a twenty-something psychology grad, avid gamer, and self-proclaimed Hufflepuff. He and Cristina met in high school, where they bonded over a mutual love of food, Harry Potter, and Disney. When he's not dutifully attending book events with his book blogger girlfriend, he can be found gaming, reading fantasy & sci-fi, and visiting Disney theme parks with Cristina.
Related Posts