I received this book for free in exchange for an honest review. This does not affect my opinion of the book or the content of my review.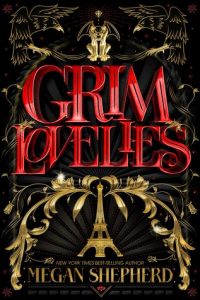 Grim Lovelies (Grim Lovelies, #1)
by
Megan Shepherd
Published by
HMH Books for Young Readers
on October 2, 2018
Genres:
Paranormal
,
Young Adult
Pages:
376 •
Format:
ARC
•
Source:
Publisher
Goodreads
Seventeen-year-old Anouk envies the human world, where people known as Pretties lavish themselves in fast cars, high fashion, and have the freedom to fall in love. But Anouk can never have those things, because she is not really human. Enchanted from animal to human girl and forbidden to venture beyond her familiar Parisian prison, Anouk is a Beastie: destined for a life surrounded by dust bunnies and cinders serving Mada Vittora, the evil witch who spelled her into existence. That is, until one day she finds her mistress murdered in a pool of blood—and Anouk is accused of the crime.

Now, the world she always dreamed of is rife with danger. Pursued through Paris by the underground magical society known as the Haute, Anouk and her fellow Beasties only have three days to find the real killer before the spell keeping them human fades away. If they fail, they will lose the only lives they've ever known…but if they succeed, they could be more powerful than anyone ever bargained for.

From New York Times bestselling author Megan Shepherd, Grim Lovelies is an epic and glittering YA fantasy. Prepare to be spellbound by the world of Grim Lovelies, where secrets have been long buried, friends can become enemies, and everything—especially humanity—comes at a price.
* Thanks so much to HMH Teen for providing a review copy free of charge!*
From the moment I first encountered Grim Lovelies, I was enchanted by its aesthetic. An urban fantasy set in Paris featuring magic and witches? Sign me up! The cover and all of the promotional materials were so gorgeous that I couldn't help but be excited to read my first Megan Shepard novel.
Though I haven't been to France (yet), Grim Lovelies gave me so many Parisian vibes while reading, from the stately home full of antiques that Anouk and her fellow Beasties (animals enchanted into humans) initially live in to the rolling estates of the Lavender witch to the underground neon goblin parties. The idea that there's a magical, paranormal Paris living right underneath the normal Paris was enchanting, and I love how humans weren't necessarily scorned, but were almost adored in a weird sort of way (hence them being called "pretties"). While they race against the clock (the book takes place over the span of just a few days due to an enchantment that must be dealt with) I still felt the atmosphere was very well written and I felt the glamour and grit in the setting of the story.
I also enjoyed the fact that the magic system was also pretty thoroughly explained in this novel, which is not something I often find in fantasy/paranormal books. Magic has to be drawn from living things, whether from eating a leaf to perform a very minor spell, to using actual human blood (for strong, potent witch magic). Each witch has a "witch's boy," a boy who is taken at a very young age to be raised like a pampered prince by the witch in exchange for their blood- providing vials and vials each week to ensure a steady supply of magic for their witch "mother." It was disturbing no doubt but also fascinating and I appreciated that the author took the time to explain the magic system and the costs associated with performing magic.
However, there were elements of the book that I found myself not as much of a fan of and that made the story drag a bit, especially during the later half. The book has a very middle-grade feel to it, and Anouk especially feels very young (which makes sense since she hasn't been a human for very long, having been turned human by her witch, Mada Vittora, relatively recently). There were some scenes that I was sort of grossed out by (Teapenny and his rat….ew). I also felt like the second half of novel had a LOT of similarities to Harry Potter and the Deathly Hallows, during the scene where they break into the ministry- Anouk and the other Beasties break into the Royal's headquarters which is a magical building, get caught, fight, escape in the elevator and end up on a bunch of crazy floors- it really felt like the Ministry of Magic drama to me. I also feel like Anouk became VERY powerful in a very short period of time, and it was hard to suspend my disbelief to accommodate for that.
Overall: A thoroughly atmospheric read, Grim Lovelies will make you want to book a flight to Paris ASAP. While I enjoyed the setting of the book immensely and appreciated it's thoughtfully built magic system, I did find it dragged in places and the overall feel of the novel was a bit young for my taste.
Related Posts