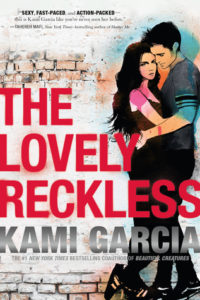 The Lovely Reckless
by
Kami Garcia
Published by
Imprint
on October 4th 2016
Pages:
384 •
Goodreads
I've become an expert at avoiding things that could hurt me—which means I will figure out how to stay away from Marco Leone.
Seventeen-year-old Frankie Devereux would do anything to forget the past. Haunted by the memory of her boyfriend's death, she lives her life by one dangerous rule: Nothing matters. At least, that's what Frankie tells herself after a reckless mistake forces her to leave her privileged life in the Heights to move in with her dad—an undercover cop. She transfers to a public high school in the Downs, where fistfights don't faze anyone and illegal street racing is more popular than football.
Marco Leone is the fastest street racer in the Downs. Tough, sexy, and hypnotic, he makes it impossible for Frankie to ignore him—and how he makes her feel. But the risks Marco takes for his family could have devastating consequences for them both. When Frankie discovers his secret, she has to make a choice. Will she let the pain of the past determine her future? Or will she risk what little she has left to follow her heart?
Technically, you owe my grandmother. She says people can learn everything they need to learn from life from a good telenovella. -pg 171
Oh gosh. For some reason I went into this book thinking I was going to 100% love it because of diversity! Hype! Pretty Cover! Beautiful Creatures! Sadly, The Lovely Reckless was, while still overall an OK read, a bit of a letdown in a lot of areas. This is what I get, once again, for impulse buying books off of Amazon (I've been burned before recently).
The Good:
Undercover cops: I thought the plotline with Frankie's father being an undercover cop who's mission was to catch car thieves by integrating himself into their society was super interesting. Though at times he has to play the stereotypical non-understanding YA dad, I loved learning his "critical life skills" and wish those could have been featured more throughout the book. (I mean let's be real ever since I saw the movie "The Call" I have been obsessed with ensuring I know how to escape from a trunk/other possible kidnapping situations).
Cruz: I think this is a consistent thought with most everyone who has read this book but I LOVED Cruz. Not only is she a badass, but I think Kami did a really great job at creating a character who is both strong and vulnerable, empathetic and tough, who really examples that female characters can have so much complexity and depth to them. I honestly wish this entire book had been about Cruz and even though I wouldn't call this book a favorite by any means, I would totally read a spinoff novel about Cruz.
Diversity: This book has a lot of Latino and Latina characters which I find fantastic because I am half Salvadorian. While Frankie, the protagonist, is white, Marco, Cruz, Sofia, and many others come from diverse Latino/Latina backgrounds and I loved seeing their culture come out in little quotes or thoughts throughout the story (such as the quote I referenced at the beginning of my review).
Street Racing: The whole racing and car culture is one that I haven't really experienced before whether personally or through the media I've consumed (I mean I like my car and all but I have limited technical knowledge about it). I wish this element had been more prominent in the story (which I feel like I was expecting from the synopsis). It was so interesting to see the car and racing culture and the social dynamics that went with it, and see Frankie taking technical classes like Shop which are disappearing from schools as time goes on. We only get one or two true "racing" scenes and it really feels like a missed opportunity.
The Bad:
Can you say insta-love?: Oh boy. I mean I was sort of expecting it from the cover of the novel but I felt really no connection with Marco and Frankie. Did I like them as characters? Sure, they were OK. I had no gripes with either of them. I just felt no empathy with their relationship development when it accelerated faster than the street car racing and their love was the "forever" kind after three or four (way too convenient) meetings and interactions. I mean sure you can develop a REALLY STRONG CRUSH in a short period of time at that age but in this book the stakes were way higher than that and it just didn't feel authentic. Also I mostly snoozed through the romance and was more interested in getting back to the social issues/crime/mystery elements of the story.
Predictability: Speaking of crimes and mystery, there's a parallel plot that runs throughout the novel of Frankie's ex-boyfriend being murdered and her having PTSD and being unable to remember the details of the altercation which then forces her into a downward spiral of self destruction, etc. While I'm sure that would be a super traumatizing situation for anyone to have been in, it just felt sort of tacked on, like the whole book could have existed without that background and just focused on her moving to the Downs and her relationships she forms there. She really didn't seem that invested with her relationship with Noah and it was sort of strange that she was internally monologueing all the time about how much MORE she felt for Marco after a few weeks (month? I sort of lost track of how long of a time period this book takes place over) even though she had known and dated Noah for a significant amount of time. Basically the "whodunnit" plot of Noah's murder felt weak and it was pretty obvious who the culprit was.
Bad choices everywhere: I also tired really quickly of the MYRAID of bad choices that all of the characters made. Frankie and her impulsiveness was chronic, and then obviously all of the "dangerous" things the kids in the Downs were getting up to, plus her friend Abel's gambling and Lex's drama…like I just wanted one person to make a rational decision or worry about something not 200% melodramatic.
Undeveloped sub-plots: There were a lot of rather serious subplots that were introduced for the secondary characters for the plot that never really were fleshed out, including domestic violence, drug trafficking, neglect and abandonment, etc. These are the elements that I found compelling, that I wanted to learn more about and see how they impacted the characters' wider social structures, personalities, and futures, but they were usually brought up once or twice and never explained or resolved.
A too-convenient HEA: Things just really wrapped up a bit too neatly if you ask me considering how far downhill everything went toward the end of the book.
Overall: There were some elements of The Lovely Reckless that I enjoyed, but there were also a lot of cliché romantic moments and too predictable plot elements for me to truly enjoy this book. I was compelled to read until the end because I wanted to see how the messes the characters got themselves into were resolved, but my inability to become invested in the romance stripped a lot of the enjoyment from this novel for me. Sadly, this was an impulse purchase didn't live up to the mark.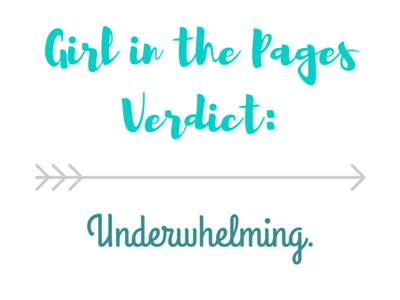 Save
Save
Reading this book contributed to these challenges:
Related Posts