I received this book for free in exchange for an honest review. This does not affect my opinion of the book or the content of my review.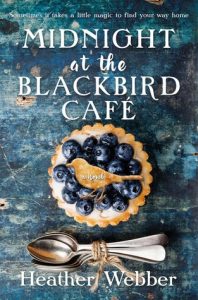 Midnight at the Blackbird Café
by
Heather Webber
Published by
Forge Books
on July 16, 2019
Genres:
Adult Fiction
,
Contemporary
Pages:
336 •
Format:
Hardcover
•
Source:
Publisher
Goodreads
Nestled in the mountain shadows of Alabama lies the little town of Wicklow. It is here that Anna Kate has returned to bury her beloved Granny Zee, owner of the Blackbird Café.
It was supposed to be a quick trip to close the café and settle her grandmother's estate, but despite her best intentions to avoid forming ties or even getting to know her father's side of the family, Anna Kate finds herself inexplicably drawn to the quirky Southern town her mother ran away from so many years ago, and the mysterious blackbird pie everybody can't stop talking about.
As the truth about her past slowly becomes clear, Anna Kate will need to decide if this lone blackbird will finally be able to take her broken wings and fly.
Midnight at the Blackbird Café is a charming, contemporary adult novel that takes place in a small Southern community with a lot of heart, delicious food, and a hint of magic. The story follows Anna Kate, pre-med college student who has returned to her family's hometown in the wake of her grandmother's death to get her affairs in order and figure out to do with her iconic café. As one can imagine, what intends to be a quick month of cleaning and legal work turns into Anna Kate learning about family secrets, discovering the magic that her grandmother wove into her pies, and finding a home in the last place she thought would accept her.
Parallel to Anna Kate's time in town is the arrival of a flock of blackbirds, who are thought by locals to be messengers from their departed love ones via dreams. I thought this touch of magical realism was well done- it wasn't forced, it was so natural and believed in by the local townsfolk, much to the surprise of a reporter who begins each chapter interviewing residents and visitors to the towns. These dreams are linked to a pie that's served at Anna Kate's family's café, and throughout the novel she struggles to learn the exact ingredient combination to bring these dreams to life. Reading about Anna Kate's experiences in the kitchen (both with pie recipes and others) were comforting and hunger-inducing (I do love books with delicious descriptions of foods)!
I was also surprised to find a fair amount of family drama in this novel, with Anna Kate's father's family (who she never knew growing up) butting heads with her as soon as she returns to town. Her aunt (who's very close in age to her) is also a POV character and really serves as the bridge of healing between Anna Kate and her grandparents. She also has secrets and drama of her own that she's overcoming, and I found her backstory to be interesting (and I've also never read a book with an aunt-niece relationship where they are close to the same age).
Overall: Midnight at the Blackbird Café is a charming, whimsical story about family, finding yourself, and a little bit of magic. Coupled with the gorgeous cover and delicious food descriptions, it's a sweet, homey read.
Related Posts