In the Weeds (Lovelight, #2)
by
B.K. Borison
Also by this author:
Lovelight Farms (Lovelight, #1)
Published by
Barnes & Noble Press
on April 18, 2022
Genres:
Romance
Pages:
410 •
Format:
E-Book
•
Source:
Kindle Unlimited
Goodreads
Evelyn St. James isn't the kind of woman you forget.

Beckett Porter certainly hasn't. One incredible weekend in Maine, and he's officially a man distracted. He's not unfamiliar with hot and heavy flings. He knows how it goes. But Evie wove some sort of magic over him during their tumble in the sheets. He can't stop thinking about her laugh. Her hand pressed flat against his chest. Her smiling mouth at his neck.

Also, her eyes. And her legs.

So when she suddenly appears on his farm as part of a social media contest, he is … confused. He had no idea that the sweet and sexy woman he met at a bar is actually a global phenomenon: social media influencer Evelyn St. James. When she disappears again, Beckett resolves to finally forget her and move on.
But Evelyn St. James has a problem.

Feeling disconnected from her work and increasingly unhappy, she's trying to find her way back to something real. She returns to the last place she was happy, Lovelight Farms and the tiny town of Inglewild.

It has absolutely nothing to do with the hot farmer she spent two incredible nights with.

Nothing at all.
I swear I was the biggest hype woman for this series after I read the first book, so I'm not quite sure what happened here! Don't get me wrong, I still enjoyed it and found it to be well-written, but I found it to lack some of that ~small town magic~ that the first book gave in spades.
After chatting with some of my bookstagram friends about this one, I think my main issues with this book come down to two things:
Evie is not a small town local
The story hinges on the lack of communication trope
So problem #1 is what I think I struggled with the most. If you've read the first book in this companion series, you may remember that Evie was a side character who was running the social media contest Stella was trying to win for the farm, and it came out that her and Beckett had an ~encounter~ months before. Since this book heavily focuses on Evie's POV and she's not a local, I did find some of the small town charm to be missing, especially during the scenes focusing on Evie's social media career, her relationship with her management agency, etc…I just did not care, lol. I do love Beckett and it was a treat getting to read from his POV (and be reunited with the kittens again!) but since he's a major introvert he opts not to spend much time in town so there's not as many hilarious interactions with the colorful town characters as there were in the first book.
Problem #2, however, was my biggest issue with the story. I get the sense that the author is choosing one trope to focus on in each book (the first one was friends to lovers) but this entire plot focuses on miscommunication/lack of communication. I understand why that was essential to making the plot work but it honestly got exhausting after a while, especially with a third act break up. Like, I could kind of understand the behavior if y'all were teenagers, but it seems weird that two thirty somethings are acting this way, you know?
Those two issues aside, there was a lot to enjoy about this story, including:
A decent amount of page time for the characters from the previous novel that we know and love
Getting to know Beckett's loud and rowdy family
More smol animals getting rescued by Beckett
Good social anxiety rep
The return of the notorious phone tree
Beckett's tattoos, each with a different meaning
Forced proximity plot (if that's your thing)
Overall: This companion series is really cute, and even though this one didn't capture me as much as the first in the series did, I still really enjoyed being back on Lovelight Farms!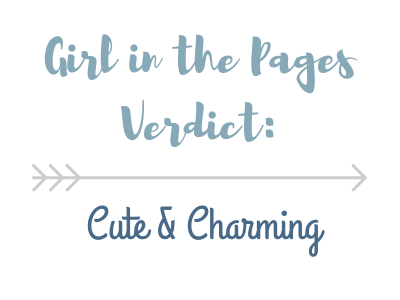 Related Posts