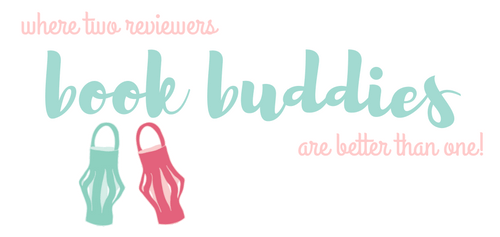 Book Buddies is a fun, collaborative review feature that I participate in once a season with my friend Lauren who runs the blog Bookmarklit. We choose a themed book for the season, read it, and then answer fun questions that pertain to the book's themes and each feature the book in our own way! Check out the second part of our feature on Lauren's blog!
Top Ten Clues You're Clueless by Liz Czukas
Published by Harper Teen on December 9th 2014
Pages: 304 •Goodreads

Top Five Things That Are Ruining Chloe's Day
5) Working the 6:30 a.m. shift at GoodFoods Market
4) Crashing a cart into a customer's car right in front of her snarky coworker Sammi
3) Trying to rock the "drowned rat" look after being caught in a snowstorm
2) Making zero progress with her crush, Tyson (see #3)
1) Being accused—along with her fellow teenage employees—of stealing upwards of $10,000
Chloe would rather be anywhere than locked in work jail (aka the break room) with five of her coworkers . . . even if one of them is Tyson. But if they can band together to clear their names, what looks like a total disaster might just make Chloe's list of Top Ten Best Moments.
Check out Lauren's post here!
Instead of a Q&A discussion format, book buddies will now be formatted a little differently each time, with elements that reflect the book we read. In Top Ten Clues You're Clueless, main character Chloe loves lists, so we've decided to make some lists of our own!
5 Things About This Book
It's deceptively Chistmas-y. Until Lauren brought it to my attention, I had no idea this was a holiday book. It actually takes place on Christmas Eve, and rather than being a "holiday" book, it's more like a book that just so happens to take place on a holiday.
It has a Breakfast Club vibe. Chloe and her fellow teen coworkers are all detained after their Christmas Eve shift under suspicion of theft. As they wait for the police to arrive in the snowstorm, shenannigans ensue as they have the run of the store to themselves.
The protagonist has diabetes. I thought this was a really interesting aspect of the book, to see how Chloe's condition impacted her day to day life and how she managed it.
It's very YA. The setting, the circumstances, the group of teens that seem to come from every walk of life…it's all very YA, fluffy in the right ways but also lightly grazing some more serious topics. While it was a fun read and pretty much what I expected, I wish the author had given a bit more weight to some of the issues that were brought up.
It's a little predictable. Maybe I read too many mysteries, or maybe it just wasn't that hard to figure out, by I figured out the "culprit" pretty early on. I still enjoyed Chloe's love of mysteries and her encouraging everyone to try to solve it with her, though! This book is just plain cute.
5 Places I'd Want to Spend the Holidays
In the Snow! (I've never had a white Christmas before!)
Somewhere Tropical & Warm (Which is actually happening very, very soon…)
Disneyland/Disneyworld (I love all of the special decorations and events. Halloween and Christmas are the best times to go!)
A Big City (I'd love to travel to somewhere like Paris or London for New Year's Eve!)
Hogwarts (Just saying ;))
5 Holiday Recipes I Love
To be completely honest I don't really cook or bake, but Max does and I love helping him pick our recipes! These are some we've tried recently for the cold weather or are hoping to try for the holidays!
5 Seasonal Foods I Buy Each Year
Dark Chocolate Star Cookies from Trader Joes (They're only around in the winter!)
Tamales (My mom's side of the family is Latin, so we usually have Tamales for Christmas dinner!)
Apple Pie is always a staple at our holiday gatherings.
Popcornopolis Zebra Popcorn always makes it way into our home around the holidays, as the gift sets are great for gift exchanges!
See's Candies are a tradition in our house for Christmas morning gift-unwrapping, and have been ever since I was a child (having an excuse to eat candy for breakfast was always very popular with me and my little brother).
What was your first job? Did you ever have to work holidays like Chloe?
My first job was actually in retail, at Nordstrom! Working holidays was definitely an expectation, especially since I usually only worked seasonally on my breaks from school. Thankfully the store was never open on major holidays like Thanksgiving and Christmas, but I usually did end up working the crazy crowds on Black Friday, Christmas Eve, the day after Christmas, etc. I think EVERYONE should have to work in retail at some point or another, as it really gives you a good perspective on patience and kindness and makes you empathize a lot more with those who do have to work on holidays (although I will say I love working in the 9-5 corporate world now where working holidays is generally not an expectation!)
What are some other books you've read that feature a protagonist that with a health condition you didn't know much about before?
I actually remember my first experience reading about a character who suffered from a health condition was actually The Babysitter's Club series. Stacey, one of the main characters, had diabetes and there were several books surrounding her dealing with her condition, and it really showed how she struggled with it in her day to day life. I thought it was really important that a character was featured with a chronic medical condition in a series geared toward a younger audience (that series was pretty diverse for its time, though!) I feel like while there are a lot of YA books around that focus on characters who have really serious, terminal type conditions (with the rise of sick-lit, such as TFIOS and Extraordinary Means) I haven't come across too many novels that feature characters struggling with daily, chronic illnesses.
Save
Save
Save
Save
Save
Reading this book contributed to these challenges:
Related Posts