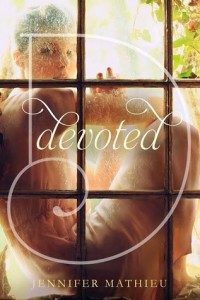 Devoted
by
Jennifer Mathieu
Also by this author:
The Truth About Alice: A Novel
,
Afterward
,
Moxie
Published by
Roaring Brook Press
on June 2nd 2015
Pages:
336 •
Goodreads
Rachel Walker is devoted to God.
She prays every day, attends Calvary Christian Church with her family, helps care for her five younger siblings, dresses modestly, and prepares herself to be a wife and mother who serves the Lord with joy.
But Rachel is curious about the world her family has turned away from, and increasingly finds that neither the church nor her homeschool education has the answers she craves. Rachel has always found solace in her beliefs, but now she can't shake the feeling that her devotion might destroy her soul.
*Many thanks to Macmillan and Brittany @ The Book Addict's Guide for my copy of Devoted!
Jennifer Mathieu has managed to write a stellar sophomore novel that, like her debut The Truth About Alice, provides a riveting view into a social issue that might make most uncomfortable to look too closely at. While The Truth About Alice focused on slut-shaming and bullying, Devoted addressed modern day religious fundamentalist communities, and as a religious studies major I have to applaud Mathieu's handling of the topic.
Devoted focuses on Rachel, a nearly 18 year old living in a Christian fundamentalist community (the Quiverfull movement) in a small town in Texas. Rachel's family's religious beliefs permeates every aspect of life, to the point where Rachel has probably had less interactions with people outside of her faith than she can count on one hand. From the beginning of the novel, Mathieu builds a tension that climbs and climbs, driven by Rachel's increasing desire to learn, which is perhaps the thing that drives the biggest wedge between her and her religion. She can't read the books she wants, can't convince her mother to buy her math workbooks that go past rudimentary Algebra, can't go on the computer whenever she wants to Google her questions about the world. This suffocating, patriarchal religious society was heartbreaking to read about.
Whether Mathieu intended to or not, Rachel's actions in the second half of the book strongly parallels a feminist interpretation of the story of Eve from the Book of Genesis, a layer of storytelling that I found fascinating (and had to deconstruct because it's an ingrained habit from college). Like Eve, Rachel has access to a plethora of knowledge that she is (for the most part) forbidden to access (the family computer, which she is only allowed to use in a very limited capacity and with strict supervision). When a former member of their community who voluntarily left returns, Rachel's curiosity is piqued and she accesses the "forbidden" source of knowledge to answer the questions she has about Lauren (Why did she leave? Why is she back? What is the outside world like?) Like Eve, Rachel is caught shattering her ignorance through attaining knowledge, reading Lauren's blog and exchanging emails with her, which eventually leads to a chain of events that results in her "expulsion from the garden," or in this case, the religious community. Lauren essentially plays the role of the "serpent" in breaking Rachel's ignorance by exposing her not only to the ugly, misogynistic and even dangerous aspects of the community, but also by making her aware that life outside of the community is possible.
Reading about Rachel's struggle in adapting to the world outside of her religious community and wondering what life she'll ultimately choose (to stay gone or to return) compelled me until the very last page. Mathieu portrays Rachel's predicament with a nuanced hand, with realistic conflict and inner turmoil for Rachel. Rachel realistically has a difficult time adjusting, rather than easily falling into young adult life outside of the community. She handles her relationship with her faith very differently than Lauren does, as she still seeks a relationship with God on her own terms rather than rejecting the notion of religion completely and totally. Mathieu also has Rachel critically compare the outside world to her upbringing and analyze how the two different lifestyles relate to the teachings of the Bible that were so integral to her prior life (for example, Rachel ruminates over the fact that the Bible technically says not to consume alcohol in one passage, but it also says says the same about meat. She wonders if this makes Lauren, who consumes alcohol but not meat, any better or worse than her family who don't drink but are definitely carnivores). I love that Mathieu's narrative throughout the book emphasizes how important perspective is when interpreting the Bible, or any religious text, and how modern society really has to think about what religious doctrines it chooses to follow to align with modern social and humanitarian movements (such as feminism).
Overall: Since I studied world religions critically in college, I am always wart of how religion is going to be portrayed in works of fiction. Will it be too preachy? Stereotyped? Painted as either good or bad, with no in-between? Thankfully, Devoted fell into none of the above categories, as Mathieu's novel manages to portray a multifaceted use of religion as a major plot element, showcasing ways it can be both harmful and helpful. Further, she has scenes where Rachel critically analyzes the Bible or the social teachings of her faith, clearly showcasing that Mathieu did her research before approaching the topic which I infinitely respect. While the first half of the book was a bit slow in some places and I wish her religion and its principles has been explored more, Devoted kept me compelled in a way that contemporary novels rarely do. If you're interested in a critical, realistic look at a teenage girl faced with incredibly oppressive circumstances and barriers and how she copes with them, Devoted is a must read.
---
You May Also Like: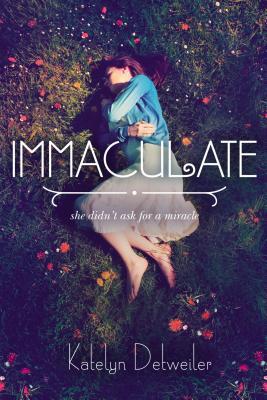 Reading this book contributed to these challenges:
Related Posts