I received this book for free in exchange for an honest review. This does not affect my opinion of the book or the content of my review.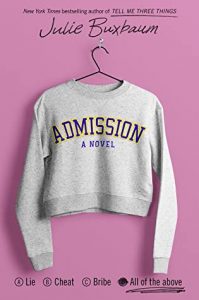 Admission
by
Julie Buxbaum
Also by this author:
Hope and Other Punchlines
Published by
Delacorte Press
on December 1, 2020
Genres:
Contemporary
,
Young Adult
Pages:
352 •
Format:
E-ARC
•
Source:
NetGalley
Goodreads

LA prep-school student Chloe Wynn Berringer, who is knee-deep in the misery of the college applications process, is shocked when FBI agents arrive at her front door to arrest her B-list TV and film celebrity mother in connection with a massive college admissions bribery scandal. Who is involved? Who knew what and when? And who is talking to the authorities? As the scope of the investigation is revealed, it is evident that the downfall will be swift--the general public demands that the guilty be punished.

A riveting novel that examines the pressures and expectations of an increasingly competitive landscape for teens during college applications year and what some parents will risk to guarantee that their kids succeed.
I remember exactly where I was the day the news broke about the college bribery scandal. It was all anyone at work could talk about that day, and though I was far removed from my college days, I remember the anger and disappointment I felt remembering how grueling the college application process was back in my day, and I'm sure it's just become even more competitive. It was a scandal that really highlighted a truth I think many "knew" as an unspoken rule but now had tangible evidence for: the deck is stacked for the wealthy, the admissions process is not blind, and privilege is often another bullet point on a resume.
I was super intrigued when I found out there was going to be a YA book written based on the scandal- I was REALLY interested to see how the characters involved were going to be portrayed. Would they be likeable? Unlikable? Unreliable narrators? How close to the actual scandal would the plot align? What kind of note would the story end on? Once I dove into Admission it was hard to stop reading because it was so engrossing to see both the lead up and the fall out of the scandal.
Buxbaum structures the story in two alternating timelines, "Then" and "Now," following 17 year old Chloe who is an average to lackluster student. In alternating chapters, we see Chloe actively dealing with the fallout of the scandal and seeing how she ended up involved in the first place, including all of the warning signs and little moments of unease that she brushed off. The story takes the stance that Chloe didn't actively KNOW what was happening, but stuck her head in the sand quite a bit, and while she's definitely not likeable (I mean, it's hard to feel empathy for someone in this situation), I thought the narrative did a good job in posing some important questions that I think readers will have to grapple with: How much authority to children have to challenge their parents? What would a child in that situation be expected to do if they tried to stop their parents but they refused? Where is the line of culpability between student and parent?
Chloe herself is apathetic about a lot of things- she doesn't really care about school work, she doesn't really care about which college she goes to, she often takes the easy way out, and she's definitely not ambitious or driven. Yet you get the sense that she's mostly OK with these elements of herself and while not actively involved in the crime her parents are committing, her passive behavior in going along with their plans to meet their expectations brings about its own unique kind of disappointment in the reader. There are glimpses of humanity within Chloe- she deeply cares about her best friend who is not rich and is working her behind off to get into Harvard, she's passionate about her volunteer work where she mentors a young boy and helps him with his reading, and she's deeply ashamed of her parents actions and really would have been fine going to one of her safety schools. Yet her positive attributes are so often overshadowed by, quite frankly, her own obliviousness to her privilege, and while she doesn't actively flaunt it her lack of awareness about it is a problem in and of itself.
One of my favorite elements of the story was the focus on Chloe's little sister, Isla. So often when big celebrity scandals erupt it's easy to get caught up in the drama and villanize those involved without giving a thought to those family members who truly were not culpable. It was heartbreaking to see Isla, a driven, hardworking student who's spent her entire academic career passionately excelling and aiming toward an Ivy League college, caught in the fallout of the scandal, her own merit based accomplishments undoubtedly undermined and layered with suspicion after her parent's actions for her sister. I thought Isla's story provided and interesting, alternative POV into the scandal and showed how its fallout didn't just impact the guilty but the innocent as well.
Overall: Admission was a compulsively readable, fictionalized take on the recent college admissions scandals that explores different levels of being complicit in the situation. It's my second book by Buxbaum and I'll definitely be reading more by her (I especially loved the easter egg from Hope and Other Punch Lines– Chloe's dad has a Baby Hope photo in his office).
*Thank you so much to NetGalley and the publisher for providing a free ARC in exchange for an honest review!*
Related Posts