What If It's Us
by
Becky Albertalli
,
Adam Silvera
Also by this author:
Simon vs. the Homo Sapiens Agenda
,
Leah on the Offbeat (Creekwood, #2)
Published by
HarperTeen
on October 9, 2018
Genres:
Contemporary
,
Young Adult
Pages:
448 •
Format:
ARC
•
Source:
YALLWest
Goodreads

Arthur is only in New York for the summer, but if Broadway has taught him anything, it's that the universe can deliver a showstopping romance when you least expect it.

Ben thinks the universe needs to mind its business. If the universe had his back, he wouldn't be on his way to the post office carrying a box of his ex-boyfriend's things.

But when Arthur and Ben meet-cute at the post office, what exactly does the universe have in store for them?

Maybe nothing. After all, they get separated.

Maybe everything. After all, they get reunited.

But what if they can't quite nail a first date . . . or a second first date . . . or a third?

What if Arthur tries too hard to make it work . . . and Ben doesn't try hard enough?

What if life really isn't like a Broadway play?

But what if it is?
This ARC and I have been on quite a journey. It wasn't even on my radar when I attended the 2018 YALLWEST festival and then I heard ~rumors~ that Epic Reads would be giving it away at some point and frantically planned my afternoon around the drop. Too many people ended up attending the event so it turned into a long, tedious, hot raffle in the sun for who would walk away with a copy of this much coveted author mash up. After being convinced it wasn't meant to be (I never win ANYTHING), my number got called and I became the proud owner of one of the cutest rom coms of 2018.
I'll be the first to admit that I haven't read anything by Adam Silvera before- I know!- but earlier this year I finally read Simon vs. the Homo Sapiens Agenda and LOVED it, and read Leah on the Offbeat and semi-liked it, so I was excited to dive back into Becky's writing. I was a little nervous that her character, Arthur, would be Simon 2.0 but I was pleasantly surprised that this was not the case (Arthur was his own flavor of smol, neurotic, cinnamon role that I loved) and both Adam and Becky's writing sounded distinct while working in tandem nicely.
At its core, What If It's Us has a pretty simple premise- two teens have a meet-cute in New York and a summer full of possibilities ahead of them. While it's overarching plot is that of a love story, I found that there was SO much more about this novel to appreciate. I loved that both boys had such supportive families that they were actually close to, though in different ways. I loved that friendships were pivotal to both protagonists and they struggled finding that balance between maintaining friendships when entering a new relationship. I loved Dylan in all of his obnoxious glory. I loved that the story showed you can become genuine friends with your friend's significant other. I just loved all of the positive and varied and realistic relationships showed in the course of this one story.
Can we just take a second to talk about Arthur? I LOVED Arthur. Ben is constantly commenting that Arthur has no chill, but I adore this about him- he just is who he IS without a filter and without embarrassment. Sure, he's neurotic (but who isn't) and it was so refreshing to read about a character who wasn't "cool." At one point Arthur mentions that he's "bleeding out all his neuroses" but can't help himself, to which I am like "same dude, same."
Ben, on the other hand, wasn't one of my favorite characters. I found his at times "too cool for school" attitude a little annoying, as he's more concerned with what others think than Arthur is and is much less communicative and more closed off. Which is totally fair but he wasn't my favorite to read about (ALSO I WANTED TO YELL AT HIM WHEN HIS CHRONIC LATENESS CAUSED THEM TO MISS THE THING). I empathized with Arthur when he felt like Ben wasn't willing to change things or go out of his way for their relationship (like constantly being LATE). However, this is the first book that I've read that featured a Latinx character who is white passing who talks about the struggles it brings. I feel like it's so taboo to express frustration on being white passing, especially with the privileges it affords you, but it really makes Ben feel disconnected to his culture at times which is very alienating for him. As a Latina who is white passing myself, this deeply resonated with me and I appreciated Adam making it a core aspect of Ben's identity. I'm curious to see if it's a theme that carries over into his other novels as well.
One element of this story that I LOVED that I wish had been explored more was the portrayal of families. Ben and Arthur come from very different families with parents of very different socioeconomic backgrounds, and while they were all flawed they were also deeply caring and supportive (sometimes in a cringe-y way) of their sons. I loved the scene when both families came together to have dinner and how despite their differences if felt organic and authentic.
Despite all of the adorable and heartwarming moments in this novel, I did find that it dragged at times for me in the middle. Obviously I knew A CONFLICT was coming based on reviews I had scene (and people being salty about the ending) but I feel like the story could have been edited down a bit more. I'm actually OK with the way Ben and Arthur's story closed out and found it to be realistic and refreshing.
Overall: What If It's Us was a cute, heartwarming story with a realistic ending. It solidified that I love Becky's writing and exposed me to Adam's, which I found intriguing and I'm excited to explore more of his titles. While it definitely doesn't eclipse my love of Simon, it's a story that I think a lot of readers will enjoy and cherish.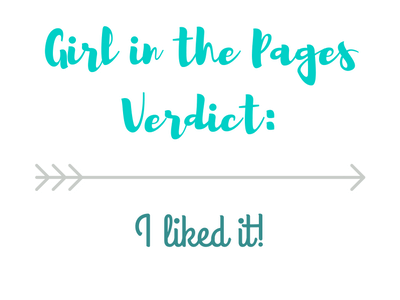 Related Posts