Boyfriend Book Reviews is a feature where my book-loving boyfriend, Max, reads and reviews YA that I either haven't yet read or is outside of my current TBR. If you want a thorough and thoughtful perspective on a guy's take on YA, keep reading!
I received this book for free in exchange for an honest review. This does not affect my opinion of the book or the content of my review.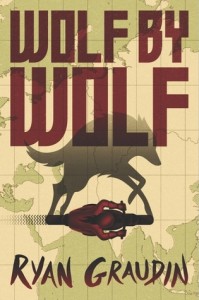 Wolf By Wolf (Wolf By Wolf, #1)
by
Ryan Graudin
on October 20th 2015
Pages:
400 •
Goodreads
Code Name Verity meets Inglourious Basterds in this fast-paced novel from the author of The Walled City.
The year is 1956, and the Axis powers of the Third Reich and Imperial Japan rule the world. To commemorate their Great Victory over Britain and Russia, Hitler and Emperor Hirohito host the Axis Tour: an annual motorcycle race across their conjoined continents. The victor is awarded an audience with the highly reclusive Adolf Hitler at the Victor's ball.
Yael, who escaped from a death camp, has one goal: Win the race and kill Hitler. A survivor of painful human experimentation, Yael has the power to skinshift and must complete her mission by impersonating last year's only female victor, Adele Wolfe. This deception becomes more difficult when Felix, Adele twin's brother, and Luka, her former love interest, enter the race and watch Yael's every move. But as Yael begins to get closer to the other competitors, can she bring herself to be as ruthless as she needs to be to avoid discovery and complete her mission?
"Once, just once, Henryka had been thoughtful enough to ask Yael what she really looked like… Yael opened her mouth to answer and realized, with a start, that she did not remember. She did not remember. She did not remember. What kind of person forgets her own face?" –Graudin, 44-45.
I don't think I can say enough good things about this book. I know, after reading my last review, you are shocked into silence. Well let's go on a little journey together. I'll start by saying that one of my favorite things to learn about is history. Oh there are a variety of reasons. Love of the larger than life characters throughout it. Wondering at the people and places of antiquity. But perhaps one of my favorite reasons is that only by knowing history can we avoid (or try to avoid) repeating it. This is of course one of the questions raised in this book, but there are so many others. As usual, going forward is major SPOILER TERRITORY. You want the TL;DR version, read the summary.
When I first picked up the book I didn't know what to expect. Reading the back cover piqued my interest. As many works of fiction have before, Wolf by Wolf asks the terrifying question: What if Hitler had won? Much like the legendary Philip K Dick's seminal The Man in the High Castle (which I hear is a great show), it follows the hopelessly outgunned and outnumbered resistance movement deep in the heart of Nazi occupied Europe and Asia.
The narrative tells the story of Yael, a young girl who was doomed to die in one of the many Concentration Camps that sprung up about Europe. (Mercifully, you never find out which one, but I believe the book hinted that Yael was Polish). Through providence or chance, Yael is chosen by a lead Nazi scientist to be the guinea pig for a new type of injection that can make even non Aryan people look Aryan*. (*Historical note: Aryan was Hitler's purposed "master race" of humans who had blonde hair and blue eyes). The drugs work, but have the unintended side effect of giving Yael the ability to skinshift, or change her appearance at will.
Due to her long years training with the resistance, Yael has learned what Liam Neeson might call a particular set of skills. Yael is versed in a wide range of academic and physical abilities. She fights well, can shoot, knows calculus and several different languages, etc. Because of this and her ability to change her face, Yael is selected by the resistance to pose as a previous victor of the contest that is the backdrop of the novel; an intercontinental motorcycle derby.
Lovingly coined the AXIS Tour by the Fuhrer and Emperor themselves, it is a brutal motorcycle race through thousands and thousands of Kilometers spanning the entirety of Europe and most of Asia. It goes from Berlin (renamed Germania) all the way to Tokyo. Capitol to Capitol. Through the ruins of the decimated populations of the old world. (Yael often notes how Hitler sends the Untermensche to die in labor camps scattered across the globe).
I'll confess. I love motorcycles. I dream of owning an Indian Dark Horse one day. (Such beauty. Wow.) So just. Ugh. SO much about this book was right up my alley. Nazi occupied… everywhere almost. The fascinating twists and turns and "what if's" of history. For example, the United States staying completely out of WWII. ("Peace at All Costs" being our isolationist battlecry).
Almost better than all this though was Yael's journey through the book. The narrative moves through alternating sections and chapters of both flashbacks and her current mission; to win the AXIS tour posing as a previous female victor. But there's so much more to it than that. You see the terrible burdens she carries. Burdens of knowledge, of pain, of remembrance. You see her struggle to rectify the horrible violent world she lives in with the world she wants it to be. You see her struggle to do what needs to be done. And it all feels very real and believable. The best part of her development was her struggle to keep herself together as she was forced to assume the lives of others. Her struggle to find out who she is as she literally changes herself to become someone else.
Finally, the reason the book is called Wolf by Wolf. When she was admitted to the concentration camp, Yael was given the customary number tattoo on her left arm. As her act of defiance Yael has a black market tattoo artist turn the ugly tattoo into wolves. Five wolves. Four memories and one reminder. I'll let you find out for yourself what they are.
Once again there was just so much to love about this book. Harrowing life or death circumstances. Murders. Tragedy. Romance. (Yes, for serious). A romance I could believe and that grew on you as the book went on. A satisfactory conclusion. Fleshed out characters and character development. The cast is filled to the brim with great characters. As it came to a close and I realized the implications the ending gave, I couldn't help but thirst for more. To me, that's the real victory of the book. It made me want a sequel while closing things enough to let them stand. That, to me, is a mark of excellence.
Very quickly just one point I wasn't overly fond of, but as I think of more and more made more sense to me. Yael is hesitant to kill. This is something I initially struggled with and made me roll my eyes a little. I mean a girl who was tortured and inflicted with a horrifying cocktail of chemicals, afraid to take AXIS lives? At first I couldn't swallow it. But as the novel went on I realized it was just someone wanting to remain human in an inhumane time. And the book made me believe it.
Overall: From start to finish, a truly thrilling ride. Set in a semi fantastic world where Nazi science has changed the game and the world, though conquered, still stands on the knife's edge. And yet, lodged in there, a very believable and human story about a girl's struggle with an impossible task and an inability to define who she really is inside. (Tear up with me, Mulan fans.) If you haven't gotten it at this point; I highly recommend this book.
---
About the Reviewer
Max is a twenty-something recent psychology grad, avid gamer, and self-proclaimed Hufflepuff. He and Cristina met in high school, where they bonded over a mutual love of food, Harry Potter, and Disney. When he's not dutifully attending book events with his book blogger girlfriend, he can be found gaming, reading fantasy & sci-fi, and becoming overly invested in Food Network shows with Cristina.
Related Posts