With Malice
by
Eileen Cook
Published by
HMH Books for Young Readers
on June 7th 2016
Pages:
316 •
Goodreads
It was the perfect trip…until it wasn't.
Eighteen-year-old Jill Charron wakes up in a hospital room, leg in a cast, stitches in her face and a big blank canvas where the last six weeks should be. She discovers she was involved in a fatal car accident while on a school trip in Italy. A trip she doesn't even remember taking. She was jetted home by her affluent father in order to receive quality care. Care that includes a lawyer. And a press team. Because maybe the accident…wasn't an accident.
As the accident makes national headlines, Jill finds herself at the center of a murder investigation. It doesn't help that the media is portraying her as a sociopath who killed her bubbly best friend, Simone, in a jealous rage. With the evidence mounting against her, there's only one thing Jill knows for sure: She would never hurt Simone. But what really happened? Questioning who she can trust and what she's capable of, Jill desperately tries to piece together the events of the past six weeks before she loses her thin hold on her once-perfect life.
Thrillers are perhaps the hardest genre to read and write, because readers are going in with a very specific set of expectations: plot twists, unreliable narrators, dangerous secrets, edge of your seat pacing, and a satisfying conclusion. I'm not sure if this complicated recipe for a good thriller is why they don't seem to be super common in the YA market, but I've noticed a lack of them, which is why With Malice caught my eye. The stunning cover made it impossible for it to escape my notice, and the premise had me clicking "buy" without a second thought, curbing my usual hesitancy to buy books on a whim.
Unfortunately, this book reminded me WHY I shouldn't impulse buy books.
I was so, so let down by everything that I believed With Malice would deliver. It has so many great reviews that I know I'm a bit of a black sheep on this one, but I was not very "thrilled" while reading it. I chose it as my poolside read over the 4th of July long weekend, and I was pretty dissatisfied that I spent my vacation reading it. A harsh statement, but when it's compared to Dangerous Girls I couldn't help but go into it with the expectation of a 5 star read.
The first element of this novel that let me down was the misleading setting. I was expecting a dark European adventure, but instead a great majority of the book takes place in the US with Jill in rehab after the accident. She has the occasional flashback of her time in Italy before the death of her friend Simone, but most of the references to the events that led to the plot of the book are gleaned from police transcripts, blog posts, etc. Now while I did like the inclusion of the different types of correspondence and police records, I felt like the events in Europe were "told" much more than they were "shown."
While I didn't dislike Jill, I just didn't find her compelling as an (unreliable) narrator. Her loss of memory seemed like a bit of a crutch (rather than being a devious, manipulative, or crazy, she just couldn't remember anything, which made her much less interesting than Anna from Dangerous Girls or Mara from The Unbecoming of Mara Dyer). I like that she clearly had flaws, but I just couldn't make myself be invested in her future (she was a bit detached, to be honest). I'm also a bit tired of the best-friend-teen-girl-murder-suspect trope. I think it's overdone, and perpetuates a lot of negative stereotypes about teenage girls (such as that they are jealous, emotional, ruthless, and manipulative enough to be considered killers in the face of any sort of conflict, especially with other young women). I mean, what happened to the good old Agatha Christie/Nancy Drew who-dunnit mysteries with a large cast of characters for suspects and friends trying to solve crimes together? Is that too much to ask?
I also saw 90% of the plot of this book coming. Considering that I found it hard to empathize with any of the characters (Simone was a real piece of work, View Spoiler »and I wasn't that shocked about how everything went down. I mean, providing that Jill's memory at the end of the book was accurate, Simone was cruel and manipulative to the point where she didn't even seem human. « Hide Spoiler) The only character I found compelling to read about was Jill's Latina roommate in rehab who provided some much needed real talk in this novel, but her presence was eclipsed by the larger (and less compelling) plot of the story.
Overall: Slow pacing and a lack of compelling characters make With Malice fall short of the promises that it's premise claims to deliver. While the formatting of the book with different transcripts, interviews, and articles intermixed with the narrative was refreshing and worked well with the genre, it doesn't live up to some of the other big name thrillers in the genres that it is compared too. With Malice is not redeemed at the end of the book either, as the plot "twist" felt extremely anticlimactic (at least to me) and not very exciting or plausible View Spoiler »It just doesn't seem very realistic that you could accidentally stab someone so many times « Hide Spoiler With Malice, while well intentioned in joining the notable players in the YA thriller genre, read too similar to other well known stories to be able to stand on its own.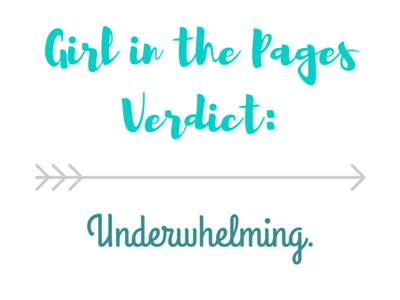 Save
Reading this book contributed to these challenges:
Related Posts