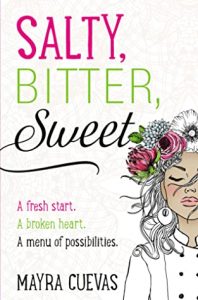 Salty, Bitter, Sweet
by
Mayra Cuevas
Published by
Blink
on March 3, 2020
Genres:
Contemporary
,
Young Adult
Pages:
320 •
Format:
E-Book
•
Source:
Overdrive
Goodreads
Seventeen-year-old aspiring chef Isabella Fields' family life has fallen apart after the death of her Cuban abuela and the divorce of her parents. She moves in with her dad and his new wife in France, where Isabella feels like an outsider in her father's new life, studiously avoiding the awkward, "Why did you cheat on Mom?" conversation.
The upside of Isabella's world being turned upside down? Her father's house is located only 30 minutes away from the restaurant of world-famous Chef Pascal Grattard, who runs a prestigious and competitive international kitchen apprenticeship. The prize job at Chef Grattard's renowned restaurant also represents a transformative opportunity for Isabella, who is desperate to get her life back in order.
But how can Isabella expect to hold it together when she's at the bottom of her class at the apprenticeship, her new stepmom is pregnant, she misses her abuela dearly, and a mysterious new guy and his albino dog fall into her life?
Salty, Bitter, Sweet:- Is a YA contemporary #OwnVoices novel written by CNN producer Mayra Cuevas- Features a Latina main character who is trilingual- Is inspired by the author's relationships with food and family- Explores complicated family dynamics and relatable themes of friendship, acceptance, and learning to care for yourself
Never have I read a book that has made me so hungry. I love YA books centered on food and am quite the foodie despite not really cooking much myself (I blame an obsession with Food Network shows) so I adore books about aspiring chefs. I've read quite a few over the years and have never found one with such vivid food descriptions as Salty, Bitter Sweet. In addition to the mouthwatering food descriptions, I genuinely enjoyed the story, which follows a half Latinx protagonist spending the summer in Europe…this book really had almost all of my favorite things!
The novel follows Isa, an aspiring teenage chef spending the summer in France in summer intensive cooking program at a Michelin Star restaurant, vying for a coveted internship position. Meanwhile, she's also dealing with a ton of family drama, as she's living with her dad and his new girlfriend on a cheery farm in France and trying to acclimate to her family's new "normal," when just six months ago she was living in Chicago with both of her parents. As the novel progresses, Isa's family history is explored, especially her relationship with her Cuban grandmother, Lala, who is Isa's biggest source of inspiration in the kitchen, from her traditional Cuban recipes to her "blessed" pies. There are flashbacks to Isa's time with her Lala as she works through her grief and tries to reconcile her dreams and aspirations professionally with the type of life and relationships she wants personally.
I loved the exploration of Isa's family relationships in this novel and her rich family history. Isa is American with Cuban and French roots, and it was so interesting to see how her relationships with her French and Cuban grandmothers were different yet still both formative for her, especially from a food perspective. It's wonderful to see Isa embrace all of her different cultures and I really enjoyed seeing her pride in both her French and Cuban heritages, and how it inspired different dishes she made and the meanings they held in her family. I also really enjoyed learning about her Lala's history of immigrating from Cuba and how she ended up the wife of a farmer in Kansas, becoming an integral and compassionate member of her community while still keeping her island roots alive- I could read a whole historical fiction book about her!
I also adored how in depth the book went on the food element. I was really convinced Isa lived and breathed her recipes. The author also wasn't afraid to get technical with what went on in the kitchen, from the intensity of their assignments (down to the centimeters of their slices!) to the look at the sexism and struggles that pervade the high stakes culinary world. The food descriptions were incredible too! Absolutely mouthwatering, and I loved that the author treated the food and act of cooking with so much respect and not just as a backdrop for the plot.
The setting of the novel was incredibly immersive. Reading it while sheltering-in-place was such a treat, because I truly FELT like I was in France, walking through cherry orchards and strolling into patisseries for the most mouth watering pastries. I've always had Paris on my bucket list of places to travel in France, but now there are so many more areas I want to add to my list (and don't even get me started on Barcelona! That rooftop private dinner scene was AMAZING!)
As with most YA, coming of age novels, there was a romance involved. The romance was so-so. I liked Diego and his emphasis on consent and self discovery but think the book could have been fine without him. The friendship dynamics, however, were really interesting, especially when Isa is juggling friendship and competition with Lucia, another girl in the program, and also having to weigh the importance of "getting ahead" with sticking together with other women in the kitchen. I also liked that when there were friendship problems, it was due to the behavior of everyone involved and not just because of one person.
Overall: Salty, Bitter, Sweet is a new favorite for me. I adored the food descriptions, was fully immersed by the settings and loved it's focus on diversity through a culinary lens. I can't wait to check out future novels but the author (and selfishly hope she keeps writing stories centered around food!) Seriously, if you like books with food descriptions you must read this!
Related Posts