Deadly Little Scandals (Debutantes, #2)
by
Jennifer Lynn Barnes
Also by this author:
The Fixer (The Fixer, #1)
,
Little White Lies (Debutantes, #1)
,
The Inheritance Games
on November 5, 2019
Genres:
Young Adult
,
Mystery
Pages:
352 •
Format:
Hardcover
•
Source:
Library
Goodreads
"Think of the White Gloves like the Junior League-by way of Skull and Bones?"

Reluctant debutante Sawyer Taft joined Southern high society for one reason and one reason alone: to identify and locate her biological father. But the answers Sawyer found during her debutante year only left her with more questions and one potentially life-ruining secret. When her cousin Lily ropes her into pledging a mysterious, elite, and all-female secret society called the White Gloves, Sawyer soon discovers that someone in the group's ranks may have the answers she's looking for. Things are looking up... until Sawyer and the White Gloves make a disturbing discover near the family's summer home--and uncover a twisted secret, decades in the making.

No one is quite who they seem to be.
Despite my saltiness about a mid-series cover change, I was excited to pick up the sequel to Little White Lies relatively soon after reading it (so refreshing to actually remember what happened in book 1, lol). I was a little apprehensive going in because even though the first book ended on a huge cliffhanger, I heard that the multiple timelines that happened in book 2 were convoluted and a bit confusing. While there WAS a lot going on in flashbacks in this book, I didn't find it too difficult to follow and the story delivered quite a few twists! Seriously, at the end they just kept coming and it was hard to keep track of who was actually related to who, lol.
Deadly Little Scandals also delivered on the Southern debutante charm of the first book, but with a more casual setting, as the story largely takes place over the summer at the lake where all of the society families vacation. There's also a whole secret society subplot that I probably could have done without but added some fun cloak and dagger vibes to the story. The novel really digs into the past of the adult characters (even more so than the teenage ones) which was refreshing and it felt like a YA book on two levels- in the present with Sawyer, Lily, and there friends, and one set in the past with young Olivia, JD, Sterling, etc. I also appreciated that while many revelations came about in this second installment and a LOT about what readers thought they knew about the characters changed, some of my favorite things from the first book stayed the same (like Sadie-Grace's pure adorable-ness and Lilian Taft being the badass she is and ultimately saving the day once again).
Overall: While perhaps containing a few too many twists, Deadly Little Scandals was a wild ride and a satisfying sequel. I actually hope there are more books in this series because I would really love to see how the characters manage the fallout of everything that happened even though the scandals are technically all wrapped up!
---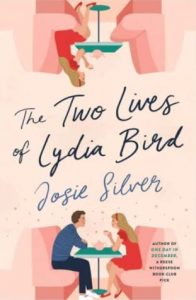 The Two Lives of Lydia Bird
by
Josie Silver
Published by
Ballantine Books
on March 3, 2020
Genres:
Adult Fiction
,
Romance
Pages:
432 •
Format:
E-Book
•
Source:
Overdrive
Goodreads
Lydia Bird is living a happy, normal little life--she has a good job, a wonderful fiancé, Freddie, and the usual daily dramas of buying groceries and being in a relationship. And then everything stops: Freddie is killed in a car crash on his way to pick up his best friend, Jonas. Her world bottoms out.

Lydia retreats from the company of her sister, her mother, and from Jonas, the only other person who understands her loss. Alone and adrift, she seeks a small amount of solace in the sleeping pills her doctor prescribes for her, which give her relief in the form of abnormally deep sleep. But they also come with an increasingly complicated gift: Whenever she takes a pill, she emerges in another world. A world in which Freddie is still alive.

And so Lydia returns again and again to the doorway of her past, living two lives, impossibly, at once. In one, her relationship with Freddie and her friendship with Jonas move along as scheduled, and in the other, that same friendship begins to become something else, something very unexpected and yet thrillingly familiar.

Written with Josie Silver's trademark warmth and wit, The Two Lives of Lydia Bird is a powerful love story, by turns joyous and devastating, about the questions of fate and chance that we find at life's crossroads, and what happens when one woman is given the painful, miraculous chance to answer them.
The Two Lives of Lydia Bird was my first novel by Josie Silver, and I was incredibly excited going into the novel. I had heard great things about One Day in December, the cover is gorgeous, and I'm a huge fan of parallel universe stories. Yet this book put me in a major reading slump for the month of February and into early March and was really not what I was expecting. I anticipated some grief, as the premise starts out with Lydia's fiancé dying, and some magical realism what with Lydia being able to "visit" Freddie in an alternate version of her life where he had survived. However the pacing of the story just really dragged for me. While it was interesting to see how Lydia's two lives were running parallel to each other (and how the life that seemed "ideal" wasn't always actually the better option for her), as a reader I felt lost in the mundane details of Lydia's life sometimes and wanted more explanation as to HOW these parallel universes were existing (which I never really felt that I got a satisfactory explanation for). I also wasn't a fan of ANY of the romantic plot lines, though I did enjoy Lydia's relationship with her sister and how that played out in both universes (and was actually more important than the things that happened to Lydia, honestly). I kept reading until the end because I was really hoping for some big, exciting twist that would explain how Lydia was experiencing both timelines but the explanation (if you can even call it that) really fell flat for me.
Overall: Interesting concept but the execution didn't work for me.
---
I received this book for free in exchange for an honest review. This does not affect my opinion of the book or the content of my review.
Broken Things
by
Lauren Oliver
Also by this author:
Vanishing Girls
Published by
HarperCollins
on October 2, 2018
Genres:
Young Adult
,
Mystery
Pages:
408 •
Format:
ARC
•
Source:
ALA
Goodreads
It's been five years since Summer Marks was brutally murdered in the woods.

Everyone thinks Mia and Brynn killed their best friend. That driven by their obsession with a novel called The Way into Lovelorn the three girls had imagined themselves into the magical world where their fantasies became twisted, even deadly.

The only thing is: they didn't do it.

On the anniversary of Summer's death, a seemingly insignificant discovery resurrects the mystery and pulls Mia and Brynn back together once again. But as the lines begin to blur between past and present and fiction and reality, the girls must confront what really happened in the woods all those years ago—no matter how monstrous.
With the world a disaster right now and having been stuck in my home sheltering in place for over a month, I've actually found that reading mysteries and thrillers has been somewhat comforting- probably because they are such an escape from the real world right now. I decided to pull a long overdue copy of Broken Things off my shelves for my April Rainbow Try A Chapter Unhaul selection (the color prompt was dark blue) and was pleasantly surprised at how much I enjoyed this seemingly under the radar thriller!
Broken Things follows two teenagers, Mia and Brynn, who have been ostracized from their community as most think they are responsible for the brutal murder of their friend, Summer. Though they were never officially convicted, the stigma still lingers five years later and suspicion has never truly moved away from them since their friend was murdered in a fashion similar to one described in a fanfiction the girls co-wrote. The plot of the novel seems as though it may take inspiration from the Slenderman stabbings that happened about six years ago, however in this instance the mystery of the true perpetrator has still gone unsolved.
Mia and Brynn have both handled their social pariah status in different ways, with Mia living at home while her mother devolves into a hoarding obsession, and Brynn bouncing from rehab to rehab. When they both end up back in town on the five year anniversary of Summer's death, they decide that maybe there's more to the case that meets the eye, and decide to see if they can find the killer after all of these years by teaming up with Mia's friend Abby (a famous beauty Youtuber), Brynn's quirky cousin Wade (who has been running a conspiracy theory blog about the murders for years) and Summer's ex-boyfriend who was also originally under suspicion.
Through the course of the "investigation" the gang conducts, it becomes clear that Summer has been martyred in death and was not the wonderful friend so many remember her to be- she could be cruel, manipulative, and vicious, but was also the victim of abuse and unthinkable circumstances as well. Oliver did a good job creating Summer as a very polarizing character who straddled the line of likeable/unlikeable, as did most of the other characters. I appreciate the dimension and nuance with which the characters were written, and their motives and apprehension created an unsettling and bleak atmosphere that was the perfect setting for the mystery.
Though I read quite a few YA thrillers and usually find myself able to guess the culprit, the twist in this story really took me by surprise. To be completely honest I'm not sure if it was 100% believable but it was different and reflecting back on the story, there clues were there, if subtle.
Overall: Broken Things is my favorite Lauren Oliver book to date and is a solid thriller.
Related Posts