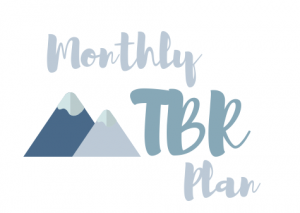 I've made a lot of reading resolutions, and one of them is to be better about cultivating a monthly TBR. I know so many bloggers do beginning of the month TBR posts and I always LOVE reading them, so I've decided to post my own as well! I will include my physical, e-book, and ARC TBRs as well as a status update of where I am prior to starting my upcoming month's TBR.
Reading Progress Prior To This Month: 0/100* Books Read
*Wish me luck as I try to read more books in 2020 than ever before!

January, the month of clean slates! It's fitting that I have an ambitious TBR for an ambitious (for me) Goodreads Reading goal!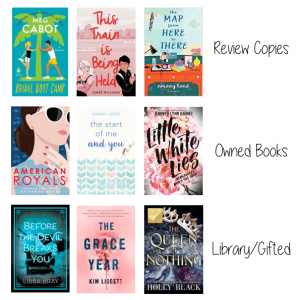 For Review
Bridal Boot Camp // I started this fun little novella one night and just haven't had time to get back into it, however it should be a quick read once I have time to sit down and finish it! I can never go wrong with Meg Cabot (I also just realized I bought this and it's not an e-ARC, but the graphic was already made so oops).
This Train is Being Held // I requested this on NetGalley on a whim (that request button is dangerousss) and I'm so excited to dive into this book with Latinx representation and to see how the subway encounters work (if you've ridden public transit for extended period times, you can see some wild things lol). Also, the cover is stunning!
The Map From Here to There // Literally screamed when I got approved for this one on NetGalley! It's so exciting when authors return to an original with a sequel several years later. I need to try and reread The Start of Me and You before diving into this one if I have time!
Owned
American Royals // So I started this book shortly after it came out and though I'm really interested in the premise, I put it on hold about 80 or so pages in and haven't returned to it yet. I think the timing was just off for when I was trying to read it, because I couldn't get into it at the time. I'm excited to revisit this one again!
Little White Lies // I got this for Christmas in 2018 and of course haven't read it yet (I'm honestly terrible about reading the books I receive as gifts for some reason) but decided to dive in as it's been calling to me from my TBR cart for quite a while! I will say I'm annoyed that the covers have changed already (of course!) which almost makes me want to wait to buy books until the series are complete!
Library/Gifted
Before the Devil Breaks You // So I am suuuuuper behind on The Diviners Readalong that happened earlier this fall (I'm a slow audio book listener!) but I'm about 2/3 of the way through this installment and I like it a lot more than it's predecessor (book 2 was ROUGH for me). The problem is this audio book is like 22+ hours long and my library loan keeps expiring before I have a chance to finish it lol. I only have 4 hours left so fingers crossed I FINALLY finish it this time!
The Grace Year // My library hold for this one came in on New Year's Day, which feels like a sign I should read it soon! I've seen nothing but rave reviews for this one. I also don't read much dystopian/sci fi these days, so I'm excited to dip back into that genre again, if only briefly!
Queen of Nothing // No spoilers please! I haven't had a chance to read this yet and have managed to avoid spoilers, and I need to until I have a chance to use a B&N giftcard and treat myself to it 🙂
Are any of these on your TBR? What books are you planning on prioritizing first in 2020? Let me know in the comments!
Related Posts