Day 7- Animal Kingdom
Y'all, it's been 4 years and I am just now getting around to finally finishing my Honeymoon recap (: I wrote the drafts in late 2019 and was waiting to add pictures and then we all know how 2020 went…better late than never, I guess? To start from the beginning, check out part 1 and part 2 here! PSA that things might have changed in Disneyworld since my experiences- everything mentioned in this post took place in 2019!
Ok, so I truly feel like Animal Kingdom is the park that everyone sleeps on. It's sort of out in the middle of nowhere (because they need space for the animals as it's an actual wildlife preserve) and it's sort of a zoo/theme park hybrid. But guys, it's SO good. It's probably my favorite park out of all of the options at WDW and truly a unique experience unlike any other theme park you can go to! So please be prepared for several paragraphs of me gushing over how much I enjoy it!
Max and I have a tradition where we start every Animal Kingdom trip with breakfast at the best character buffet ever, Tusker House! Full disclosure, I am a picky eater. Like a SUPER picky eater. I can't even tell you when the last time I went to a restaurant and didn't have to add/substitute/remove/etc something from my meal. Buffets are really hit or miss for me, and Tusker House has both traditional American breakfast fare as well as African inspired options as well. It's all incredible. Truly, there are so many food options from sweet to savory, the "jungle juice" is a perfect compliment to the food, and the characters in their safari outfits are just too cute. I could probably eat there every single day of the trip and not get tired of it! This time I loaded up my plates with bacon, rice, this amazing cold bean salad, the outstanding breakfast potatoes (we tried them in 2015 and haven't stopped talking about them since) and this blueberry bread that was 10x better than any blueberry muffin I've ever had. It was so so so good. Plus, since we were on our honeymoon we had some wonderful character interactions with Mickey, Minnie, Donald and Daisy, and it was special that they made time to visit our table even though we were amidst a LOT of kiddos (our mistake for having a reservation around 10am- the earlier you can get there the less crowded it is)!
After our massive breakfast, we took some time to wander around and explore, and had some awesome shots taken by one of the Disney Photopass photographers. We found some iconic walls to take photos in front of, and then found Pocahontas over by the Tree of Life! We then had some fastpasses for the rides in the new Avatar rides and we were underwhelmed. I've never seen the movie and have always felt like it was a super random choice for Disney to go that round for a new land in Animal Kingdom, and we really found the rides and themeing to be meh overall (and the River Journey ride was SO SLOW. Like you are sitting there wondering if the ride has broken down because it makes It's a Small World feel like the Fast and the Furious in comparison). After Pandora-land (I don't even know what it's actually called and I don't care too) we headed over to the Dino-land area of the park which we had never been to (can also confirm I have no idea if that's what it's called either lol). They were having a special Donald Duck Dinosaur themed character meet and greet and we got to meet with so many cool characters that aren't usually out (like Scrooge, that duck pilot guy, etc) and then we saw some of the classic characters in cute dinosaur themed outfits. Chip and Dale were especially fun because they were sort of hidden away so no one else was there and we got a lot of 1:1 time with them, in which Chip tried to steal me from Max including a impromptu wedding ceremony with Dale walking me down the aisle lol.
While we were on one of the nature trails in the Asia section of the park hoping to get a glance of some tigers, an absolutely MASSIVE rainstorm hit. Like, torrential. It's almost become comical because every single time we go to WDW the worst rainstorm of the whole trip always hits while we are at Animal Kingdom! It was thunder, lightening, the whole deal, and it was nearly impossible to find shelter, as everyone was trying to escape. Once it FINALLY passed we were freezing and soaked and decided a much needed break was in order, so we decided to take the bus to the Animal Kingdom lodge to check it out. We found ourselves really enjoying the resort, it had such immersive theming and some awesome looking restaurants (though we didn't have time to check any out). We spent time wandering around the properties to check it out for a potential future trip!
After decompressing a bit at the AKL, we headed back to Animal Kingdom for our Kilimajaro Safari fastpasses. After doing some research online, I found that the best time to do the safari is around twilight since that is when the animals are most active. This made perfect sense since I had usually done them in the middle of the day when it's hot and the animals are hiding/sleeping at that time. This approach definitely paid off, we saw SO MANY animals! Giraffes (including babies!), cheetahs and LIONS just to name a few! After our epic safari, we headed to dinner at Yak & Yeti and enjoyed a delicious meal of Asian inspired cuisine. We had fastpasses to stay for Rivers of Light, the nighttime show in Animal Kingdom, but we were so tired we ended up just heading back to the hotel.
Day 8- Disney Springs & Magic Kingdom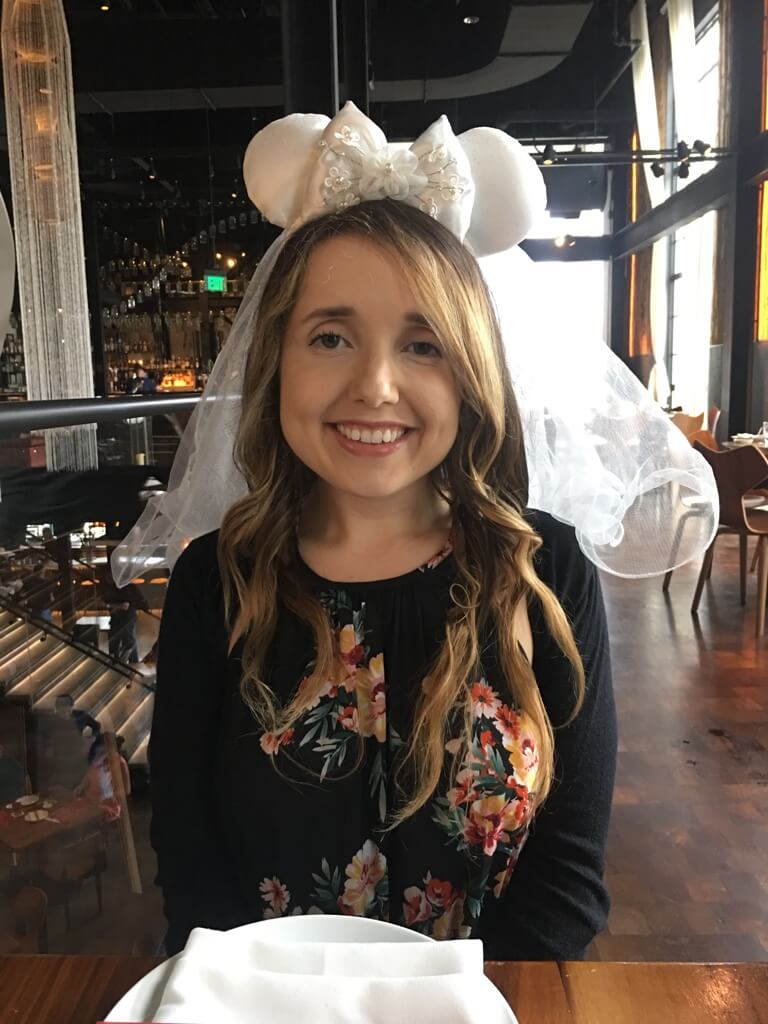 On Monday we decided to take is easy and spent most of the earlier part of the day at the pool at our resort. Later in the afternoon we headed to Disney Springs for our dinner reservation at Morimoto Asia. I had the most delicious hot tea ever and some really strong appetizers, though my noodle entree was so-so. We then headed to Amorette's Patisserie for dessert, which we had been eyeballing the whole trip because of their absolutely stunning cakes and pastries. I chose this little mouse filled Mickey situation that was really cute but actually kind of underwhelming- Max's dessert was much better!
After Disney Springs we headed to Magic Kingdom to watch fireworks and hit some of our favorite rides at night (rides totally feel different at night, don't @ me). There's not a whole lot more to say, to be completely honest at this point in the trip we were getting a little antsy and were ready to head to our cruise! Not much more to report on Monday.
Day 9- Hollywood Studios
On our final day we decided to trek over to Hollywood Studios even though we're not a fan of the park. Yes, you heard right, we really dislike Hollywood Studios- it feels like a lamer California Adventure park to us (especially back when CA was in it's prime before all of this Marvel nonsense that's going in). I convinced Max that I wanted to check out Toy Story Land, but that was pretty much all we did because our favorite ride, The Great Hollywood Movie Ride, was gone 🙁 Toy Story land was cute but sooooo crowded! We ended up mostly just wandering, doing a little shopping and admiring the Tower of Terror (we didn't have faspasses and the wait time was crazy but we wanted to at least gaze upon it since they TURNED IT INTO A STUPID GUARDIANS OF THE GALAXY RIDE IN CALIFORNIA ADVENTURE…sorry I have ~feelings~ about this). Tower of Terror in Hollywood studios also has such beautiful old Hollywood theming (more so than the CA version did, in my opinion).
After about an hour or so we left, vowing never to return, and took the boat over to the boardwalk for a treat. I had read online about Ample Hills Creamery and decided to check it out, as we're both big ice cream connoisseurs. Best ice cream I've EVER had in my life. Blows Salt & Straw out of the water. It's a crying shame that we waited until our last day to go because I definitely would have been back multiple times.  I had Nonna D's Oatmeal Lace and it was outstanding, and Max had Red Velvet Ooey Gooey Butter Cake which was phenomenal. It was like being transported to ice cream heaven. I ate more of his than was probably nice of me lol. Though we each got a single scoop in a cup each, they also offer an ice cream flight- yes flight- where you can try 6 mini size flavors at once.
After our ice cream extravaganza, we headed back to our resort for our "farewell" dinner. We have this tradition where we try to have a nice, fancy dinner on our last night to end our trip on a special note. We opted for the much talked about Snow White character dinner at Artist's Point, the signature restaurant in our hotel. Long story short, it was awful. Worst Disney Dining experience I've ever had. We got seated in the back right behind a pole so we couldn't even really see the characters, our waitress was super rude and annoyed when trying to talk through my dietary restrictions/options, and it was super expensive on top of that. Do. Not. Recommend.
Though our last dinner left much to be desired, we were still in a great mood, excited to be heading out to our very first Disney Cruise the next day on the Disney Dream. I'll be covering our first Disney Cruise experience in my next post!
Related Posts