It's finally 2021! I could not be more thrilled to have a fresh year in front of me (though I know in actuality not that much has changed and it will be a long time before things can return to "normal," but hey it's something to be excited about!) While I had high hopes for reading 100 books in 2020 I ended up lowering my Goodreads goal because it ended up being a difficult year and at times I just wasn't in the right mindset to read and didn't want to force it. I ended up finishing a respectable 78 books and am excited to take a look at my year end stats (I also did a mid-year stats check in which you can find here!)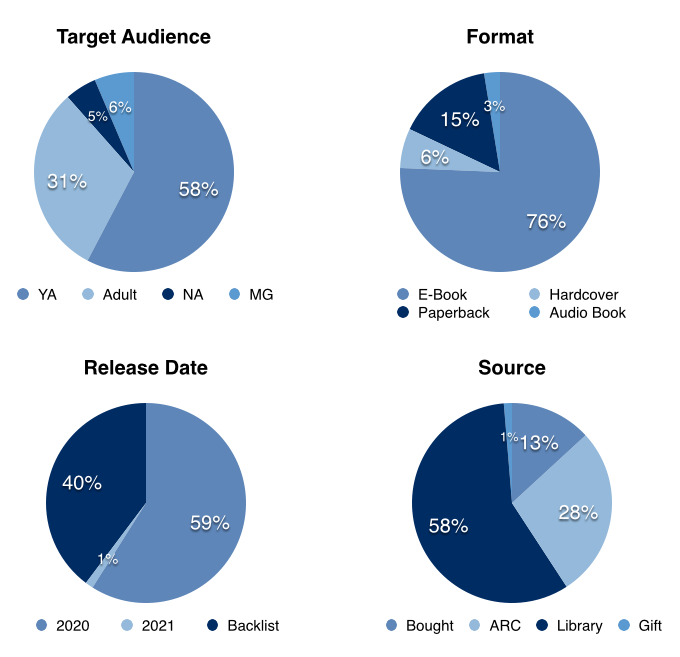 Target Audience: This category changed quite a bit from last year, with a 14% reduction in YA books and corresponding increases in the Adult and NA (New Adult) categories. I'm not surprised by this at all as I've seen my reading tastes this year (and many of my favorite books) be in the adult category. I also decided this year to classify books as NA that I personally felt fit that genre, but all of the ones I classified as NA could probably be considered Adult too (The Simple Wild series and The Project).
Format: No surprises here at all, as due to COVID I bought a lot less physical copies and depended on my Kindle more than ever! I did see a huge decrease in the amount of Audio Books I read, due to COVID as well (I've been working from home since March so I wasn't listening to them while commuting to work!)
Release Date: Fun fact, when I did my 2020 mid-year bookish stats post I was exactly 50/50 in this category between 2020 releases and backlist titles. I actually read more backlist this year percentage wise compared to last year, and snuck in a 2021 ARC.
Source: Honestly not surprised by this either, as I've been leveraging Libby/Overdrive and NetGalley for most of my reads the past few years! I then buy my favorites in hard copies at the end of the year. This helps me from unnecessarily spending on books that I don't end up loving and helps conserve shelf space.
Genre: Contemporary is always my most read genre, but in recent years I've seen it not take up too huge a portion of what I read and I'm happy with this spread as I feel like I read across quite a few genres this year. I will say my fantasy reading went a bit down this year (but that could also be due to how I classify Fantasy vs. Paranormal, as I know some folks put them in the same category). In 2021 I would really like to read more Historical Fiction.
Star Ratings: This category is always a fun one to analyze! Year over year, 4 stars is always my most awarded rating, but I'm really happy to see my 5 star rating jump from 5 books last year to 15 books this year. I did read a lot more books this year (78 vs. 51) but I think this year I also did a much better job being very deliberate about choosing books I would enjoy, especially backlist ones, and focusing less on the books I feel like I should be reading because they're popular in the community.
Fun Facts
Month I Read the Most Books In: April, August, and November- all tied for 8 books!
Month I Read the Least Books In: September (this is the same year over year due to my work schedule).
Number of Rereads: 9 (this is a lot for me!)
Longest Book: House of Earth and Blood
Shortest Book: Bridal Boot Camp
Related Posts