I'm recapping my dream Disney honeymoon through this blog series! To start from the beginning, check out part 1 here!
Day 4- Magic Kingdom
I will be honest with you- I am a Disneyland SNOB. I was an annual passholder for 5 years and so the classic Disneyland park is my metric I compare every other Disney park against. Therefore, I'm usually pretty critical of Magic Kingdom because it feels like a much lighter version of Disneyland to me, without a lot of the classic rides. So I was hesitant going to Magic Kingdom this time because it definitely underwhelmed me on my last trip (causing one of my friends to actually dub it "Tragic Kingdom" lol).
Max and I took the boat over from Wilderness Lodge about 30 minutes before Magic Kingdom opened on Thursday, and were pleasantly surprised at how fast and convenient the boat service was (seriously, such a perk of staying at a Magic Kingdom area resort)! We arrived and headed inside with my favorite couples' shirts of the trip, our Haunted Mansion "Just Hitched" shirts. Since I am a sucker for a good Disney Instagram pic, I immediately had us stop with three separate photo pass photographers to get photos on Main Street in front of the Castle (I can admit Magic Kingdom has a superior castle to Disneyland). I then had us rushing to Liberty Square where a very nice Haunted Mansion employee offered to take our photo in front of the Haunted Mansion doing the "Hitch Hiking Ghost" post (I know, I know, we are so lame lol).
We then rode Haunted Mansion and headed to Sleepy Hollow, a quick service window in Liberty Square that I had often seen featured on The Disney Food Blog. We tried the waffle with nutella and fresh berries, and it was SO GOOD. Just as we got our "breakfast" it started pouring down rain (ah, Florida in the summer) so we snagged a table under an awning and enjoyed our snack in piece. Coincidentally, Mary Poppins came out right after before the rain started and I was able to grab a picture with her which I was THRILLED about because in all my years at Disney I'd never been able to pose with her before!
After our breakfast break our main priority was getting some iconic wall pictures, because there are so many in Magic Kingdom (also bless my husband for being such a trooper as I posed with the Neverland wall, the Purple wall, the Rapunzel bathroom wall, etc). It's seriously Instagram heaven. We also ran into the Fairy Godmother and got some cute pics with her and hit up some priority rides we had Fastpasses for like Peter Pan and Seven Dwarves Mine Train (which is pretty overrated if you ask me, TBH). Since a storm was threatening, we decided to head back to the hotel to relax before our dinner reservations that night at Be Our Guest.
We returned (in the rain) around 6ish for our dinner reservations and waded through the dripping, soaking park all the way to the very back where Be Our Guest is located. Now, Max and I ate there back in 2015 when it was still very new and had a great time. The food was awesome, the atmosphere was fun and we loved the option to choose our desserts from the cart they brought out to showcase all of the offerings. Our second trip back, however, was pretty underwhelming. It was PACKED and everyone (customers and employees alike) seemed to be in a pretty annoyed mood because of the rain. We were seated this time in the main ballroom (which I was excited about since the previous time we had dined there we had been in the "Rose Parlor" or whatever it's called that is a total made up room that doesn't exist in the movie) but we were sort of shoved in the corner behind a pillar and our waitress wasn't very friendly. Be Our Guest has also moved to a "Pre Fixe" menu where it's a flat fee per person and you have to order from a select set of options for each course. It's super expensive and while I don't mind paying to dine in the restaurant since it's SO beautiful, I hated how they took the full size dessert options away and just give everyone the same dessert sampler which is mediocre at best.
After dinner we took our obligatory photo with the Beast and headed out just in time to watch the fireworks, which greatly improved our mood (although let me tell you, you can SMELL the smoke from the fireworks and see the ash in the air (in Disneyland, they close off Toontown and part of Fantasyland for safety reasons during the fireworks but that doesn't seem to be too much of a concern in Magic Kingdom). We then headed to Splash Mountain (my favorite ride, which I enjoy even more in Florida since it has side-by-side seating rather than just the long single person bench in the California version). After Splash Mountain we decided to call it a night since we had breakfast reservations at the Boardwalk the next morning.
Day 5- Boardwalk and Back to Epcot
I was really excited by the time Friday rolled around because we were finally going to spend a day really exploring the Boardwalk area, which I had never taken the time to do properly during my previous two trips to Disney World. The boardwalk area has so much to do, from exploring the resorts to dance halls, restaurants, bike riding- it's like a mini theme park in and of itself! We took an Uber from Wilderness Lodge to the Boardwalk Hotel and honestly LOVED the vibe there. I actually read somewhere that it may be haunted (eek!) but I loved the old Atlantic city feeling it evoked- you really feel like you've been transported in time!
We had breakfast/brunch reservations at Trattoria al Forno, which I had heard great things about from several Disney blogs and review sites. It's a character breakfast with the cast of Tangled and The Little Mermaid, and it's a pre-fixe menu too (it's honestly frustrating how many restaurants at Disney World are moving toward this model)! I went in with pretty decent expectations, but let me tell you, the food was SO disappointing. We started out with a cute little pastry sampler that was OK and inspired by Tangled, but that's when the positive elements of the food ended. Our server was MIA most of the time so it was hard to get our (included) drinks refilled, and I ordered the pancakes. Literally just a simple stack of pancakes with some powdered sugar in a Tangled inspired design on top, and a side of bacon…they were the WORST pancakes I had ever had in my life! They were sosososososo DRY. It was like eating cardboard. Max had a savory dish (some sort of egg thing) and said it was just OK- pretty underwhelming for a meal that was $80+. The upside was that we got a LOT of time with the characters and they were AWESOME- totally committed to their roles, super friendly, and willing to pose for multiple pictures (also it was so fun meeting Flynn Ryder and Prince Eric)!
After our lackluster meal we took some cute photos with the water as our backdrop and I decided it was absolutely necessary to visit the 4 other Boardwalk area hotels in the name of ~research~ (honestly though it's a great way to check out resorts for a future stay before committing because they can be pricey!) We explored Beach Club and Yacht Club (we liked Yacht Club more TBH because we are boring and like the quiet lol) and then trekked over to the Swan and Dolphin and even saw a wedding happening (so cute!) in front of the Swan. Max and I were super divided on which we preferred- his vote was for the Swan while I preferred the Dolphin, though both shared a pretty cool pool area! However they're in sort of a weird situation where they're not "technically" Disney hotels? So we probably wouldn't actually stay there.
After our boardwalk perusing we went back to Epcot, taking the water taxi to the International Gateway which is like a secret back entrance to the park that drops you right in the International Showcase. I basically went Instragram crazy and Max was the perfect husband and followed me around the park taking photos of me, including what is now possibly my favorite Disney photo I've taken in front of the "toothpaste" wall outside of the Nemo ride in the Sea Pavillion. We spent the afternoon wandering and killing time before our dinner reservation at one of our ALL TIME FAVORITE Epcot restaurants, Teppan Edo! It's a hibachi grill and the food is SOOO good. We've never had a bad experience there and our waitresses were super sweet and even brought us a free slice of cake for dessert since they knew we were celebrating our honeymoon!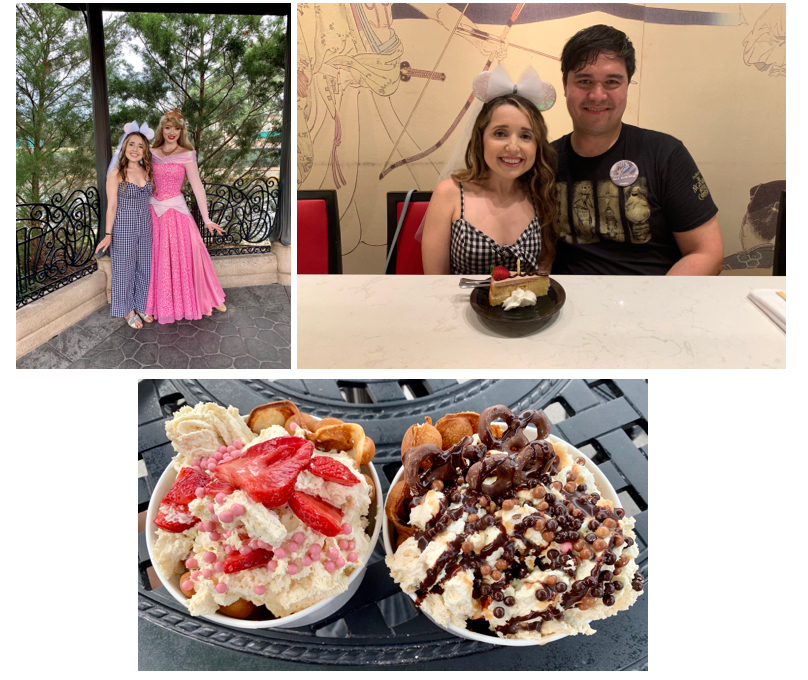 After dinner we headed over to Disney Springs for dessert, as I was determined to try out the bubble waffles from Aristocrepes, which is this small stand on a bridge in the Disney Spring area with sort of weird hours. We both tried a different flavor of bubble waffle and they were SO GOOD and also HUGE. It was a bubble waffle layered with ice cream, whipped cream, and a variety of toppings. I got the salted caramel version and Max got the strawberries and cream inspired one. They were heavenly and though they were huge they actually weren't that filling (or I had vacation/honeymoon appetite because let me tell you I was eating everything in sight this trip because there are just so many great food options at Disney World!)
Day 6- Resort Day
Max and I wanted to build in a few "non-park" days to our trip because we didn't want to burn ourselves out on trekking through the parks each day. We figured Saturday was the perfect day to do so because it's usually the most crowded day of the week at the parks being a weekend and a day when many Annual Passholders visit. We slept in and had a leisurely morning and then decided to rent a pontoon boat from our resort and go exploring on the water! There's a few lakes that connect the Magic Kingdom area resorts and it was so fun to be out in the sun navigating the water at a leisurely pace and getting some unique views of the other resorts and of Magic Kingdom. Once out rental time was up, we headed to the quick service restaurant at our resort, The Roaring Fork, for a quick lunch. In which I proceeded to order MY FAVORITE ENTREE OF ALL TIME (literally no joke I ordered it like 4 days out of the 9 we were there for lunch). It's called the "gourmet grilled cheese" and it was my FIRST time having a grilled cheese (can you believe it?) but they use mozzarella and put tomatoes, arugula and caramelized onions in it and serve it with these wonderful shoestring fries and you can bet I will be returning to the Wilderness Lodge on all of my subsequent trips to WDW to eat it even if I'm not staying there lol. I sadly don't think I have a picture of it but I STRONGLY RECOMMEND.
After lunch we decided to go check out a few more resorts and headed over to Art of Animation via Uber. I had heard a lot of great things about it when it first opened (it's supposedly super colorful) but most of the lobby was under construction when we arrived so that was a bummer. They did have a really cool looking food court and the themed areas of the hotel were really cool (themed after Cars, Lion King, Finding Nemo and The Little Mermaid) but the resort was so spread out! We actually ended up walking all the way through it and over to Pop Century to check it out too, and saw the construction for the Skyliner before it opened. We started to get rained on so decided to call it a day and headed back to the hotel to relax, and Max made us dinner in our room while I read Patron Saints of Nothing out on the balcony in the rain.
Later that night we were wandering the hotel in search of something sweet and decided to check out the Territory Lounge, the lounge and bar at the Wilderness Lodge. I don't drink so I usually don't wander into lounges but they had some pretty solid looking desserts so we decided to try both on the menu, the cobbler and the vanilla bean creme brulee. Let me tell you, it was the BEST creme brulee we had ever had in our LIVES. The cobbler was OK too but we felt it was a little much with the berries in the cobbler plus the black raspberry ice cream.
If you've made it this far, congrats on putting up with another 2k words of me rambling about how much I love Disney World food 🙂 I will be back next with a recap of the last leg of the Disney World portion of our honeymoon, which includes Animal Kingdom and Hollywood Studios!
Related Posts