As many of you probably know, I recently got married! After a year and a half of planning we had the most wonderful wedding and the Disney Honeymoon of our dreams! It's no secret that we are huge Disney people, and Disney has played a role in many of our major life moments (we got engaged at Aulani, I had my bachelorette in Disneyland, etc.) So it was really a no-brainer that continuing the Disney tradition for our honeymoon was the right decision for us. We also love Disney vacations because they're so low stress- everything you want and need is on property! We decided to return to Walt Disney World because we had not visited in about 4 years (and that trip was honestly a whirlwind) and then continue onto a Disney Cruise (our first ever)!!! Since our honeymoon was quite long (14 days!) I'll be breaking my recap up into a few different posts.
Day 1- Arrival
Our travel day to Florida was a little bit insane. We originally were going to fly direct, but then our flights got cancelled and we only had the option to rebook on flights that we had layovers/connections. Coupled with the fact that you lose SO MUCH TIME flying from West to East Coast, we decided to get the earliest start possible and book a 5:25am flight…which meant our shuttle picked us up from our house at 2:30am (which is the middle of the night if you ask me)! We arrived at the airport so early that the Starbucks and other airport restaurants weren't even open. We had a small, quick flight to Las Vegas and then had to run clear across the airport for our connecting flight (while I stared sadly out the airport windows as we ran because I LOVE Vegas and was bummed we couldn't spend more time there lol). From Vegas we took a very crowded flight to Orlando and landed around 3:30ish EST.
I love flying to WDW because Disney has their own terminal in the airport, and it's super easy to check in with your Magic Bands and hop on the Magical Express. We both were running on a lot of adrenaline and strangely weren't tired at all (though we were starving). We were SO excited to head to our resort because it was our first time staying at a Deluxe Disney resort, and we had a one bedroom villa that looked AMAZING on line and even came with a full kitchen! While on the Magical Express we placed an Amazon/Whole Foods Prime Now order so we had groceries waiting for us when we arrived at our resort (staples such as granola bars, chips and salsa, tea etc).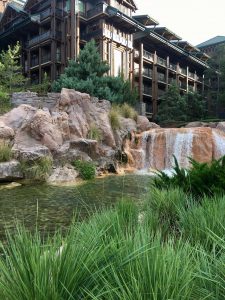 We arrived at our hotel and it was breathtaking. We stayed at Disney's Wilderness Lodge, which is honestly a resort people don't talk about enough! It's very similar in theme to the Grand Californian in Anaheim but much bigger/nicer if you ask me. It truly makes you feel like you're at some gorgeous glamping site out in the wilderness and really gives you the vibe of "escaping from it all." It has a STUNNING lobby and amazing grounds with multiple pools, a waterfront restaurant, and boat access to Magic Kingdom. As I mentioned previously, we were staying in the one bedroom villas which are technically part of the Disney Vacation Club part of the property called Copper Creek. The villas are CRAZY nice. It was like having an entire apartment all to ourselves. Honestly I almost regret staying there because I don't think I can ever stay anywhere else, that's how much we loved it!
After checking out our room, we went in search of food because we were both STARVING after not having any time to grab food during our layover in Vegas. We quickly found the quick stop dining location called The Roaring Fork and it was wonderful! We both grabbed pastries for a quick bite to eat and would end up eating their numerous time throughout the trip- I highly recommend their Gourmet Grilled Cheese and Campfire Cupcake- you will NOT be disappointed! Also, they had some of the best french fries I've ever had on Disney property!!
We continued to peruse our resort, which was pretty big and had stunning water views. We checked out the pools, boat dock to Magic Kingdom, pontoon boat rentals, waterfront grill, and walking trails before deciding to head to Disney Springs to find some dinner. If you haven't been to Disney Springs before, it's a BEAST compared to Downtown Disney in Anaheim. It's massive and has SO many options. We decided to get something easy and headed to Chicken Guy!, the new restaurant by celebrity chef Guy Fieri that's attached to Planet Hollywood. It was actually quite good! For chicken tenders and french fries (can you tell I ate a lot of fries on this trip?) it was filling and you could tell they used quality ingredients. Our first dinner a success, we headed back to our hotel and passed out.
Day 2- Rest Day
One thing we promised ourselves for this trip is that we were going to take things slowly- it's really easy to push yourself for 12-15+ hours a day in WDW because there's so much to do and see, and we honestly barely even remember our last trip because we were so sleep deprived! So for this trip we actually built in several days where we didn't go to the parks so we would relax and explore other areas. Our first full day therefore was a rest day, and we allowed ourselves to catch up on sleep which led us to not waking up until lunch time because we were still exhausted and on Pacific Time. We decided to head down to the pool and get some poolside reading in.
Our pool time was interrupted after about 10 minutes because, fun fact, in June Orlando has massive thunder and rain storms pretty much every day in the afternoon, somewhere in the 1pm-4pm window. Even if it looks bright and sunny out, the lifeguards will evacuate the pools if they receive reports that storms are starting several miles away. So we learned our lesson that if we wanted pool time, we definitely needed to get out their early in the morning! We headed back to our room and Max actually made us lunch with some of the groceries we had delivered through Amazon. Then we decided to get ready for our first dining reservation of the trip at California Grill at Disney's Contemporary Resort. Prior to leaving for our reservation, we received a surprise knock on the door and found room services waiting with a whole spread of desserts just for us! They had been sent by our super sweet family friends as a wedding/honeymoon gift and they were all AMAZING, especially the freshly baked cookies and the campfire cupcakes! Since we were on our honeymoon diet where calories didn't count, we gladly indulged in our pre-dinner desserts.
Since we were ready to go pretty early, we decided to call and Uber to take us to the Polynesian Resort so we could check it out since we've heard a lot of conflicting things about it (and also had an ADR scheduled at Kona Cafe later on in our trip). We figured we'd explore the resort, hop on the monorail and check out The Grand Floridian as well, and then finally head over to the Contemporary for our dinner. We arrived at the Polynesian (or the "Poly" as many fans call it) and were….really not impressed. Perhaps it's because we are frequent Aulani visitors so were holding it to that standard in our minds, but it felt very dark and dated. There was also this weird odor that felt like really overpowering cologne that we were NOT on board with. We checked out the beaches and grounds and while the beach had a great view of Magic Kingdom, we couldn't get over how dark and depressing the buildings felt. We're so glad we checked it out for ourselves because we had originally considered staying at the Poly for our honeymoon before our travel agent talked us out of it and recommended the Wilderness Lodge (#wildernesslodgeforlife).
We hopped on the monorail and headed over to the Grand Floridian next. On our last trip about 4 years ago we had high tea at one of the restaurants in the hotel and had really enjoyed it, so we already knew it would be a more pleasant experience than the Poly. As usual, the resort was beautiful and had a very Victorian/Mary Poppins type feel to it. The grounds are stunning and the lobby is airy and elegant, and we checked out some of the stores inside and found a store that was actually very similar to Lush where you can buy bath bombs, mix your own bath salts, etc. We went down to the beach and took a few photos and checked out the pools as well, and then looked at some of the menus of their other restaurants we hadn't visited before for future reference. Honestly the Grand Floridian is gorgeous but I don't think we could ever see ourselves staying there- it's a little too formal for our taste!
It was time to start making our way over to the Contemporary for our dinner reservation. After arriving via the monorail, we still had some time to kill so I decided to hunt for my first "Disney wall." One of my bridesmaids clued me into this Instagram phenomenon, which is basically that there are all sorts of super unique and photogenic walls that have become legendary Instagram photo ops and are used all the time by Disney influencers. Since we don't make it out to Florida much (where a majority of these walls are) I was DETERMINED to get photos with as many as possible. Let me tell y'all something- it is SO hard to pose with a wall. It seems easy at first and you get there and realize how awkward it is!! I definitely got *better* (somewhat) at it by the end of the trip, but I have a new appreciation for those Instagrammers.
Anyways, the wall inside the Contemporary is the Neon Mickey Wall. It's located right outside of one of the gift shops and is super hard to pose with because it's not an entire wall, it's like an installation that's set back within an existing wall. We tried our best to get a few shots and then it was time to head upstiars for our dinner reservation.
California Grill is located at the very top of the Contemporary, with a special elevator you have to take after checking in with an exclusive desk. I had heard a lot of amazing things about the restaurant but was a little nervous since I'm not exactly the biggest fan of fine dining cuisine (it often tends to be too complex for my rather simple palette lol). I'm so glad we kept our reservation though because the views are breathtaking from the restaurant- you can basically see into the Magic Kingdom and they pipe in the music from the fireworks show every night so you can watch the entire show from your table. We purposely booked a later dinner so we could watch the show as well. After being seated we had a bread service of "sourdough" (nothing compares to true SF sourdough if you are a West Coast native) with a delicious dip comprised of olive oli, sundried tomatoes and some other herbs and I 100% would have eaten an entire bowl of it, it was that good. Max ordered a steak for his entree and I was pleasantly surprised to see that they had a robust vegetarian menu with a really cool option to order four different vegetarian entrees and they would bring you mini portions of each so you had your own little vegetarian sampler. The food was all delicious and we even received a small complimentary dessert since we were celebrating our honeymoon!
(Disney Tip: Everything I read prior to our honeymoon stated to make it as obvious as possible that you're celebrating your honeymoon, as cast members may create extra "magic" for you. I found this to be very true, and had 3 different pairs of bridal ears I rotated, along with "Just Married" pins and honeymoon shirts for us!)
After dinner, we took an Uber back to Wilderness Lodge and called it a day, heading to bed so we could be up bright and early for Epcot the next morning!
Day 3- Epcot
Our first theme park of the trip this time was Epcot, which was a departure from our normal rotation where we usually do Magic Kingdom first (I hear this is the case with many other people too)! We donned our first set of Disney matching shirts and were super excited for the day- Max, because Epcot is his favorite theme park, and me because I was prepared for all of the epic Disney walls to be found in the park lol.
Our day got off to a bit of a rocky start when our Uber driver completely missed the entrance to Epcot, which delayed our arrival by 20+ minutes. The security lines were LONG and we were a little cranky when we arrived. However, once we were through the gates we were pleasantly surprised to find that the park really wasn't too crowded, and our first order of business was to find the infamous Blueberry and Bubblegum walls outside of Spaceship Earth. Max, being the wonderful husband that he is, took several shots of me in front of both until I was satisfied, and then we headed to our morning fast passes. We hit Spaceship Earth for the first time, which I was not a fan of because it was WAY TOO SLOW and also too warm and muggy inside, and the circular motion of the ride tracks made me a bit dizzy. I sent Max alone on Mission Space fearing it would only make my motion sickness worse, but he enjoyed himself though he did choose the less intense version of the ride. We explored Future World a little bit more because we honestly never had before, and then headed toward what we were really excited for- the World Showcase!!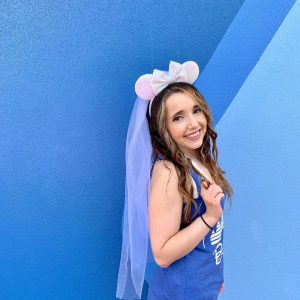 Full disclosure, last time we were in Epcot it was during the Food & Wine festival so we were sad to be missing all of the amazing food booths, but we still had a wonderful time! I always like to make my way through the World Showcase in a clockwork pattern, exploring each pavilion slowly and thoroughly. Some highlights for us this time were the China Pavilion (where we found some cool, unexpected photo ops and a cool exhibit highlighting the different Disney parks around the world) and the Japan Pavilion (where we had lunch at Katsura grill while waiting out a thunderstorm and also toured an adorable "kawaii" exhibit). We then started making our way to the front of the park again when another HUGE rainstorm hit (it's a multiple times a day kind of thing in Florida in the summer). We ducked into this Coca-Cola themed store where you could try different sodas from around the world, where Max had a great time sampling different flavors, declaring Pineapple Fanta from Greece his favorite, and Beverly from Italy the worst.
We eventually made it back to the hotel room and relaxed and changed before heading back to the park for dinner. Epcot has SO MANY amazing restaurants, we honestly wish we had the opportunity to try more of them (Chefs de France, I'm looking at you). We had a quick ride on Finding Nemo and explored the Land Pavilion a bit before heading to our dinner reservation at La Hacienda de San Angel over in the Mexico Pavilion. The good news is that the restaurant was absolutely beautiful inside with a pretty water view. The bad news, however was that the food was only so-so (this literally happens to me every time I try to eat Mexican food outside of California, I should just learn to stop).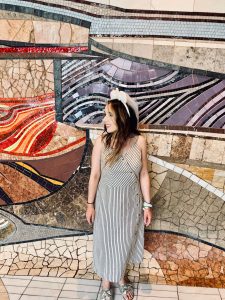 After dinner, we headed to our very first dessert party!! We've been wanting to try one for a while but they are VERY pricey. We decided to go with the Frozen Ever After Dessert Party because it also includes a ride on the new Frozen attraction with no wait (and there's always a crazy line for that one) and neither of us had seem the Illuminations show more than once. We found there to be a good balance of both savory and sweet items at the dessert party, though to be honest neither of us ate much because we were still full from dinner. They had some delicious warm desserts including this S'mores cake situation as well as bread pudding with ice cream that was lovely. We were also given glasses to view the show through that threw snowflake images over everything which was pretty cute too.
After the party was over, I was selected to lead the parade of dessert party guests over to the Norway Pavilion for the Frozen ride (yes, I got to hold and wave one of those glow stick thingys and yes, it was one of the highlights of my life). The Frozen ride was actually a lot cooler than I was expecting and had some literal surprise twists and turns that we weren't expecting! After the ride, it was time to head back to our hotel to catch a few hours of sleep before Magic Kingdom the next day!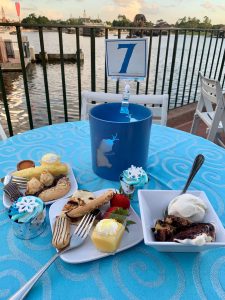 Since this blog post is approaching 3,000 words, I'm concluding here for the day- check back soon for a recap of days 4-6, including Magic Kingdom, more Epcot and fun at the Boardwalk!
Related Posts