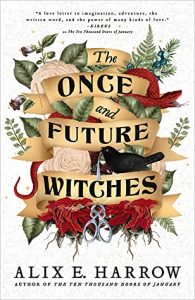 The Once and Future Witches by Alix E. Harrow
Published by Orbit on October 13, 2020
Pages: 516 •Format: E-Book •Source: Overdrive
Goodreads

In 1893, there's no such thing as witches. There used to be, in the wild, dark days before the burnings began, but now witching is nothing but tidy charms and nursery rhymes. If the modern woman wants any measure of power, she must find it at the ballot box.

But when the Eastwood sisters--James Juniper, Agnes Amaranth, and Beatrice Belladonna--join the suffragists of New Salem, they begin to pursue the forgotten words and ways that might turn the women's movement into the witch's movement. Stalked by shadows and sickness, hunted by forces who will not suffer a witch to vote-and perhaps not even to live-the sisters will need to delve into the oldest magics, draw new alliances, and heal the bond between them if they want to survive.

There's no such thing as witches. But there will be.
I'll be the first to admit I don't read a lot of adult fantasy, but I loved the premise of
The Once & Future Witches
and how it merged witches + women's suffrage in a wonderfully creative historical fantasy setting. I didn't anticipate how long it was going to take me (I naively did not realize going into it that the book was 500+ pages) and I find with fantasy novels I tend to read them in smaller chunks than other genres. However, I did enjoy this story of 3 sisters coming together in adulthood to fight for (and against) common causes, and the overarching message of the story that anyone can do magic is there's the will and the ways. It was almost like the "gatekeeping" of magic/power was removed and that was such a cool idea and one I hadn't really seen explored in a fantasy novel before.
Other Elements I Enjoyed:
Mother's names: middle names girls are given at birth that are often more creative in nature (Juniper, Amaranth, Belladonna) and hold their own power.
Cool use of familiars.
So much girl power! Also, the recognition that female empowerment could look different for different people.
Inclusivity- there was more in here than I was initially expecting and it felt very organic.
A new take on the infamous Salem Witch Trials (in this case, and "Old Salem" and "New Salem").
The re-writing of nursery rhymes before each chapter which were actually hidden spells (such a cool idea!!)
However, ultimately I did find the book slow to get through at times and also a little all over the place. At a hefty 500+ pages, it almost felt like it could've been a duology because there were multiple times where it felt like there could have been an endpoint but then another major plot point came along and it eventually exhausted me a bit as a reader, especially since the prose is somewhat dense, heavy with description and leaning toward purple.
Overall: This novel is an obviously well researched and well thought out story that (in my opinion) gives an original and unique spin on historical fantasy. It was extremely creative and empowering, if a bit dense for me at times. I'm glad I stepped out of my comfort zone and read it!
---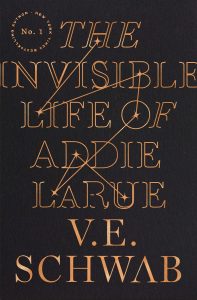 The Invisible Life of Addie LaRue by V.E. Schwab
Also by this author: A Darker Shade of Magic (Shades of Magic, #1)
Published by Tor Books on October 6, 2020
Genres: Adult Fiction, Fantasy, Paranormal
Pages: 448 •Format: E-Book •Source: Overdrive
Goodreads

France, 1714: in a moment of desperation, a young woman makes a Faustian bargain to live forever-and is cursed to be forgotten by everyone she meets.
Thus begins the extraordinary life of Addie LaRue, and a dazzling adventure that will play out across centuries and continents, across history and art, as a young woman learns how far she will go to leave her mark on the world.

But everything changes when, after nearly 300 years, Addie stumbles across a young man in a hidden bookstore, and he remembers her name.
I think it might be time to acknowledge that V.E. Schwab books just aren't for me. After having a lackluster time with
A Darker Shade of Magic
and feeling "meh" about
City of Ghosts
, I was really hoping that
Addie LaRue
would be the book to make me fall in love with Schwab's writing. To be sure, there were many amazing elements of her newest fantasy novel that caught my attention, from the fascinating premise to how Addie's "deal with the devil" is portrayed, following Addie through multiple countries/decades, learning the nuances of her curse, etc. However, though I was engaged while reading it, I found that I wasn't actively yearning to pick the book back up between sessions, and while there were spurts that I found interesting, I also felt like there was quite a bit that could have been cut.
I can see why this novel will resonate with so many people. There's a quiet kind of desperation that seeps from the characters, a yearning for human connection that Addie has that I think will resonate with a lot of folks, especially in 2020 when so many of us have been isolated due to the pandemic. The ending is ironic and tragic to be sure, but I personally found myself rooting for what is perhaps the "wrong" ending, the "wrong" happily ever after View Spoiler »Personally I think her and Luc were a better fit for each other. « Hide Spoiler I found Addie's story to be deeply intriguing and melancholy, but I found the ending to be predictable and therefore it didn't pack the emotional punch that I think it was leading up to.
Overall: A classic tale of the pitfalls of immortality, Addie LaRue definitely has its unique and intriguing elements and is a sweeping story across time and history. However, I personally didn't connect with the romance and the pacing was a bit slow for my taste, but I can see why so many readers love this book with their whole heart.
Related Posts