Cristina and Lauren Read: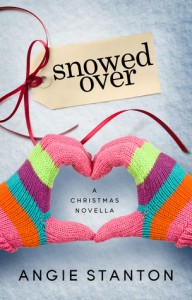 Snowed Over
Published by
Vanguard Management
on October 12, 2012
Pages:
162 •
Goodreads
To college student, Katie Brandt, 'Home for the Holidays' sounds like hell. When her parents separated, their holiday traditions shattered like a dropped ornament. What could be worse than celebrating Christmas with her suddenly single mom and mom's new boyfriend?

Alex Walker, an engaged 20-year-old, dreads going home for his own reasons. He has a daunting task ahead of him and wishes he could skip the holidays altogether. So when a friend of a friend needs a ride north, Alex finds that having beautiful Katie seated by his side proves to be just the distraction he needs.

A simple ride home for Christmas turns into a nightmare when light snow rages into a full-scale blizzard. Katie and Alex find themselves stranded, and a vacant cabin becomes a haven from the storm.
Under different circumstances, time alone with Alex would be the ultimate Christmas gift, but Katie knows Alex is engaged and she must hide her growing attraction.

However, Alex harbors a secret that just might change this holiday from the worst Christmas ever, to the best.
Book Buddies is a discussion style review I participate in every other month with my friend Lauren who runs the blog Bookmarklit. We choose a themed book for the month, read it, and the have a discussion where we both discuss themes and aspects that really stood out to us. Book Buddy Reviews are posted during the last week of the month.You can see our review in a Q&A format with half posted here, and half on Lauren's blog!
---
1) Do you feel this really fell into the "New Adult" category? Why or why not?
C: I was really excited to read something I had seen categorized as "New Adult" as I haven't had much positive experience with the genre. However, aside from the characters being college aged, I didn't really notice much differentiation between this as NA and this as YA. There were some sub plots that had the potential to bring more mature themes into the novella (being engaged at a young age, potentially being a young parent, struggling to maintain a long distance relationship, etc) but they were all hinted at and never expounded upon.
L: I definitely agree with you on that. New Adult is such a weird category for books, in my opinion, because there are no clear guidelines. In some situations, it just involves somewhat older characters (like college-aged), but in other situations it involves more "adult" situations. I think most people associate NA with that secondary category. It definitely read like a YA to me; there were no explicit scenes like I've come to expect in NA. The college aspect was definitely there as part of the story, but I didn't feel like it added much to the plot. It was really just the two of them being in that snowed in situation because he drove her home. Like you, the college issues of long-distance relationships or growing up weren't totally expanded upon.
---
2) The male love interest in the novella, Alex, initially starts the story being engaged. What did you think of the portrayal of possible marriage at such a young age, and of the way it was explored?
C: When I initially read the synopsis for the novella I thought Alex being engaged at such a young age was an interesting premise for a "New Adult" work. I personally have noticed a lot of my peers getting married younger, and I remember in college my Sociology of Marriage and Family professor citing that the divorce rate was going down and younger marriages were on the rise again, which she hypothesized was due to young adults being more financially independent and secure in their careers and education individually, and thus were getting married for the "right" reasons (desire, love, etc) rather than for financial security or obligation. However, I feel like the prospect for exploration of Alex's motives for a young engagement were really missed, as most of the blame for the entire engagement is placed on his fiance Trina. While she is painted as a shallow and terrible character, her lack of depth bothered me, and the way she "tricked" Alex into proposing to her really angered me, because it felt like a way to paint her character as a manipulative, trickster figure woman, which is a stereotype I personally think needs to be lessened in literature. There was also a fair amount of slut shaming language in this novella which irritated me.
L: I wasn't sure how his story was going to play out. I don't have an issue with love triangles in general because I find them to be a real part of some people's YA experience. I wasn't sure if there was going to be an actual triangle (and I don't think there really was). Trina's character was a cardboard cutout stereotype. I also hate when women are painted this way in books; I've actually seen it too often lately! You would think that as feminism becomes more "mainstream" for younger people like us, books would show less slut shaming and negative portrayals of women that live up to harmful stereotypes. As for marrying young, it was hard to fully grasp Alex's "engagement" because of the situation with Trina. I've noticed a lot of my peers getting married younger too. I've been with my boyfriend for three years and even though we're 24 years old, we get questions about marriage frequently. Honestly, I had a long term relationship in high school and I fully expected to be engaged while at college. We ended up breaking up obviously, but it felt right at the time for some stupid reason.

---
3) Did you feel a genuine connection between Alex and Katie?
C: I actually did feel their romance to be believable, if a little to quick. I think that their severe circumstances (being stuck in a blizzard and in a cabin together in the middle of no where) accelerated their chemistry, but I also found it to be cute and not totally unbelievable. I liked how Alex and Katie both brought different experiences to the story (her family drama vs. his close knit family, her open minded view on college relationships or lack thereof and his binding, miserable commitment). The only thing that felt off was that he seemed much older than her than just a year. I think I would have believed their interactions more had he been a junior or a senior rather than a sophomore, because he seems a bit too worldly and mature to only have one more year's worth of college experience under his belt.
L:
Yes, definitely! I think the snowed in aspect helped forge that kind of relationship. I mention this a little in my post, but I like romances like this. There's just some kind of raw honesty that comes out when people are "stuck" together somewhere. Like you said, the chemistry is apparent even though it's kind of quick. I completely agree about the age difference. He kept acting like he was lightyears ahead of her in college. "Back in my day, freshman year was ____" was a pretty common kind of story for him. I thought it was kind of an annoying character trait but I did enjoy them as a couple. They balanced each other out.
---
4) Many holiday themed reads are novellas or short stories rather than novels. Do you think there's a lack of interest in them?
C: My guess would be that the limiting time frame of a "holiday" book (such as readers only gravitating toward it around December) may detract authors/publishers from pursuing more novel-length holiday stories. Of course this is complete speculation. Personally I see it to be an area of the market that's ripe for new content. A lot of the YA holiday standbyes are anthologies (My True Love Gave to Me, Let it Snow, etc) and so many of them are such solid short stories that I find myself wishing I could spend more time with the characters. This novella is no exception, as it felt like a manuscript for a full novel that's unfinished. It was long enough for me to get invested in the relationship and want more depth, and I think there were a lot of plot points that could have been fleshed out to create an interesting, longer read (such as more backstory on Trina and Alex to make their engagement less one dimensional, more details regarding Katie's parent's divorce, how they both emotional cope with such large changes in their lives over the winter break, how their relationship fares when they are back in college society and not huddled away in a cabin, etc).
L: I think back to when I was actually within the young adult "age range" and can't remember really craving holiday-oriented books. I feel like us YA bloggers are always like "give me some Christmas book recommendations!" and don't feel like there are enough of them for us. I think there is still such a magical feeling about Christmas when you're still in high school, living at home, and maybe have younger Santa-believing siblings. Maybe holiday traditions are still the same from childhood and there's less nostalgia. I know for me, holiday books bring nostalgia up and make me miss the old days where my family was all in one place and I would get new toys. I think holiday stories are totally an untapped market. I've only read a couple of full-length young adult holiday stories and I generally liked them a lot! I hope that publishers do find a market and expand on just the short story compilations. I find myself wanting more from the characters and don't like the fast pacing of novellas or short stories.
Continue reading the second half of our discussion on Lauren's blog here!
---
Overall Thoughts:
Snowed Over was cute and surprisingly convincing in its chemistry between its two main characters. It had good pacing and was a great length for a novella at 162 pages. However, it lacked a New Adult feel, and other than the characters being college aged, didn't really seem to explore themes and plot points specific to the college age group. While it was a solid three star read for me, I really would have liked for it to have been a novel and for the secondary characters to be expanded on. Since I was craving for more content, it's safe to say that I enjoyed it!
Reading this book contributed to these challenges:
Related Posts