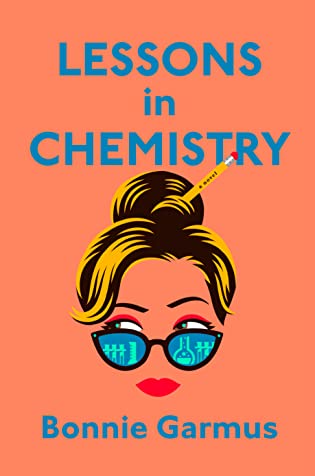 Lessons in Chemistry
by
Bonnie Garmus
Published by
Doubleday
on April 5, 2022
Genres:
Historical Fiction
Pages:
400 •
Format:
E-Book
•
Source:
Overdrive
Goodreads
Chemist Elizabeth Zott is not your average woman. In fact, Elizabeth Zott would be the first to point out that there is no such thing as an average woman. But it's the early 1960s and her all-male team at Hastings Research Institute takes a very unscientific view of equality. Except for one: Calvin Evans; the lonely, brilliant, Nobel–prize nominated grudge-holder who falls in love with—of all things—her mind. True chemistry results.

But like science, life is unpredictable. Which is why a few years later Elizabeth Zott finds herself not only a single mother, but the reluctant star of America's most beloved cooking show Supper at Six. Elizabeth's unusual approach to cooking ("combine one tablespoon acetic acid with a pinch of sodium chloride") proves revolutionary. But as her following grows, not everyone is happy. Because as it turns out, Elizabeth Zott isn't just teaching women to cook. She's daring them to change the status quo.
I ADORE a good historical fiction novel, and Lessons in Chemistry did not disappoint! I honestly didn't know much about the book other than always seeing it featured on blogs and book lists last year, and seeing even my non bookish friends reading and posting about it. I decided to request it on a whim from my library and was like 128th in the hold line (lol) when I was selected for a "lucky day" copy (basically a copy with a shorter check out date that you can't renew). I immediately jumped on downloading it to my Kindle and went in pretty blind, not even reading the synopsis. I was so thrilled to find that Lessons in Chemistry ended up being an excellent read.
In many ways this felt like a slice of life novel about a female scientist making her way through life in the USA in the 1960s in a world before second wave feminism. As a woman reading this in 2023 there were definitely moments that made me so mad for Elizabeth (and all women who had to deal with the sexism of the time), but Elizabeth seems to take it all in stride- albeit warily. Rather than let the harsh realities of gender discrimination chip away at her spirit, Elizabeth often refuses to acknowledge such limitations and just does what she wants anyways…often bulldozing right through said boundaries. There was a bit of detachment in the narration style for me when it came to Elizabeth (some truly awful things happen to her), however rather than chalking it up to a lack of sensitivity on the author's part, I view it as more of a tone of wariness (because such things were unfortunately much too common back then).
The novel starts with Elizabeth trying to earn respect at her laboratory job where she's the only female scientist and follows her through finding (unmarried, which is quite scandalous) companionship, becoming a single mother, trying to provide for her family in a world that constantly looks down on her, and ultimately becoming the star of a hit cooking show where she does and says pretty much everything the network doesn't want her to, but that resonates deeply with women all over the nation. I loved how the entire novel upended general roles, but the show especially subverted societal norms and it was honestly hilarious and empowering at the same time.
While Elizabeth is a powerhouse of a character, I also enjoyed that throughout the course of the story she accumulates a support system (even if she doesn't know it) of individuals who all challenge the status quo in their own way. There's her precocious daughter, Mad, who is relentless in discovering the truth about her deceased father and often the only one to challenge Elizabeth. Her neighbor, who is desperate to escape her abusive household and becomes a nanny of sort to Mad and often helps her see other perspectives while developing the courage to leave her husband. Walter Pine, studio exec who "discovers" Elizabeth and begs her to do the cooking show, while always trying to protect his female employees from his lecherous boss. And who can discount Six Thirty, Elizabeth's dog who perhaps has the best POV narration of all.
When I think of historical fiction, I often default to more Victorian/Regency era, or perhaps WWII at the latest, and I really enjoyed reading a historical fiction novel that was set in the post-WWII era. Additionally, it was mind boggling to know that my parents were alive when all of this was happening! My grandparents were adults! The fact that these injustices, the misogyny and discrimination, were happening just 1-2 generations ago is honestly infuriating. However, I appreciate the way the author handled these topics with a dash of dark humor, though be warned at its core the book is pretty heavy beneath the cheeky antics and rather detached narration style.
Overall: It's honestly hard to believe that this novel is a debut because the story was so profound with such a distinct writing style. It's unsurprising that it was a Goodreads Choice Awards winner, and I'll be eagerly anticipating what the author writes next!
Related Posts