I received this book for free in exchange for an honest review. This does not affect my opinion of the book or the content of my review.
You Have a Match
by
Emma Lord
Also by this author:
Tweet Cute
Published by
St. Martin's Press
on January 12, 2021
Genres:
Young Adult
,
Contemporary
Pages:
309 •
Format:
E-Book
•
Source:
NetGalley
Goodreads
When Abby signs up for a DNA service, it's mainly to give her friend and secret love interest, Leo, a nudge. After all, she knows who she is already: Avid photographer. Injury-prone tree climber. Best friend to Leo and Connie…although ever since the B.E.I. (Big Embarrassing Incident) with Leo, things have been awkward on that front.

But she didn't know she's a younger sister.

When the DNA service reveals Abby has a secret sister, shimmery-haired Instagram star Savannah Tully, it's hard to believe they're from the same planet, never mind the same parents — especially considering Savannah, queen of green smoothies, is only a year and a half older than Abby herself.

The logical course of action? Meet up at summer camp (obviously) and figure out why Abby's parents gave Savvy up for adoption. But there are complications: Savvy is a rigid rule-follower and total narc. Leo is the camp's co-chef, putting Abby's growing feelings for him on blast. And her parents have a secret that threatens to unravel everything.

But part of life is showing up, leaning in, and learning to fit all your awkward pieces together. Because sometimes, the hardest things can also be the best ones.
It's no surprise that after the delicious success of Emma Lord's Tweet Cute, that her sophomore novel would be highly, highly anticipated with several expectations among readers. Following teenage protagonist Abby, the story is sort of a Parent Trap-esque situation complete with a summer camp setting and pulling the wool over their parents' eyes. While I overall enjoyed the long lost sister and unearthing a troubling past elements of the story, they did feel a bit clumsily handled at times, crowded in among more juvenile situations and writing.
There were so many compelling, excellent, and almost hard to read moments in You Have a Match that kept me eagerly turning the pages. It's so surreal to think about how technology and DNA testing can unearth family secrets that just a few decades ago would have stayed long buried, and Abby goes through exactly this situation when she discovers she has a full biological sister (Savvy) who's only a little over a year older than her. Chipping away at the layers of the mystery was simultaneously satisfying and heartbreaking, from seeing the hurt and agony the situation caused both sets of parents to Savvy and Abby having to reconcile how their lives both could have turned out so incredibly different if their parents had made different decisions. The truth was unveiled slowly but Lord took some wild twists and turns in the story that were very compelling.
However, aside from the family drama I found the book to not hold the same charm or compulsive readability that Tweet Cute had. Abby felt immature and read more like a pre-teen to me than anything else, and her juxtaposition with Savvy's compulsive "perfection" made both characters feel a bit like caricatures. While Lord deftly integrated social media use as in her previous novel (this time Instagram instead of Twitter) and even went so far as to have Savvy be a huge Instagram star (with more than 1 million followers, which is quite large for a social media/wellness influencer who was not previously a celebrity) I felt like it was a missed opportunity to delve into the nuances and darker side of influencer life. I also wanted more of Abby's friendships to be more fleshed out, especially since the catalyst for the book is her friend Leo, who is adopted, wanting to find potential relatives since he feels so disconnected from his Filipino heritage. Yet after an initial conversation about his feelings at the beginning of the book, it's never addressed in much depth again.
Overall: You Have a Match has a compelling premise with a deep and emotional family story. It also showcases Emma Lord's ability to translate current technology and generational trends seamlessly into a novel without feeling cringey or forced. However, I often found the characters frustrating and the execution felt lackluster compared to Tweet Cute. I will definitely continue reading Lord's novels (and am curious to see what social media platform she features next!) but Tweet Cute is still my favorite by far.
---
I received this book for free in exchange for an honest review. This does not affect my opinion of the book or the content of my review.
The Project
by
Courtney Summers
Also by this author:
Violent Ends
,
Sadie
,
I'm the Girl
Published by
Wednesday Books
on February 2, 2021
Genres:
Young Adult
,
New Adult
,
Mystery
,
Thriller
Pages:
352 •
Format:
E-Book
•
Source:
NetGalley
Goodreads
Lo Denham is used to being on her own. After her parents died, Lo's sister, Bea, joined The Unity Project, leaving Lo in the care of their great aunt. Thanks to its extensive charitable work and community outreach, The Unity Project has won the hearts and minds of most in the Upstate New York region, but Lo knows there's more to the group than meets the eye. She's spent the last six years of her life trying—and failing—to prove it.

When a man shows up at the magazine Lo works for claiming The Unity Project killed his son, Lo sees the perfect opportunity to expose the group and reunite with Bea once and for all. When her investigation puts her in the direct path of its leader, Lev Warren and as Lo delves deeper into The Project, the lives of its members it upends everything she thought she knew about her sister, herself, cults, and the world around her—to the point she can no longer tell what's real or true. Lo never thought she could afford to believe in Lev Warren . . . but now she doesn't know if she can afford not to.
It's taken me a while to sit down and write this review, because once again Courtney Summers has left me reeling. After reading Sadie, my review states that I came away feeling "raw" and "unsettled" and that's exactly how to describe my feelings after binge reading The Project. Yet The Project evoked these feelings in a much more subtle and insidious way.
The Project follows protagonist Lo who is estranged from her sister who she hasn't seen in years due to her involvement in what is pretty obviously a cult called "The Unity Project." Lo gets tangled up with The Project again thanks to circumstances that arise at her job at a magazine, and when her boss doesn't uncover enough in his investigative reporting to write a scathing exposé, Lo decides to take matters into her own hands.
I've read my fair share of books about cults, but I'll admit that this one really got me. As Lo continues to dig and dig to find the dirty underbelly of The Unity Project, her resolve and judgement very slowly and very subtly begins to cloud as she witnesses all of the "good" they do, from offering shelter and hot meals to the homeless, crisis counseling, medical help to those who can't afford it, etc. After a while I was starting to think perhaps the novel was going to take an alternative route and reveal that The Project wasn't a creepy cult after all…but Summers had just made Lo's descent into their mind frame so subtle and nuanced that you don't realize until almost too late who they really are. It's masterfully done, especially since Lo started off the story with such an axe to grind with them.
Mixed in with Lo's current day narrative are flashbacks to her sister, Bea, and her time with The Project, including how she became involved with them. It exemplifies how organizations prey on young people in time of desperation and weakness to indoctrinate them and fuel a sense of devotion and reciprocity to them. It was intriguing to see how Bea and Lo's paths were so different, yet their fates were almost so similar as well.
Overall: It's hard to say more without spoiling what is an excellent story, but Courtney Summers really knocked it out of the part with this slow burn, subtle tale that leads to horrifying consequences. In true Courtney Summers fashion the ending is not 100% neat or clear, but it was one heck of a ride. I can't wait to see what topic she covers next!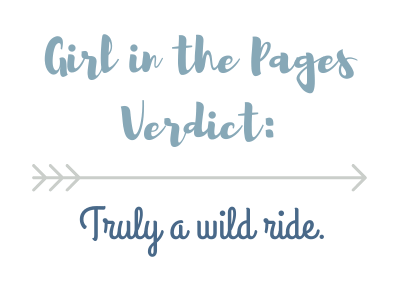 Related Posts