The Tourist Attraction (Moose Springs, Alaska #1)
Published by
Sourcebooks Casablanca
on May 5th, 2020
Genres:
Romance
,
Adult Fiction
Pages:
352 •
Goodreads
When Graham Barnett named his diner The Tourist Trap, he meant it as a joke. Now he's stuck slinging reindeer dogs to an endless string of resort visitors who couldn't interest him less. Not even the sweet, enthusiastic tourist in the corner who blushes every time he looks her way…

Two weeks in Alaska isn't just the top item on Zoey Caldwell's bucket list. It's the whole bucket. One look at the mountain town of Moose Springs and she's smitten. But when an act of kindness brings Zoey into Graham's world, she may just find there's more to the man than meets the eye…and more to love in Moose Springs than just the Alaskan wilderness.
The Tourist Attraction caught my eye as I've recently seen a lot of bloggers rave about books set in Alaska, and I had never read one myself and thought a cute rom-com would be a great way to explore a new setting. Following a cranky diner owner (Graham) and a tourist with incredibly bad luck (Zoey), The Tourist Attraction was sweet and funny if a little silly at times.
I enjoyed getting to know both the locals who were zealously protective of their Alaskan town and those who worked up at the luxury resort who understood how crucial tourism was to the local economy and important the jobs it provided were. I had fun seeing Graham's adorable dog and how all of the characters were prone to his whims and wishes. I loved learning about Alaska's summer season and "midnight sun" and how unique of an occurrence it is. I loved Graham's devotion to Zoey and how beneath his grumpy exterior he was quite polite, courteous, and respectful.
What I didn't love, however, were a lot of little things that honestly made the book feel as though it was dragging for me toward the middle and end. I grew tired of Zoey's continued bad luck with every tourist attraction she tried to attend. I found some of Graham's dialogue to be repetitive, and his wavering between his disdain for tourists and his feelings for Zoey to be wearing. I felt that Zoey and Graham's connection could have been a lot more developed and it honestly felt very "insta-lovey" to me.
Overall: The Tourist Attraction was a cute, quick read with a so-so romance but a wonderful setting. I'm curious to check out future books set in Moose Springs.
---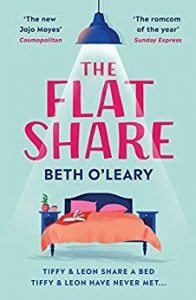 The Flatshare
by
Beth O'Leary
Also by this author:
The No-Show
Published by
Quercus
on April 10, 2019
Genres:
Romance
,
Adult Fiction
Pages:
336 •
Format:
E-Book
•
Source:
Overdrive
Goodreads
Tiffy Moore needs a cheap flat, and fast.


Leon Twomey works nights and needs cash.


Their friends think they're crazy, but it's the perfect solution: Leon occupies the one-bed flat while Tiffy's at work in the day, and she has the run of the place the rest of the time.
But with obsessive ex-boyfriends, demanding clients at work, wrongly-imprisoned brothers and, of course, the fact that they still haven't met yet, they're about to discover that if you want the perfect home you need to throw the rulebook out the window...
For a while it felt like EVERYONE was talking about The Flatshare. I saw rave review after rave review, and decided to save reading it for a time where I could really relax and devote my attention to it, quite confident that I would breeze through it. It turns out that I may be a bit of a black sheep with this one, because though I didn't dislike the novel, it's certainly not a new favorite, or even one that I find particularly memorable.
Tiffy and Leon were decent enough protagonists. I actually didn't hate Leon's chapters and his brief, fragmented way of narrating, it provided a nice contrast to Tiffy's narrative. However, I just didn't really feel any chemistry between them. If the post-it notes hadn't started up I probably would have DNF'd the book. The notes were a cute way to break up the narrative and have Tiffy and Leon start to slowly build a relationship despite having never met, and despite their unique circumstance of sharing a home and even a bed with a complete stranger. Yet the story was unexpectedly heavy, with Tiffy dealing with healing from past emotional abuse from a partner and Leon's brother facing legal troubles, both plot point which took up a large chunk of the book. While I definitely found these elements intriguing, it was very different from what I was expecting, and the romance got lost for me in the midst of everything else going on.
Overall: While there were some bright elements to this (such as the post-it notes) I was rather bored at times and didn't find this to really be a fit for my reading preferences.
Related Posts